Kristina Wong: An Artist Statement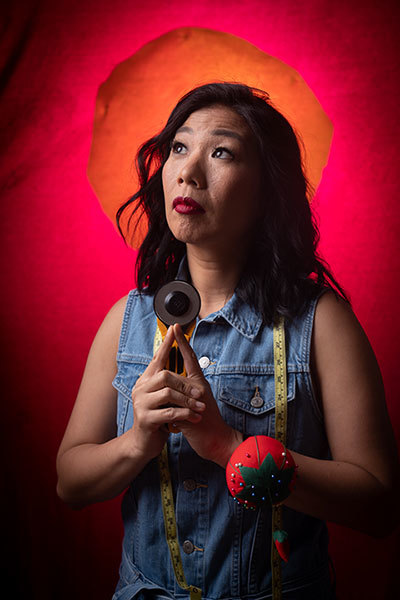 As an artist, the mediums I've used include solo theater shows, community theater projects, serving in public office, culture jamming, public pranks, viral videos, reality television, mutual aid, sewing and craft, and essays. I would describe my aesthetic at its best as subversive, humorous, and endearingly inappropriate. The unifying characteristic of my work is employing humor to explore difficult subjects and amplify marginalized experiences, using the premise of "autobiography" as a starting point of exploration. I criss-cross avant-garde performance art, arts and crafts, comedy, and cultural criticism. I am influenced by culture jammers like Banksy, Michael Moore, and the Yes Men who subvert the performances of everyday life to make social commentary and change. I am also inspired by a long history of immersive theater and interactive performance art work, artists like Yoko Ono, James Luna, and Guillermo Gómez-Peña who use their bodies as the site of commentary.
The persona of "Kristina Wong" in my shows is the "know-it-all social justice warrior" who tackles oppression with tactics that are simplistic in idealism and often self-serving. This naivete unfolds in hilarious blunders, forcing Kristina Wong towards more poignant investigation and, always, no easy resolution. My nebulous identity continues to shift within the communities I live, evolve, and interact with. I see my performance work as a humorous and ephemeral response to the invisible and visible boundaries that shape my world, rather than a hermetic declaration of my identity.
I'm interested in making art that responds to the current moment, but doesn't leave me angrier and more distraught than the world already does. Of late, reality has felt more satirical than the crafted fictitious satire I used to make on stage. As a once "wacky performance artist" I am learning that the most subversive thing I can do to disrupt the world is to sit inside sincerity, embrace earnestness, and shift the stage in which my ideas are read. I still believe that there is joy and humor in how I approach this work and am constantly wrestling with how to find joy and make grounded messaging that isn't just reactively pushing back or magnifying anger without any release.
In my Artist Statement from 2008, I stated "I believe that as an artist, my job is not to 'fix' the wrongs of the world with easy answers, but instead, to further complicate the question by making the invisible — visible, and hopefully, creating some space for public discourse." Now, as we live through the battering of democracy, a global pandemic, and unending socio-political and environmental crises, I'd like to amend that statement. Artists might not want the responsibility of fixing the world. Artists may just want to make interesting art pieces for contemplation. But cultural shifts propel social movements forward, ultimately being what will dismantle white supremacy. Artists are the ultimate hope for real social change. Art does the work of social work, therapy, community building, education, and culture-shifting to set the stage for legislative change.
Portland Center Stage is committed to identifying & interrupting instances of racism & all forms of oppression, through the principles of inclusion, diversity, equity, & accessibility (IDEA).