Behind the Curtain: Larson & Sondheim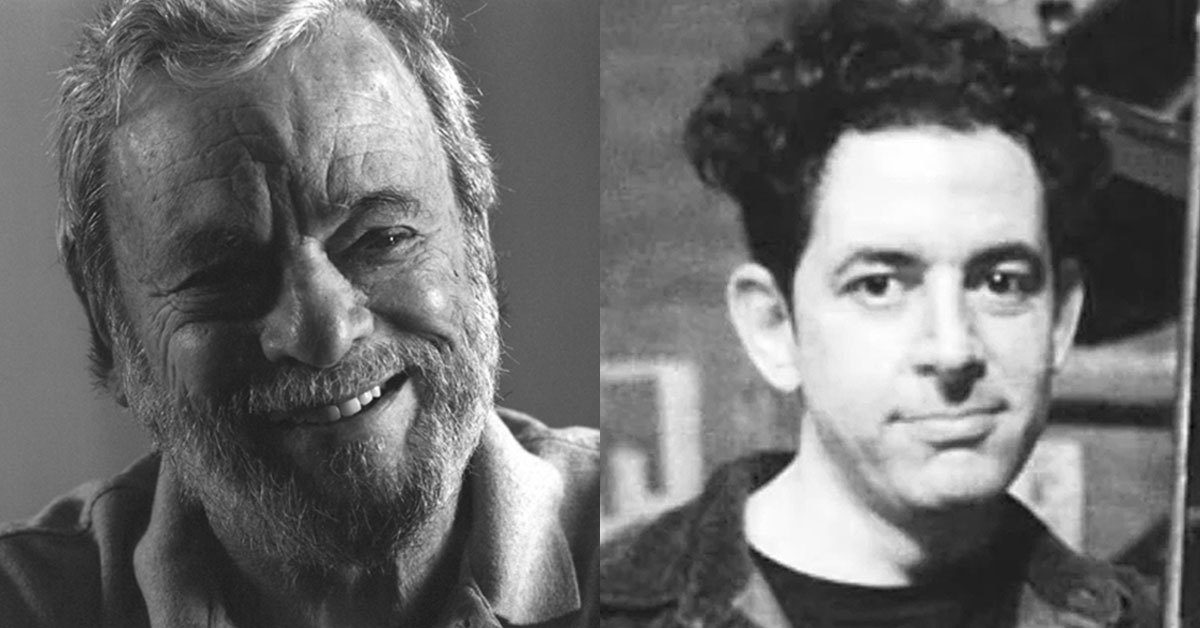 Stephen Sondheim, one of the theater's most cherished composers, benefited greatly from the mentorship of another musical theater titan, Oscar Hammerstein II. He met Hammerstein as a child and spent time with the composer as he worked on plays like Carousel and Allegro — watching his mentor create both greatly successful pieces and struggle with pieces that had less acclaim. Sondheim stated that had it not been for Hammerstein's insisting, he would not have written the lyrics for West Side Story or Gypsy. He joked that "had Hammerstein been a geologist" he might have been one too.
The impact of that relationship led Sondheim to commit to a lifetime of mentoring others. When he met Jonathan Larson, he took the young creator under his wing. As a mentor, Sondheim was exacting, candid, and supportive. The two began a robust correspondence, and Larson also shadowed him as Sondheim worked on Into the Woods. Sondheim was responsible for Larson getting his first agent, wrote him several letters of recommendation, and he was the chairman of the committee that offered Larson two grants to develop his musical Superbia. While this show was never fully produced, the development process was immortalized in tick, tick … BOOM!
What did Sondheim think of Larson's work? He believed in him, but he was honest about the state of his development. In an interview with Evelyn McDonnell for The New York Times, just a few months after Larson's death, Sondheim spoke about his thoughts on his friend.
Stephen Sondheim: I met [Larson] at a show called Superbia. I don't remember what brought us together. My guess is he wrote me a letter and asked to meet. I meet a lot of young composers: if they write a letter and the work interests me at all, I will always meet with them. He worked on Superbia for a long time while I knew him, which I think was right after the first draft. I thought the show was interesting and that what he was trying to do was interesting.

Evelyn McDonnell: What did you think of the compositional work [of Superbia]?

S.S.: I thought some of the songs were good and others not. The opening number had some originality to it, whereas the others didn't. He was still finding a voice and I think he still is. But he had a voice and that was the important thing.
In the interview, Sondheim spoke of Larson's work on tick, tick … BOOM!
E.M.: Did you feel the work was progressing, and did you identify with the material?

S.S.: Curiously enough, I didn't feel it was progressing and we talked about that. I felt there was more originality in Superbia. I worried that he was getting desperate to be accepted and it was starting to show in the work.
Sondheim also spoke of Jonathan's writing and rewriting style, especially as he worked on Rent.
E.M.: Do you remember a conversation you had about Jonathan being asked to do another rewrite?

S.S.: I said, "You have to learn how to collaborate." He learned. He called me back a few days later and said, "You were right. I am willing to collaborate."

E.M.: Did you see the workshop production?

S.S.: Yes.

E.M.: Did you have any idea it would be such a success?

S.S.: No. I didn't know that Jonathan would die, that made it a myth. The last time I'd spoken to him was in December [Jonathan passed away in January]. He felt pleased about the way he was growing up. He felt that way any author does in the middle of rehearsal. "It's terrible, it's wonderful. I'm ashamed of it, isn't it great?"
This interview reflected a lot of what Sondheim felt about the young creator and a clear image of who Larson was — a zealous, inventive, and hungry composer. There is no doubt that Sondheim saw himself in Larson and the fond feelings endured up until Sondheim's death in 2021.
For Lin-Manuel Miranda's film version of tick, tick … BOOM!, Miranda, who was also mentored by Sondheim, screened the film for him. In true Sondheim fashion, he was honored but had notes. He told Miranda:
"One thing: The last voicemail message to Jon, it sounds a little cliché. 'I have a feeling you're going to have a very bright future.' I would never say that. Can I please rewrite what Sondheim says in the voicemail? I'll record it if you can't get the actor back."
And to stay true to himself, and honor Larson, he did just that. The final audio is Sondheim saying: "It's first-rate work and has a future, and so do you. I'll call you later with some thoughts, if that's OK. Meanwhile, be proud."
Portland Center Stage is committed to identifying & interrupting instances of racism & all forms of oppression, through the principles of inclusion, diversity, equity, & accessibility (IDEA).