Hedwig and the Angry Inch A Brief History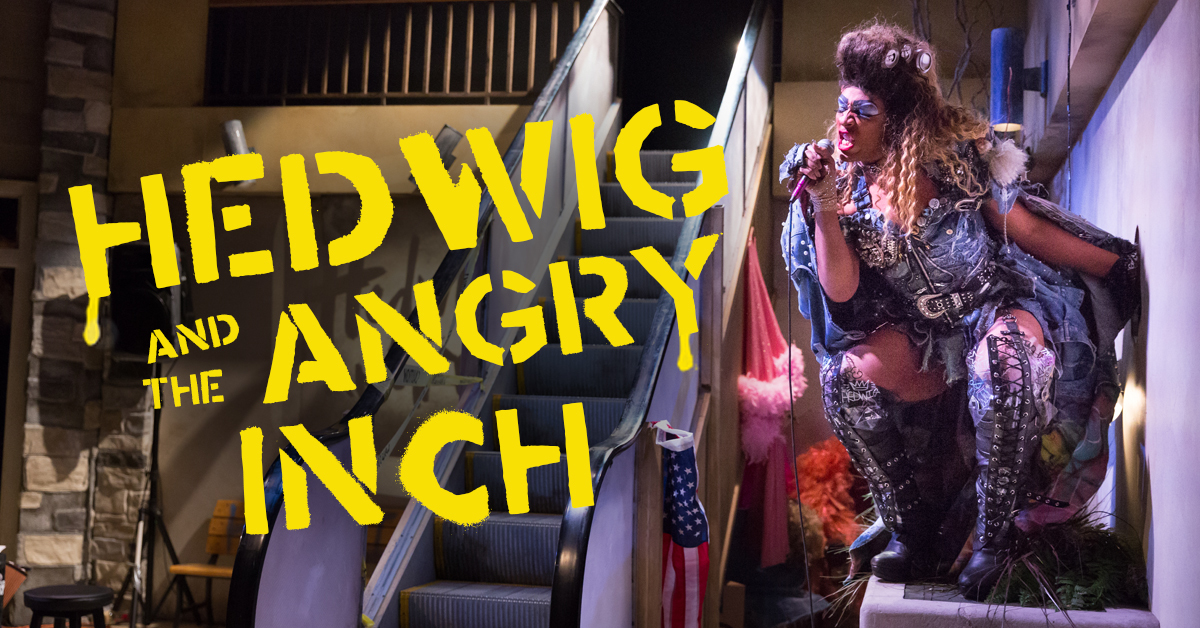 NEVER TURNING BACK: A BRIEF HISTORY OF HEDWIG  

After their division, the two parts of man, each desiring his other half, came together entwined in mutual embraces, longing to grow into one.
–Plato, Symposium
TEAR ME DOWN
As the end of World War II ushered in the start of the Cold War, Germany was split into two countries. West Germany pivoted back toward democracy after Hitler's reign, while East Germany became part of the "Eastern Bloc" controlled by the Soviet regime. In August 1961, the East German military police imposed the now-infamous Berlin Wall to separate the city's democratic and communist sectors. The wall stood 12 feet tall and extended approximately 27 miles through the city. Topped with 302 armed guard towers and lined with barbed wire and booby traps, including more than 50,000 landmines, the formidable structure symbolized political mistrust and the suppression of free expression. In 1989, the Wall's destruction marked the end of the Cold War and sounded a clarion call for liberty.
I don't mind if my skull ends up on a shelf as long as it's got my name on it.
–Debbie Harry, rock 'n' roll chameleon
THE ORIGIN OF LOVE
The same year the Wall fell, a performer named John Cameron Mitchell befriended a musician named Stephen Trask following a chance meeting on an airplane. Five years later, they presented the first versions of Mitchell's characters Tommy Gnosis and Hedwig with Trask's songs at drag-punk clubs in NYC. The act grew into a full-length musical that blended the raucous cabaret and sketch aesthetics with influences of rock opera and stand-up comedy. In 1998, the Off-Broadway premiere at Jane Street Theatre was a gritty, glittering success. It transformed Hedwig from underground darling to critically-acclaimed cultural phenomenon, attracting VIP fans like David Bowie and Lou Reed, whom the creators have always identified as influences.
Some people think little girls should be seen and not heard, but I say: Oh, Bondage — up yours!
–Poly Styrene, punk icon
SUGAR DADDY
In 2001, Mitchell secured a $6M budget and created an award-winning film adaptation that made waves around the world. A devoted international fandom of "Hed-heads" sprang up at interactive midnight screenings, vaulting the movie to full-on cult classic status in the company of legendary kindred ancestor, The Rocky Horror Picture Show. Thirteen years later, the musical opened on Broadway. A cadre of celebrities stepped into the now-iconic role, among them Neil Patrick Harris and Taye Diggs. The production ran for more than a year and garnered numerous awards, including four Tonys. It's been roughly 25 years since those first subversive Hedwig and Tommy concerts. Considering the show's massive impact after such a scrappy beginning, part of its legacy must be its reminder that a strict division between "high culture" and "low culture" leaves little room for ecstasy and innovation.
Camp sees everything in quotation marks. It's not a lamp, but a "lamp;" not a woman, but a "woman."
–Susan Sontag, insurgent intellectual
WIG IN A BOX
John Cameron Mitchell's performance as Hedwig is seminal. But for Mitchell himself, there is no such thing as the "definitive" Hedwig portrayal. Mitchell has encouraged other theaters to make their productions soar in ways that engage with and recognize the body and personal background of the person playing Hedwig, even if that means making minor alterations. The role has been inhabited by performers of many races, genders, ages, sizes, national origins, and sexual orientations. Mitchell sees space within the character for myriad interpretations. What matters far more than who is playing Hedwig is the recognition of how the role shifts in that person's individual body, and what new resonances and cultural conversations can arise when bodies vastly different than Mitchell's don the wig. Characters are constructs, after all, and the way they are constructed — or reconstructed — makes room for the play to respond to the world in each new historical moment in which it's performed. Mitchell has stated that Hedwig is intended to be received as a Queer person, but beyond that, she doesn't claim labels for herself. "There is a metaphor with Hedwig," says Mitchell, explaining that she should not be considered a spokesperson for any particular community. "She's a gender of one, and that is accidentally so beautiful."
You must always be yourself, no matter what the price. It is the highest form of morality.
–Candy Darling, gender outlaw
MIDNIGHT RADIO
Pop culture is one of modern life's most influential identity-builders. The relationship between pop iconography and youth, particularly for young people from traditionally maligned minority communities, is complex and deeply personal. But the power of pop is its perpetual focus on the new. The impulse to invent new imagery, new sounds, and new styles is so crucial to the process of human evolution it sometimes seems genetic. Particularly for many oppressed peoples, shared iconography can create community and connection, but it can also provide a certain introspective distance that helps in understanding oneself in relation to the world at large. As Audre Lorde, the self-described "black, lesbian, mother, warrior, poet," wrote: "If I didn't define myself for myself, I would be crunched into other people's fantasies for me and eaten alive."
[Glam rock] invited you to participate. It asked you to change yourself in all these different ways, or offered up all these options.
–Todd Haynes, queer filmmaker
Those who demand you conform the most to how they live are the ones who are the most scared and intimidated by life.
–Grace Jones, interstellar queen
Portland Center Stage is committed to identifying & interrupting instances of racism & all forms of oppression, through the principles of inclusion, diversity, equity, & accessibility (IDEA).