Resource Guide: A conversation with Lauren Weedman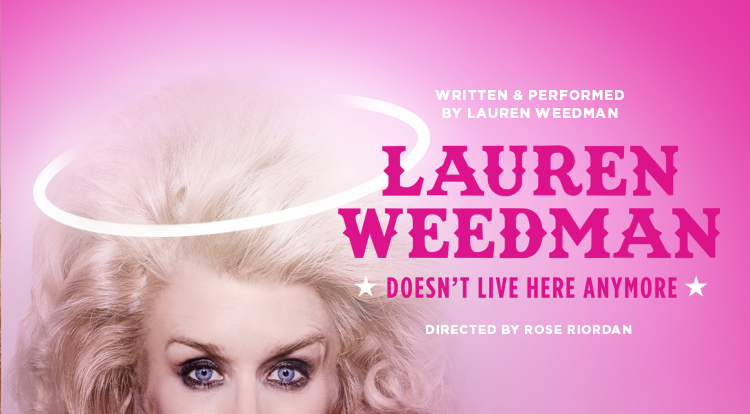 Lauren Weedman Doesn't Live Here Anymore... but we're glad she's back in Portland
Lauren Weedman made her debut at The Armory in 2011 with Bust. Her unique brand of humor and insight was such a hit, the company commissioned her to create a new show about her experiences in Portland. In 2012, she came back to The Armory to workshop that show, The People's Republic of Portland, at our annual festival for new work development, JAW: A Playwrights Festival. The show had its world premiere in the Ellyn Bye Studio in 2013. After playing to sold-out crowds in an extended run, we invited Lauren back for a return engagement in 2015. That same year, Lauren picked up a guitar and starting working on this new production, her first world premiere on the U.S. Bank Main Stage. She took a break from rehearsal to talk about the creative process for her latest show.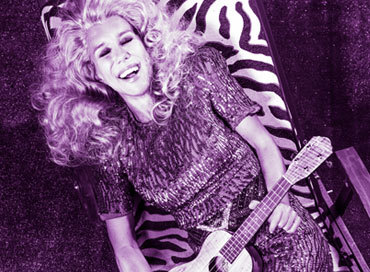 How did this project initially come about?
Thanks to a little mid-life crisis and divorce my life became, to quote the songwriter John Prine, "my life became sadder than any country song." Country music, especially the songs of Lucinda Williams and Loretta Lynn, was initially so comforting and cathartic that I wanted to do any show that would allow me to embody those ladies and sing those songs.
Where did you get the idea for the character of Tammy Lisa?
Sitting in my apartment after my son had gone to sleep, drinking whiskey and listening to Lucinda, I caught a glimpse of myself in the mirror and saw my face looking tired and worn out, and my overbite looking particularly buck-toothy, and I thought, "geez … I look like Tammy Lisa."
Long ago, I found my birth parents and found out that when I was given up for adoption my birth mother and birth father were each allowed to give me a name for the initial paperwork. My birth father chose the name Tammy and my birth mother chose the name Lisa. Or maybe it was the other way around. Either way, they were very young at the time and chose their names without knowing what the other had chosen. I liked to think about how, if I'd been kept, I would have been named Tammy Lisa. It's a name that evokes my birth father's West Virginia roots and feels very far away from the "Lauren Huntington Weedman" that I was adopted into. As my life has churned on, I'm always thinking, "Tammy Lisa is lurking. She's in there and she's gonna get out, no matter how you dress her or train her or how you try to straighten her teeth … she's coming out."
Describe your creative process for this show.
My process for this show has been different from other shows in that it's taken a lot longer to put this show together. Everything is so much slower now. Meaning it's been hard to find time to do all that I want to do with it. My creative process gets harder and harder the older I get, because of being a single mom. Trying to find the time to fully immerse myself in the show. I have a son who lets me know that he hates when I'm gone. He also hates me being divorced. He's very vocal about his feelings. I remember meeting an actor at JAW once who grew up as an only child with parents who did theater. She said she always felt like her mother had this "other love" in her life that she couldn't compete with. Which made my heart ache, but it also made me look at her and think, she seemed so amazing that maybe it will be okay.
What are some of the musical influences that have inspired this production?
Patty Griffin and Lucinda Williams. Their poetry and honesty are a good go-to for post-breakup. Every one of Lucinda's albums has a song that destroys me. Her song "Are You Alright?" is brutal. Something about the repetition of the line "are you alright?" sung over and over again:

Are you all right?
All of a sudden you went away
Are you all right?
I hope you come back around someday
I love Loretta Lynn and Jack White's album Van Lear Rose. Hearing Loretta working with the distorted guitar and heavy rocking of Jack White is incredibly inspiring. Maybe it gives me hope that as I get older I'll be able to keep pushing things and being inspired by working with younger artists. Not that I'm anything like Loretta, or that I've ever come close to meeting someone like Jack White. I think there may be a few drag queens who would sing some duets with me.
I've also been watching hours of Dean Martin variety shows. I always thought Dean Martin was the funniest and most charming of all the members of the Rat Pack. There's something about his performances that feels so authentic. You can tell he's really having a good time. I love the humor. It's very un-PC, which I know makes a lot of people struggle, but that's part of why I love it. It's shocking.
---
The Story behind the Performer: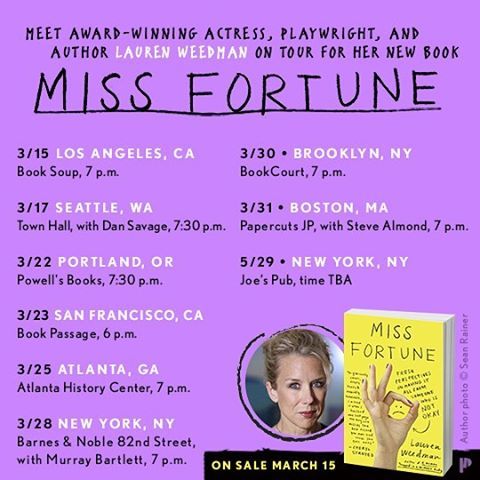 "Lauren Weedman's new book, Miss Fortune: Fresh Perspectives on Having it All from Someone Who is NOT OKAY, was published by Plume in March 2016. Her first book, A Woman Trapped in a Woman's Body, a collection of comedic essays, was named by Kirkus Review as a top ten Indie book for 2007

Lauren is an award winning comedic actress, playwright and author. Her first show, Homecoming, began as a 15 minute performance art piece at Seattle's On the Boards and went on to go off-Broadway in NYC. Bust, about her work in the L.A. county jail, was awarded a Macdowell Fellowship for playwriting by the Alpert Awards, as well as several "best of the arts" across the nation."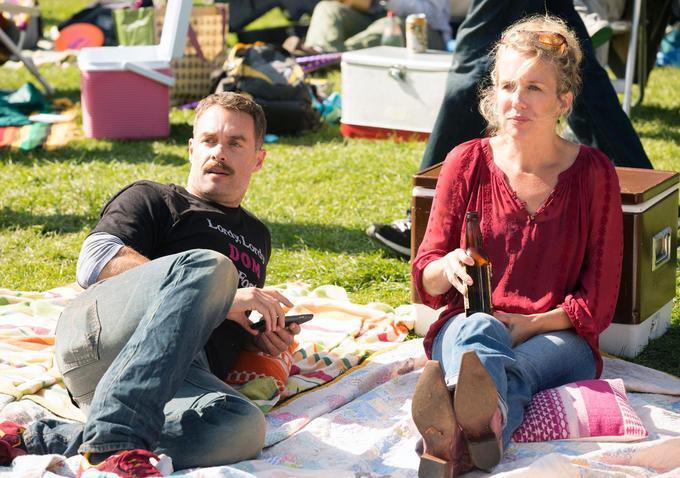 Lauren Weedman on her character in HBO's "Looking"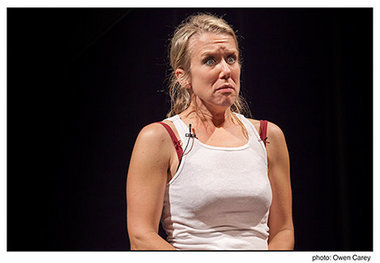 Lauren Weedman in Bust at Portland Center Stage, 2011 Season
Find out more in the posts below:
Redeem Code: LWGUIDE on PCSPlayMaker.org for 100 points!
Portland Center Stage is committed to identifying & interrupting instances of racism & all forms of oppression, through the principles of inclusion, diversity, equity, & accessibility (IDEA).