Reviews of "Lauren Weedman Doesn't Live Here Anymore"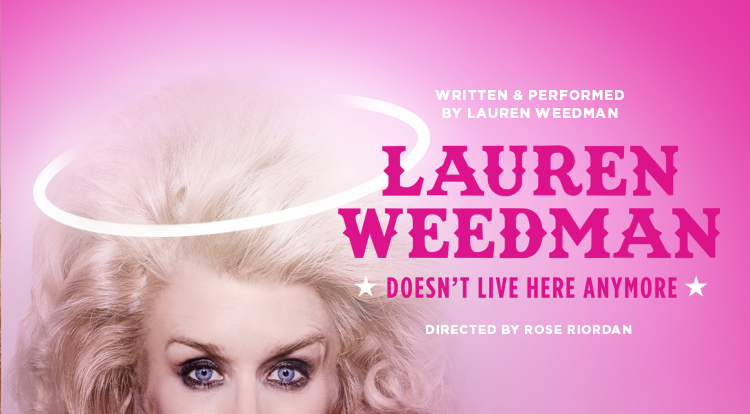 We Are Indeed Entertained
"The thing about a Weedman show is that the whole is generally far greater than the sum of its parts. It's not that any one line or move or song is delivered perfectly, per se, it's that her fearlessness and imagination are a marvel all their own—a fun-to-watch firecracker. She's frank. She's wry. And her pace is spry." -Oregon ArtsWatch
Whirlwind Performance
"She is a force-of-nature and unstoppable, as her talent explodes, playing all the various supporting characters in her entourage, as well as singing, dancing and playing her way through a myriad of songs. She is an unmovable force in a very moving performance."-Dennis Sparks
Laughing So Hard You Snort
"This universality is what makes Lauren Weedman's brand of comedy/performance so funny and so emotional. Whoever you are and whatever your life has been like, I'm betting you'll find something in this show that hits close to home." -BroadwayWorld
In Short, She Tears It Up
"She talks, gyrates, sings, mimes, and hops. She never stops, and she never misses a beat. Meanwhile, the audience is laughing so hard, it can barely draw its collective breath."-JudyNedry.com
She has a Gift
"Adopting the persona of 'Tami Lisa,' a variety show host a la Cher (sans Sonny) with a rockabilly sensibility, like Johnny and June Cash, Weedman tells what it was like to find out about her husband's infidelity ... This is a ballsy concept, a three-ring circus of a one-woman show, and Weedman executes with characteristic strength and stamina ..."-EDGEMedia
Done With Sharp Humor
"Lauren has an amazing ability to really switch out into the various characters during the show ... She keeps the show moving at a fast pace with her mouth moving at a sometimes dizzying almost manic cadence, and maintains apparently boundless energy. Even sitting on the stool briefly for part of a monologue here or there, you sense the tornado within." -Pechluck'sFood
What people are saying on Facebook:
"She is fantastic! This was GREAT!"
"Attended this evening- loved it. She is one talented woman. Go see her."
"Saw this last night! It was a hoot!"
"Her show was fantastic. Lauren incorporated so many different personalities, I loved it."
Portland Center Stage is committed to identifying & interrupting instances of racism & all forms of oppression, through the principles of inclusion, diversity, equity, & accessibility (IDEA).