Reviews of "Astoria: Part One"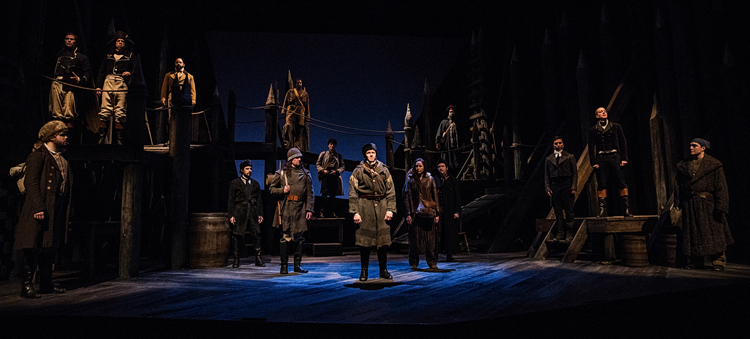 An Examination of the American Democratic Experiment
"This is broad-stroke storytelling, whisking us across oceans and through vast wilderness, yet it is flecked with lots of human-scale color and detail — boisterous bursts of song and dance, simmering personality conflicts, harrowing survival challenges, bits of bawdy humor. ... as both adapter and director, Coleman's done a fine job at a massive and tricky task, remaking history into theater." -Oregon ArtsWatch
A Sweeping, Tense Drama
"In vision, depth of talent, and budget, Astoria is comparable to The Crown, Marco Polo, Frontier or any other prestige period drama saved in your Netflix queue. Even better: This monumental miniseries is live. ... Stop streaming for a night and go live. And settle in for a sweeping, historical theater event that just won't fit on an iPad or phone screen." -The Oregonian
An Outstanding Production
"Coleman transformed a history book into a live action-adventure play that pushes the limits of most theatrical performances. Under his pen, the silent characters of Peter Stark's book become flesh and blood, conflicted and conflicting, altogether larger than life. ... an excellent and engaging play from a number of perspectives ..." -Judy Nedry

Rich Storytelling
"Astoria: Part One is a riveting play of epic proportions, a fine-detailed work with a sweeping narrative. ... In this world of period and fantasy miniseries, Coleman has created a spirited story of adventure and survival. It's exciting storytelling in the hands of a masterful director with a big vision and, like Astor's, a marvelous dream." -EDGEMedia
A Colossal Undertaking
"Coleman and the cast do an incredible job of bringing the history to life via the stories and struggles of the men -- and woman -- who made up the traveling parties ... If you like history, or history plays, you'll certainly enjoy Astoria." -BroadwayWorld

Full of Period-Piece Peril
"Astoria is more interested in examining power structures as they were than in rewriting them: It's a subtle but intricate portrait of the era of westward expansion." -Willamette Week
A Terrific Ensemble
"Coleman has done an outstanding job of bringing this epic story to life (and, remember, this is only Part One). His use of space to tell the tale and casting and developing the story so that it is always clear as to who's who and what's happening, is a tribute to his skill as an artist." -Dennis Sparks

What people are saying on Facebook:
"Excellent production. Powerful set, riveting story line, and strong actors. Loved the French boat men's songs!"

"Thank you for the most excellent show tonight! I was definitely at the edge of my seat all show! Amazing work by the whole cast!"
"We saw it on Sunday and were amazed! Having read the book last year we thought a stage rendition would be almost impossible. But, Chris Coleman did the impossible! We absolutely recommend the play and the book!"

"Bravo and thank you - my family (including my teenage boys) really enjoyed the show and had great conversations afterwards."
"Read the book last year and loved it. Went to the play last Thursday with a meet and greet with the author Peter Stark. Absolutely wonderful. Can't wait for part two."

"It is a fabulous production. Well worth seeing and anticipating the next one."

"I had listened to the book on CD and couldn't imagine how this could be made into a play. Fortunately more creative minds than mine, created an engaging and historically accurate play. Highly recommended!"

Portland Center Stage is committed to identifying & interrupting instances of racism & all forms of oppression, through the principles of inclusion, diversity, equity, & accessibility (IDEA).