Reviews of "Every Brilliant Thing"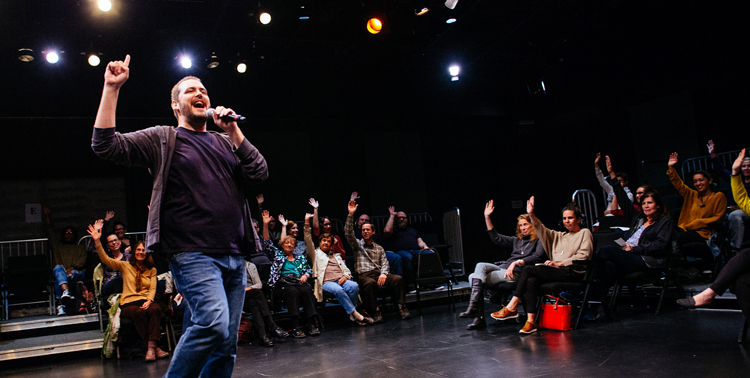 "Brilliant? Let us list the ways ... Lamb rocks the audience in a cradle of good nature and easiness. Everyone identifies with him, and everyone wants him to succeed: He's Everyman, except a little better." -Oregon ArtsWatch
"Portland Center Stage's production is both tear-jerking and playful. Most of all it's life-affirming. And it's now officially on my list of brilliant things." -BroadwayWorld

"A playful, unapologetically sentimental play ... Every Brilliant Thing succeeds thanks to Lamb's everyman affability as well as its communal spirit." -Willamette Week
"Lamb's engaging performance about sober truths gains balance and depth with some help from friends. ... the entire production comes off with empathy, grace, and not a few belly laughs." -Judy Nedry
"Lamb is a treasure ... He is perfectly at ease as he breathes life into this character and as he handles the audience. ... I recommend this production." -Dennis Sparks
"Isaac Lamb effortlessly exudes effervescence. (Ah, alliteration.) ... we are "with" him the whole way." -The Crippled Critic
Here's what reviewers in other cities have said about this play:
"Heart-wrenching, hilarious ... possibly one of the funniest plays you'll ever see, full stop." -The Guardian
"simultaneously funny and poignant" -The Hollywood Reporter
"Something miraculous happens in Every Brilliant Thing. Something you might want to include on your own list of life-enhancing pleasures should you follow the lead of the protagonist, who inventories all that makes the world worthwhile for him." -Los Angeles Times
Here's what audience members are saying on Facebook:
"Riveting"
"An innovative production!"
"A wonderfully written show brilliantly acted and directed."
"[Rose Riordan] and Isaac Lamb have re-ignited my love for live theatre"
"Audience-friendly, family entertainment, beautifully done!"

"I hope you have tickets, because this was an amazing play."

Portland Center Stage is committed to identifying & interrupting instances of racism & all forms of oppression, through the principles of inclusion, diversity, equity, & accessibility (IDEA).