Bringing "Every Brilliant Thing" to The Armory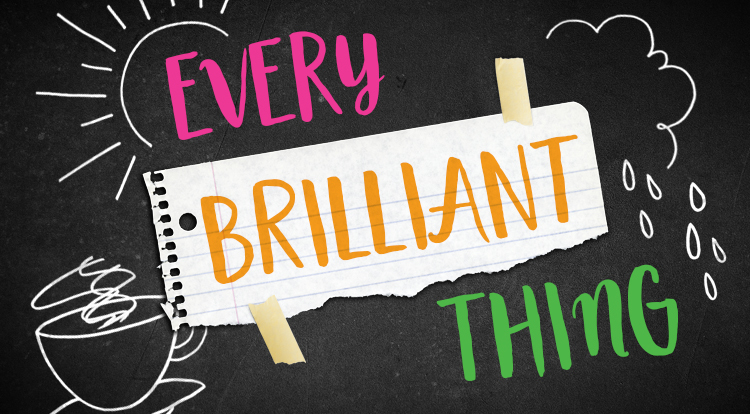 Preparing for Every Brilliant Thing
Before rehearsals began for Every Brilliant Thing, we checked in with director Rose Riordan and performer Isaac Lamb about their preparation, process and still-forming thoughts on Duncan Macmillan and Jonny Donahoe's script.

The Director: Rose Riordan
Every Brilliant Thing involves the audience in a unique way, unlike any show that has been produced at The Armory. As you prepare for rehearsals, what is your plan for tackling that aspect of the production?
We are partnering with our education and marketing departments to rehearse with audiences. We plan on being "on the road" to community centers, organizations, any captive audience really. This will help us prepare for just about any situation.
What is it about directing this piece that excites you? How does the play fit in with your personal aesthetics as director?
It's the relationship between the audience and the actor that I'm curious about and excited to explore. And of course the story is so honest and personal that I think we will develop a unique relationship with each and every audience. I expect to learn a lot.
You last worked with Isaac Lamb in A Small Fire. What made you think of him for this production?
Truthfully, it's his likeability. His talent is a given. This character has to connect with the audience and can't have any pretentions as an actor — I think Isaac will be able to navigate that easily.
In Every Brilliant Thing, the central character makes a list of everything worth living for. How does list-making play into your life?
I have a running list of things I would have to describe if I was abducted by aliens and had to explain what things on earth actually are. (Of course in my daydream they speak English, so ...) It's really hard.
Sandpaper
A fly
Nutmeg
Trump
The Performer: Isaac Lamb
What was your initial response to the story and structure of Every Brilliant Thing?
I remember reading the first few pages of the script when Rose made me the offer and realizing that this was an opportunity to do something very special. I was moved by it in a way that at once felt deeply personal and totally universal.
How are you feeling about taking on a piece that requires so much audience involvement and improvisation?
To be honest, I relish it. I think it's easy to get comfortable as a performer doing the same things again and again. That's the antithesis of growth. I make it a personal goal to try and broaden my comfort zone as often as I can. I just did Anonymous Theatre's Urinetown almost primarily for the scare. It's an opportunity to reinvigorate my work and blow off the cobwebs. Plus, this amazing script's structure provides a pretty safe harbor to improvise within.
You've been in solo shows before, including the national tour of Broadway's Defending the Caveman. What are the challenges specific to performing solo and how do those factors impact your preparation?
Memorization is a whole different ballgame when you're working in isolation. That's the most obvious difference. When you don't have a scene partner to work with, you have that much less to rely on when you go up on your lines or get yourself lost. There's no one to show you the way back! So your preparation starts much sooner and with greater urgency, I think.
The other challenge specific to one-person shows is that your energy and rhythm rely so much more on the audience. The difference between a lively house and a quiet one is amplified exponentially because the audience is quite literally your scene partner. Duncan Macmillan has done this brilliant thing, however, by integrating the audience into the performance of the play so they don't really get to be passive observers. I think that's going to make for a unique experience for them and for me.
You've worked with Rose on past productions such as A Small Fire and The 25th Annual Putnam County Spelling Bee. How would you describe your collaborative process?
We laugh a lot. At ourselves and at each other. We talk through things. Rose likes to mess up the process too, which I enjoy. During Spelling Bee, she'd make us perform the show start to finish while playing the video game "Dance Dance Revolution." During A Small Fire, we would do scenes blindfolded and wearing noise-canceling headphones. She likes to sort of crack your head open (metaphorically speaking) and move the pieces around so that you engage with the work in new ways. I think that's going to be invaluable for a piece like this. She tells me we're gonna take rehearsal on the road and try it in front of different audiences so that we can see how to make it work. I'm excited about that. I imagine some days we'll end up talking about our histories with mental health, and some days we'll share our favorite internet videos with each other. And everything in between. But it'll all be valuable in the final analysis.
How does list-making play into your life? What are three items on your own list of brilliant things?
I'm terrible with lists. My wife is brilliant with them. Lists are really just one more piece of paper for me to lose track of, but for Amy they are how she organizes her path through the world. If I was making my own list of brilliant things, though, she'd star in numbers 1, 2, and 3.
1. Watching my wife dance when she choreographs in our living room.
2. Playing with our dog and two cats.
3. The sound she makes when I really make her laugh.
Interviews by Public Relations and Publications Manager Claudie Jean Fisher
Opening up Rehearsals to our Community and Schools-
In early August we reached out to community partners, high school and college theater departments, civic organizations to help us bring the production to life. This show requires a unique rehearsal process for the single actor and heavily depends on audience participation. Each run of the show changes dramatically depending on how the audience interacts with the actor (local mainstay Isaac Lamb).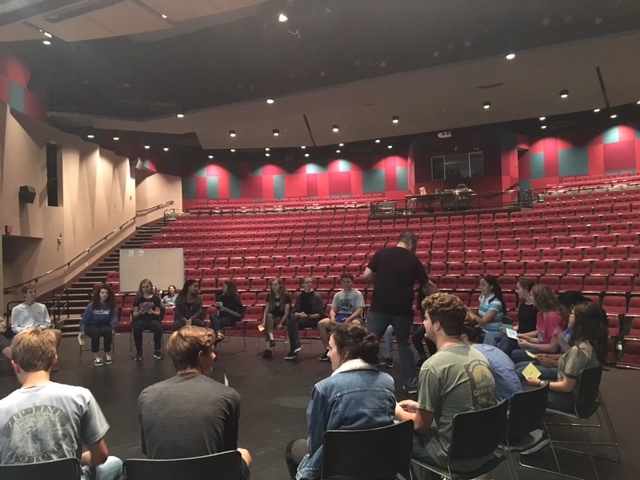 Actor Isaac Lamb returns to his alma mater Jesuit High School.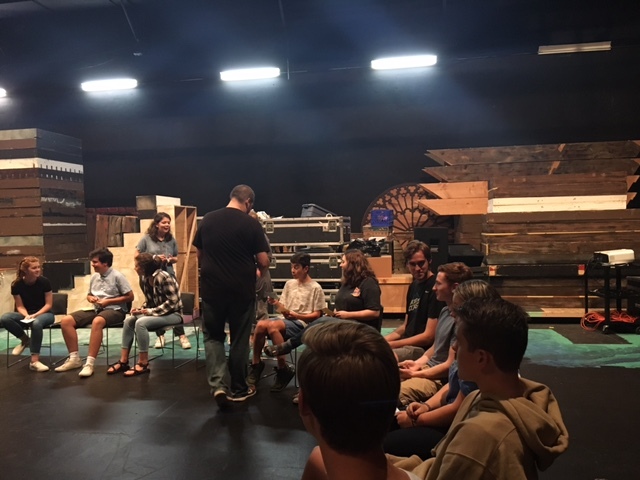 ---
Cast and Creative Team of Every Brilliant Thing

Isaac Lamb is an award winning actor, director, and world-renowned creator of viral video content. He is thrilled to be back onstage at Portland Center Stage, one of his favorite places to work. Isaac is a graduate of Loyola Marymount University and a proud company member of Third Rail Repertory Theatre. Select Local credits: The Aliens, The Mystery of Irma Vep, Belleville, The Flick (Third Rail); The 25th Annual Putnam County Spelling Bee, A Small Fire, Great Expectations (PCS); Assassins, Playboy of the Western World (ART); Sound of Music, The Addams Family, Ripper (Broadway Rose); Mr. Burns: a post electric play, Peter and the Starcatcher (Portland Playhouse); The Three Sisters (PETE). National Tour: Defending the Caveman, Broadway's longest running one-person show. Select Regional: Timeless: Barbara Streisand (Staples Center), Sweet Charity (Red Mountain), One Sunday in Mississippi (Bannister). Film: Lean on Pete (Film4), North Starr (Sundance '08). TV: Portlandia. Proud member AEA.
Rose Riordan, Director
Rose is in her 20th season at Portland Center Stage at The Armory, where she serves as associate artistic director and has previously directed Lauren Weedman Doesn't Live Here Anymore, Wild and Reckless, The Oregon Trail, Our Town, The People's Republic of Portland (2013 and 2015), Vanya and Sonia and Masha and Spike, The Typographer's Dream, LIZZIE, A Small Fire, The Mountaintop, The Whipping Man, The North Plan, Red, One Flew Over the Cuckoo's Nest, A Christmas Story, The 25th Annual Putnam County Spelling Bee, The Receptionist, A Christmas Carol, Frost/Nixon, How to Disappear Completely and Never Be Found, Doubt, The Underpants, The Pillowman and The Thugs, which won four Drammy Awards, including Best Ensemble and Best Director. Rose has recently directed, for various other theaters, Adam Bock's Phaedra, The Passion Play, Telethon and The Receptionist. In 1999, she founded the annual JAW: A Playwrights Festival. JAW has been instrumental in developing new work for the company's repertory, including this season's upcoming production of Kodachrome, as well as Lauren Weedman Doesn't Live Here Anymore, Wild and Reckless, Threesome, Bo-Nita, The People's Republic of Portland, The Body of an American, The North Plan, Anna Karenina, Outrage, Flesh and Blood, Another Fine Mess, O Lovely Glowworm, Celebrity Row, Act a Lady, The Thugs and A Feminine Ending. Rose has also directed some of the staged readings for JAW festivals: The Thugs (2005), Telethon (2006), A Story About a Girl (2007), 99 Ways to F*** a Swan (2009), The North Plan (2010), San Diego (2012), The People's Republic of Portland (2012), Mai Dang Lao (2013) and A Life (2014). She enjoys being part of a company committed to new work and having a beautiful building in which to work.
Duncan Macmillan, Writer
Plays include: People, Places and Things (2015-2017, National Theatre/Wyndham's Theatre, West End); 1984, adapted from George Orwell (2013-2017, Headlong/Nottingham Playhouse Theatre Company, West End, Broadway, international tours, co-adapted/co-directed with Rob Icke); Every Brilliant Thing (2013-2017, Paines Plough/Pentabus Theatre, Edinburgh Festival, UK and international tours, HBO); City of Glass, adapted from Paul Auster (2017, 59 Productions, HOME and Lyric Hammersmith); 2071, co-written with Chris Rapley (2014-2015, The Royal Court/Hamburg Schauspielhaus); The Forbidden Zone (2014-2016, Salzburg Festival and Schaubühne Berlin); Wunschloses Unglück, adapted from Peter Handke (2014, Burgtheater Vienna); Reise durch die Nacht, adapted from Friederike Mayröcker (2012-2014, Schauspiel Köln, Festival d'Avignon, Theatertreffen); Lungs (2011-2016, Paines Plough and Sheffield Theatres/Studio Theatre, Washington, DC); and Monster (2006, Royal Exchange Theatre).
Jonny Donahoe, Writer
Jonny Donahoe is an actor, comedian and writer best known for his work with musical comedy act Jonny & the Baptists, with whom he has toured extensively in the UK and internationally, as well as performing numerous times on BBC Television, Channel 5 (UK) and BBC Radio 4. Jonny co-wrote (with Duncan Macmillan) the international hit show Every Brilliant Thing and performed it more than 350 times, on four different continents. His performance was also filmed and adapted into an HBO TV special, and he was nominated for Drama Desk, Off Broadway Alliance and Lucille Lortel Awards for Best Solo Performance for the role. Other credits include writing and performing in Thirty Christmases (Old Fire Station Theatre), The World Must Be Peopled (nabokov/Soho Theatre), and the short plays Real Fly Guy (Pleasance Theatre) and Guy Fawkes Night (Old Vic Theatre). His latest play, Working Christmas, will premiere at Old Fire Station Theatre later this year.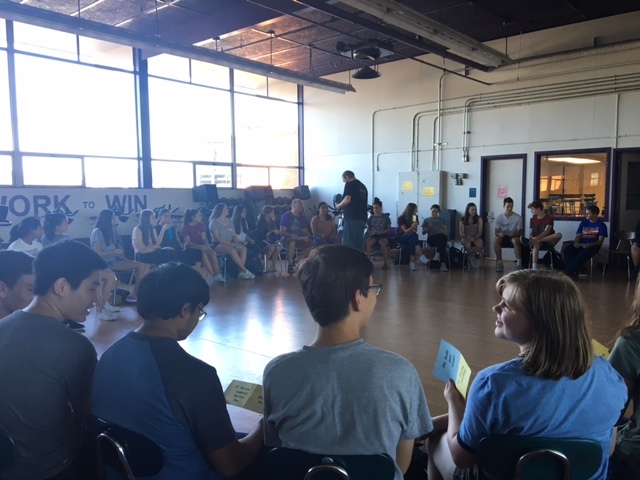 Portland Center Stage is committed to identifying & interrupting instances of racism & all forms of oppression, through the principles of inclusion, diversity, equity, & accessibility (IDEA).