Segregation & Swimming Timeline in the United States
The following timeline was condensed from the "POOL: A Social History of Segregation" exhibit in Philadelphia, Pennsylvania, created in collaboration with Dr. Jeff Wiltse, author of Contested Waters: A Social History of Swimming Pools in America.
1800-1940
1831: Tice Davids swam to freedom from slavery across the Ohio River.
1868: The nation's first municipal pool was built in Boston, MA, with separate pools for men and women.
1903-1908: Chicago's South Side Board opens eleven gender-segregated swimming pools, none of which were in predominantly Black South Side Neighborhoods, though Black swimmers do use some of the pools.
1920s: All-Black swim teams begin to appear throughout the United States, particularly as Black Americans move north in the Great Migration.
1913: St. Louis opens its first gender-integrated swimming pool, refusing entry to any "identifiably" Black swimmers.
1914: The municipally funded Brookside Plunge opens in Pasadena. All non-white swimmers are relegated to a single day of use each week before the pool is cleaned in the morning. The Black community protests the decision on the basis that the pool is paid for by taxes from all citizens. City officials respond by prohibiting all non-white people from the pool on the basis that "If the Plunge is opened up for mixed bathing, most will cease to allow their families to use it." This pool would not desegregate until 1947, closing the following year. Some historians point to the fight for the right to swim in Pasadena as the start of the modern Civil Rights Movement.
1919: Eugene Williams, a Black teenager who cannot swim, is killed by a group of white men in Chicago after floating on a raft with friends from a beach for Black swimmers to a whites-only beach. Williams' death began a wave of riots that left dozens dead and 1,000 Black families homeless as a result of arson.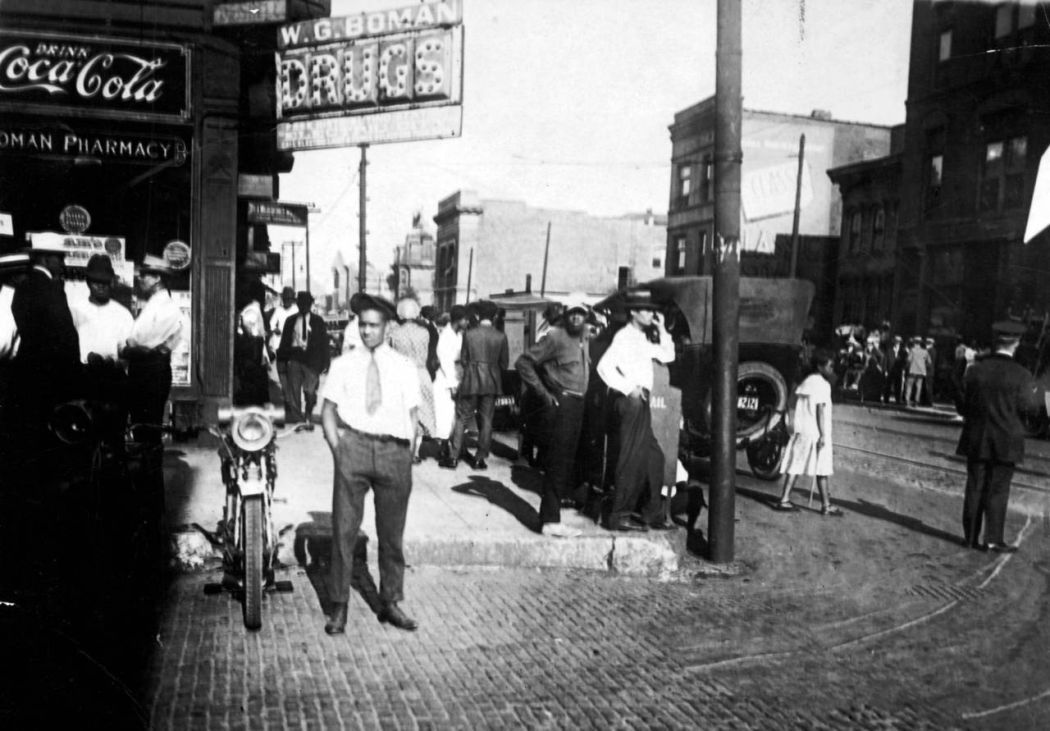 1920-1940: Cities across the country open thousands of public swimming pools, beginning what is known as the "swimming pool age."
1920-1935: Cities across the country begin permitting men and women to swim together.
1926: The federal government mandates racial segregation of pools in Washington, D.C.
1929: Inez "Pat" Patterson wins several swimming and diving championships at Temple University, becoming a Red Cross Water Safety Instructor and going on to organize the National Swim School for Negroes.
1931: White swimmers violently impose racial segregation at Pittsburgh's Highland Park Pool, the city's first gender-integrated pool.
1931: The first National Colored Swimming Championship is held in Washington, D.C.
1935: Samuel Ridley, NAACP chapter president, files suit against Newton, Kansas for excluding "identifiably" Black people from the city's lone public swimming pool. City and court officials excuse segregation until finally integrating the pool in 1951.
1938: Integrated swimming becomes less common as more pools become gender integrated, showing gender integration to be the primary cause for racial segregation.
1940: George Purnell wins the Philadelphia City Recreation League 120-yard freestyle, going on to become the first Black men's swimming team member.
1945-1960: Pools close across America as a result of pressure to integrate public pools. Those who cannot afford private club fees or a backyard pool are not able to swim, adding to the wealth divide within the existing racial divide.
1948: Federal District Judge Ben Moore orders Montgomery, West Virginia to stop denying Black swimmers access to its one publicly funded pool. The suit, brought by Black attorney and legislator T. Gillis Nutter, is the first substantial victory for Black Americans fighting swimming pool discrimination in the courts.
1949: White residents of St. Louis riot outside Fairground Park Pool after city officials end its racial segregation policy from 1913. The mayor immediately re-imposed segregation in response to violence, only to re-integrate the pool one year later.
---
1950-1970
1950: The federal government desegregates public swimming pools in Washington, D.C.
1950-1962: 22,000 private swim clubs open in the U.S., mostly in white suburbs.
1951: Andrew Young, Ph.D., swims at Howard University, and goes on to become a leader in the civil rights movement, receiving the International Swimming Hall of Fame Gold Medallion Award in 1992.
1952: 17-year-old Mamie Livingston challenges racial segregation in Baltimore by attempting to enter a whites-only pool.
1954: Leroy Jones, star of the Tennessee State University Tiger Sharks (a Historically Black University) swim team is the first Black swimmer to compete in an NCAA Swimming Championship.
1956: The U.S. Court of Appeals orders Baltimore to desegregate its swimming pools.
1956: A group of Black people in Monroe, North Carolina demand access to the town's segregated municipal pool after the drowning of several Back children at the local "colored swimming hole." Black activist Robert Williams leads efforts of picket lines, protests, and exchanges of gunfire with local Ku Klux Klan members, credited with the start of the Black Power Movement in the book "Negroes With Guns."
1959: After rejection from several public and private pools, Black families in Philadelphia open the first Black-owned private swim club in the country.
1962: A federal judge orders desegregation of public swimming pools in Birmingham, Alabama. In response, city officials close all eight pools in the area.
1962: Nate Clark becomes the first Black swimmer to score an NCAA Championship final, finishing fifth in the 200-yard butterfly.
1964: Conrad Reddick becomes the first Black swimmer to join the University of Pennsylvania swim team, and is the only Black swimmer at the 1968 NCAA Championship.
1964: A group of civil rights activists of all races stage a "swim-in" at the Monson Motor Lodge in St. Augustine, Florida. In retaliation, the motel manager pours muriatic acid into the water.
1965: Canton, Mississippi closes both public swimming pools in response to integration efforts, followed by pools across the state.
1966: A riot in Chicago's West Side prompts the federal government to fund hundreds of "mini-pools" across the country for "disadvantaged youths," however, they are too shallow to learn how to swim.
1967: Fred Rogers and Francois Clemmons soak their feet together in a backyard kiddie pool [photo shown below] on the television show Mister Rogers' Neighborhood in an act of resistance, a landmark moment during the Civil Rights Era.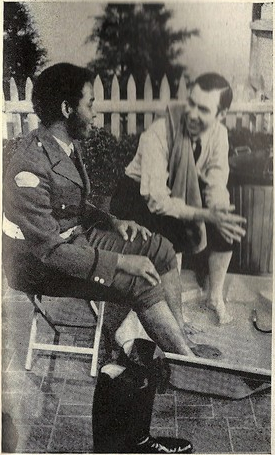 ---
1970-2022
1971: Jim Ellis forms the Philadelphia Department of Recreation (or, "Pride, Determination, Resilience") Swim Team in Pennsylvania, making competitive swimming an option for many inner city youth, advocating for pool access for Black swimmers across the country.
1971: Rick White becomes the world professional high diving champion, going on to become captain of the USA High Dive Team and holding the world record for a dive from 144 feet.
1973: The Supreme Court rules that no private swim club can exclude someone from becoming a member due to their racial identity.
1975: Fred Evans wins the 100-yard breaststroke at the NAIA National Swimming Championships, becoming the first Black swimmer to win a national collegiate championship.
1975: Sabir Muhammad becomes the first Black swimmer to hold an American Record.
1982: Chris Silva becomes the first Black swimmer to make a U.S. national team.
1984: Trevor Freeland, a member of the original PDR Swim Team coached by Jim Ellis, becomes the first Black swimmer to compete at the Atlantic Coast Conference.
1988: Canton, Mississippi reopens one of its formerly closed public pools.
1988: Sybil Smith becomes the first female Black swimmer to score in an NCAA final.
1988: Anthony Nesty becomes the first swimmer of African descent to win an Olympic gold medal, the first to win an individual World Championship, and an NCAA Division 1 Championship.
2000: Anthony Ervin becomes the first Black swimmer to make the U.S. Olympic Swim Team, and first Black American to medal with gold and silver.
2000: Maritza Correia McClendon becomes the first Black female swimmer to win an NCAA Swim Championship, the beginning of many record-setting swims.
2003: A group of Black parents in North Carolina begin the first National Black Heritage Championship Swim Meet to promote swimming, prevent drowning, and "provide an opportunity for more minority kids to have a chance to swim against competitors who look like them."
2004: Maritza Correia McClendon becomes the first Black female swimmer to make the U.S. Olympic Swim Team, medaling in the Olympics with silver in the freestyle relay.
2006: Cullen Jones becomes the first Black American to hold a world record in swimming in the 4x100-meter freestyle relay, earning a record in the same event in 2008.
2006: Diversity in Aquatics (DIA) is founded and becomes the nation's largest network of ethnically diverse aquatic professionals, athletes, and enthusiasts, aiming to eliminate drowning disparity in historically underrepresented and vulnerable populations.
2007: The movie Pride, based on the story of Jim Ellis, is released.
2009: The Valley Club in Pennsylvania cancels an agreement with a North Philadelphia day camp after members express discomfort with sharing their private pool club with Black and Hispanic campers.
2010: Six Black teenagers die in the Red River in Louisiana while attempting to save their cousin from drowning. None of the teens or adult relatives knew how to swim.
2012: Reece Whitley breaks his first swimming national age group record at age 12.
2013: Nevada Winrow and Taylor-Symon Winrow start The Black Girls Dive Foundation, aiming to expose Black girls and women to water-based recreation, reduce the risk of drowning among Black children, and promote STEM education for Black girls.
2013: Student Clarissa Palmer and coaches Dan Schupsky and Marc Christian of University of Philadelphia start We Can Swim!, a student-run program that offers free swim lessons and safety geared toward young children of color.
2015: Three Black swimmers, Simone Manuel, Lia Neal, and Natalie Hinds, historically sweep first, second, and third place in the NCAA swimming championship.
2016: Philadelphia begins its Swim Philly initiative, investing in the city's public pools and swim-safety for all of the city's demographics.
2016: Anthony Ervin returns to the Olympics and wins gold in the 50-meter freestyle.
2016: Simone Manuel becomes the first Black female American swimmer and first woman of African descent to win individual gold in the Olympics, as well as an individual silver, relay team gold, and relay team silver.
2019: Giles Smith joins the inaugural session of the International Swimming League.
Portland Center Stage is committed to identifying & interrupting instances of racism & all forms of oppression, through the principles of inclusion, diversity, equity, & accessibility (IDEA).