Ancestry.com gone wrong.
A story with dancing, DNA, and dark truths.
October 26 – November 17, 2019
On the U.S. Bank Main Stage
A World Premiere!
A BEAUTIFUL, HUMOR-FILLED EXCAVATION OF OUR SHARED HISTORY.
When a hip hop lovin' uncle obsessed with Ancestry.com starts digging into the past, an interracial couple finds that they have a lot more (and a lot less) in common than they thought. Filled with comedy, wit, and dance, this singular American story is about learning to live and love in a present that's overpopulated with ghosts.
Redwood Plot Synopsis
Please note, this synopsis contains spoilers.

Baltimore, 2019. As a hip-hop dance class bumps and grooves away in the background, Stevie Durbin composes an email to his entire extended family. Stevie wants to let everyone know that he's begun a genealogical odyssey on behalf of the whole clan: since their ancestry is rooted in American slavery, their roots are hard to trace but Stevie feels it is well worth the effort. And his initial research has uncovered the fact that there is a descendant of the Tatum family, who owned members of the Durbin family as slaves, alive and well and living in Baltimore today.
Stevie convinces the young Tatum, Drew, to meet for coffee to discuss their shared lineage. Drew is crushed by the revelation that he is descended from slave-owners. Things get even more complicated when they discover that Drew is the partner of Stevie's niece, Meg Durbin; in fact, Meg and Drew have recently taken their relationship to a new level by moving in together. Realizing that it was his girlfriend's family who were enslaved by his own, Drew leaves the café in an emotional hurry and doesn't plan further contact with Stevie. The news causes a rift between Drew and Meg, who have a difficult conversation about the legacy of slavery and the ongoing oppression from the systemic racism that plagues Black Americans.
Meg and her mom Beverly have a close bond and laugh in shared confusion about Stevie's fascination with online genealogy, while discovering that they have different opinions about making sense of their identities as American women of color.
The intensity of Stevie's research frustrates his extended family members and, as they cut off contact, he tries to find community in a variety of dance and yoga classes. But he's so out of place that he ends up even more alone. As Meg and Drew try to find a path forward, and as Stevie becomes in need of human connection, Beverly becomes the go-to person for keeping her family's heads above water. Eventually, through a series of difficult but hilariously familiar family conversations, things start to get better, even after Beverly finally reveals that her marriage has fallen apart and she's facing isolation and sadness of her own.
Drew confronts his father about their ancestry and it leads nowhere, but he attempts to face his awful family history and its impact on his present relationship. He and Meg reconcile, and in the end, they join Beverly and Stevie for a family night out. It seems they all know how difficult it will be to contextualize and overcome their shared history, but they will do the best they can to love and honor each other—as Americans, as human beings, and as a family who stays and laughs together. As the present-day characters set their eyes on the future, the ghosts of the Durbin ancestors take the stage and address the audience to ensure their own stories are neither whitewashed nor erased.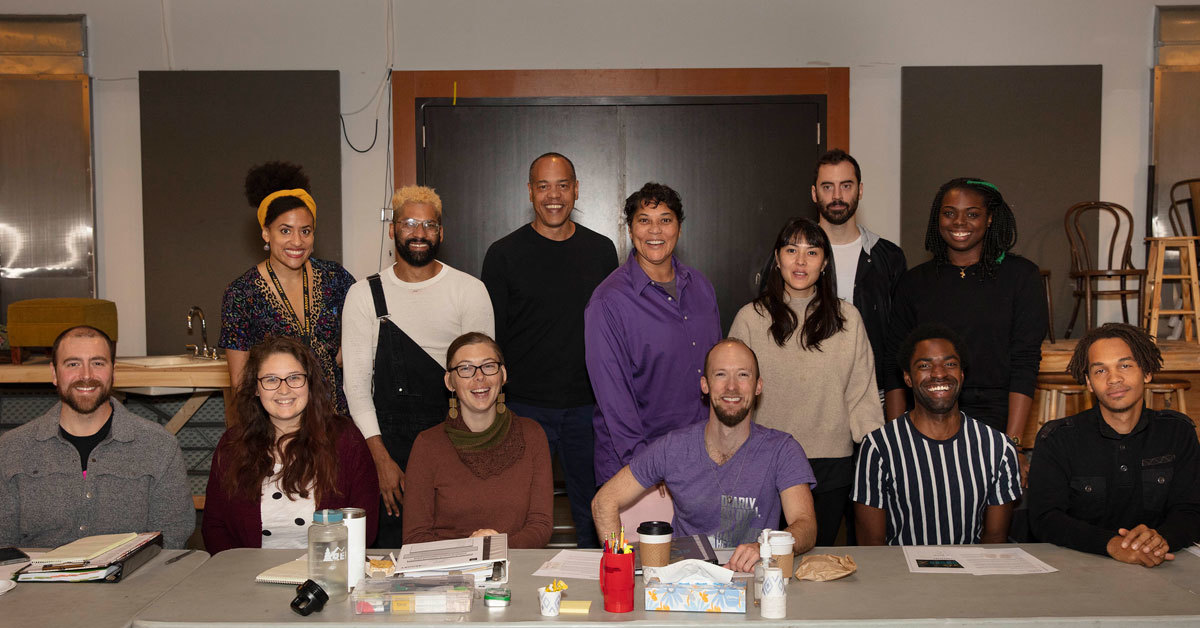 Redwood
By Brittany K. Allen
Directed by Chip Miller
| | |
| --- | --- |
| Brittany K. Allen* | Meg Durbin |
| Orion Bradshaw* | Tatum |
| Nick Ferrucci* | Drew Tatum |
| Charles Grant | Instructor |
| Tyrone Mitchell Henderson* | Stevie (Steve) Wilson |
| Jennifer Lanier* | Mom (Beverly Durbin) |
| Ashley Mellinger | Harriet/Hattie |
| Andrea Vernae* | Allie/Alameda |
*Member of Actors' Equity Association, the Union of Professional Actors and Stage Managers in the United States.
| | |
| --- | --- |
| Darrell Grand Moultrie | Choreographer |
| Brittany Vasta | Scenic Designer |
| Alison Heryer | Costume Designer |
| Jeanette Oi-Suk Yew | Lighting Designer |
| Phil Johnson | Sound Designer |
| Benjamin Fainstein | Dramaturg |
| Jamie Lynne Simons* | Stage Manager |
| Dana Petersen | Production Assistant |
*Member of Actors' Equity Association, the Union of Professional Actors and Stage Managers in the United States.
Meet the Cast
Brittany K. Allen, Playwright, Meg Wilson
Brittany K. Allen is thrilled to be making her Portland Center Stage at The Armory debut! A New York-based actor and writer, her plays have been developed at Manhattan Theatre Club, The Public Theater, Kansas City Repertory Theatre, and elsewhere. Brittany holds commissions from Playwrights Horizons and Manhattan Theatre Club/Alfred P. Sloan Foundation. She's a member of the emerging writers group at The Public Theater, the Obie Award-winning EST/Youngblood, and was a 2017 Van Lier Playwriting Fellow at the Lark. Redwood (Kilroys List, 2017) will be produced in 2020 at The Jungle Theater and Ensemble Studio Theatre. Recent New York performance credits include Gloria: A Life (Off-Broadway), Minor Character (New Saloon; New York Innovative Theatre Award for Best Ensemble), and workshops with Atlantic Theater Company, Clubbed Thumb, and New York Stage and Film. Brittany received her B.F.A. from NYU Tisch School of the Arts and studied at the Upright Citizens Brigade Training Center. For the fam!
Orion Bradshaw, Tatum
Orion is an actor/educator and a proud member of both Actors' Equity and the National Education Association. He recently earned his M.A. in teaching from Southern Oregon University. Orion was an actor for three seasons at Oregon Shakespeare Festival, before going on to co-found Portland's own Post5 Theatre and perform with many Portland and Seattle area theaters. He's also been an educator for such companies as the aforementioned OSF, Portland Center Stage at The Armory, Seattle Repertory Theatre, PlayWrite, Inc., and Northwest Children's Theater and School, among others. Orion wholeheartedly believes that this awesome new show adds a potent point of view to a vital cultural dialogue. He hopes that you find yourself laughing, thinking critically, and participating in the conversation!
Nick Ferrucci, Drew Tatum
Nick is happy to return to Portland Center Stage at The Armory where his previous credits include Astoria: Part One and Two, Crossing Mnisose, and JAW: A Playwrights Festival. Portland theater credits: Teenage Dick at Artists Repertory Theatre, Arlington, John, The Angry Brigade at Third Rail Repertory Theatre, Luna Gale at Coho Productions, Peter and the Starcatcher at Portland Playhouse, True West at Profile Theatre, A Pigeon & A Boy at Jewish Theatre Collaborative. Regional: Oregon Shakespeare Festival, Maples Repertory Theatre, Sierra Repertory Theatre, Commonweal Theatre Company, Heritage Theatre Festival, and Bright Star Touring Theatre. Film: Warmuffin, The Falls, One Foot in the Gutter. TV: Grimm. He holds an M.F.A. in acting from Northern Illinois University and a B.F.A. in theater from Southern Oregon University. He has studied with the Moscow Art Theatre in Russia and The Second City in Chicago.
Charles Grant, Instructor
Charles is overjoyed to be making his Portland Center Stage at The Armory debut with Redwood! Maybe you've seen him around town in: Bootycandy (Fuse Theatre Ensemble), Jump (Confrontation Theatre/Milagro Theatre), Mamma Mia! (Broadway Rose Theatre Company), or A Year with Frog and Toad (Oregon Children's Theatre), for which he received a Drammy Award for his performance. But maybe you haven't seen him anywhere, and that's cool too. B.F.A. in acting from UC Santa Barbara (Go Gauchos!). He would like to express gratitude and love to Chip, Marissa, the folks at The Armory, the entire cast, creative, and crew of Redwood, his friends and family for supporting him, and YOU for being here with us. "I am my ancestors' wildest dreams." thecharlesgrant.com
Tyrone Mitchell Henderson, Steve Durbin
Tyrone is the founder of Quick Silver Theater Company. Acting credits include the first national tour of Bring in 'da Noise, Bring in 'da Funk; Off-Broadway, Tyrone played Friar Francis and the Sexton in the 2019 critically acclaimed Public Theater production of Much Ado About Nothing, directed by Tony Award-winner Kenny Leon. Additional Off-Broadway credits include: King Lear opposite Billy Porter, Yellowman, Rancho Viejo, The Piano Lesson, The America Play, The Tempest, Two Noble Kinsmen. Regional premieres: The Magician's Daughter, War, and Aubergine. Film: The Upside. Television: recurring role on The Good Fight. Other television credits include: Madam Secretary, The Code, FBI, Search Party, God Friended Me, Sneaky Pete, Orange is the New Black, and he has guest starred on all three branches of theLaw and Order series. Stay connected: @tymhenderson tyronemitchellhenderson.com
Jennifer Lanier, Beverly Wilson
Jennifer is delighted to bring her work to Portland Center Stage at The Armory. She is currently co-artistic director of Original Practice Shakespeare Festival. Local credits: Well and Let Me Down Easy at Profile Theatre; Men on Boats at Third Rail Repertory Theatre; The Brother/Sister Plays at Portland Playhouse; The Hillsboro Story at Artists Repertory Theatre. Her solo show None of the Above has been seen around the country. Regional: American Stage Theatre Company, Ruth Foreman Theatre, United Stage. Film: The Water Man, Thin Skin, Woodstock or Bust, Last Champion, Scrapper. TV: Leverage, Grimm, Hawaii. She earned a B.F.A. from University of North Carolina School of the Arts and has studied improvisation with Paul Sills, original director of The Second City.
Ashley Mellinger, Harriet, Hattie
Ashley is pumped for her debut at Portland Center Stage at The Armory! Local credits include Persephone with Bedrock Theatre, The Most Massive Woman Wins at Deep End Theater, Dream/Logic with Hand2Mouth Theatre, and Sleepwalker at Headwaters Theatre (Fertile Ground Festival). New York credits include Volupté with World Theatre Lab, Spring's Awakening and Balm in Gilead at The Marilyn Monroe Theatre, and The Darger Projects at The Lee Strasberg Theatre & Film Institute. Recent film credits: Magnificent (winner of the LGBTQ category at Oregon Independent Film Festival), Lonesome George, irl, and Love, Cheryl. She has a B.F.A. in acting from New York University and has studied at The Lee Strasberg Theatre & Film Institute and Stonestreet Studios.
Andrea Vernae, Allie, Alameda
Andrea is so excited and filled with so much gratitude to be making her Portland Center Stage at The Armory debut! Born and raised in Miami, FL, she was last seen in: The Wolves at Portland Playhouse; JUMP, a co-production with Confrontation Theatre and Milagro Theatre; and Everybody at Artists Repertory Theatre, where she is also a resident artist. When not onstage, Andrea enjoys creating short films with Sunflower Creations and being a part of the Confrontation Theatre team.
Meet the Creative Team
Chip Miller, Director
Chip is a director and producer, currently in the role of associate producer at Portland Center Stage at The Armory. They were previously the artistic associate/resident director at Kansas City Repertory Theatre. Directing: School Girls; Or, The African Mean Girls Play, Welcome to Fear City, Sex with Strangers, A Raisin in the Sun (Kansas City Repertory Theatre); Becoming Martin by Kevin Willmott (world premiere, The Coterie Theatre); dwb: driving while black (Lawrence Arts Center); 4:48 Psychosis (The Buffalo Room). Chip has developed work with playwrights including Kevin Willmott, Kara Lee Corthron, Brittany K. Allen, Catherine Trieschmann, Darren Canady, Andrew Rosendorf, Michelle T. Johnson, and Michael Finke. They have developed work at The William Inge Theater Festival, NYU Steindhard's New Plays for Young Audiences, Portland Center Stage at The Armory's JAW: A Playwrights Festival, Midwest Dramatists Center, and Kansas City Repertory Theatre's OriginKC: New Works Festival. Education: B.F.A., NYU Tisch School of the Arts.
Darrell Grand Moultrie, Choreographer
A recipient of a Princess Grace Choreography Fellowship Award, Darrell's select credits include: Daddy (The New Group), Sugar in Our Wounds (Manhattan Theatre Club), Invisible Thread (Second Stage Theater), Witness Uganda (American Repertory Theater), El Publico (Teatro Real in Madrid), Evita and Pride and Prejudice (Kansas City Repertory Theatre). This past summer, his world premiere was performed by The Alvin Ailey American Dance Theater during their engagement at New York's Lincoln Center. Darrell has created multiple works for Colorado Ballet, Cincinnati Ballet, BalletMet, The Sacramento Ballet, Milwaukee Ballet, North Carolina Dance Theatre, Washington Ballet, Smuin Ballet, NBA Ballet in Japan, and has collaborated with Tony Award-winning hoofer Savion Glover. Darrell was selected by Grammy Award-winning artist Beyoncé as a choreographer on her "Mrs. Carter Show" World Tour. Darrell is a graduate of Fiorello H. LaGuardia High School of Music & Art & Performing Arts and The Juilliard School.
Brittany Vasta, Scenic Designer
Brittany is a Brooklyn-based designer for plays, musicals, and operas. Recent work includes: Octet and Rinse, Repeat (Signature Theatre); Life Sucks (Acorn Theater at Theatre Row); Bill Irwin's Harlequin and Pantalone (New York City Center); Happy Birthday, Wanda June (The Duke on 42nd Street), I thought I would die but I didn't (The Tank); Sehnsucht (JACK); The Enemy of the People (Gene Frankel Theatre); The Road to Damascus (59E59 Theaters); Lawnpeople (Cherry Lane Theatre); Welcome to Fear City (Kansas City Repertory Theatre); August: Osage County, From the Author of (Resident Ensemble Players, University of Delaware); My Name is Asher Lev (Portland Stage); Richard III (The Shakespeare Theatre of New Jersey). Recent associate design credits: The Lifespan of a Fact (Roundabout Theatre Company, Studio 54) and Fairview (Soho Rep). Education: M.F.A., New York University. Proud member of United Scenic Artists Local 829. brittanyvasta.com
Alison Heryer, Costume Designer
Alison is a costume designer for live performance, film, and print media. Her design credits include productions at Steppenwolf Theatre, 59E59 Theaters, The New Victory Theater, Gertrude Opera, Seattle Repertory Theatre, Portland Center Stage at The Armory, Portland Opera, Kansas City Repertory Theatre, Indiana Repertory Theatre, ZACH Theatre, Artists Repertory Theatre, The Hypocrites, Redmoon Theater, La MaMa Experimental Theatre Club, and the SXSW Film Festival. She has exhibited work at the Nelson Atkins Museum of Art, the Prague Quadrennial of Design and Space, and World Stage Design Exhibition. Alison is a member of United Scenic Artists Local 829 and the associate professor of costume and textiles in the School of Art + Design at Portland State University.
Jeanette Oi-Suk Yew, Lighting Designer
Jeanette designs for theater, dance, opera, musicals, music performances, and immersive installation. The New York Times described them as "clever" and "inventive." Recent: Scotland, PA (Roundabout Theatre Company); KPOP (A.R.T./New York Theatres and the Five Angels Theater at the 52nd Street Project; Hewes Design Award, LIT Design Award; Lortel and Drama Desk nominations); Qui Nguyen's Vietgone at DCPA Theatre Company (Best Lighting Design nomination); Emily Mann's Gloria: A Life with Diana Paulus (Daryl Roth Theatre); Carla Ching's Nomad Motel (Atlantic Theater Company); Aziza Barnes' BLKS (Woolly Mammoth Theatre Company); Lauren Yee's Song of Summer (Trinity Rep); and Eve Ensler's Fruit Trilogy (Abington Theatre Company). Upcoming: Choir Boy with Jamil Jude (DCPA Theatre Company). NEA/TCG Career Development Program recipient. jeanetteyew.com
Phil Johnson, Sound Designer
Phil is a visual and theatrical artist based in Portland and the host of the podcast Radical Listening (Coho Productions). His recent productions include Cop Out and Hands Up (August Wilson Red Door Project); A Doll's House, Part 2, Everybody, The Humans, and An Octoroon (Artists Repertory Theatre); Twilight, Elliot: A Soldier's Fugue, The Antigone Project (Profile Theatre); Worse Than Tigers (A Contemporary Theater/Red Stage); and Watsonville, Lydia, Contigo Pan y Cebolla (Milagro Theatre). Phil Has a B.F.A. and M.A. from Ohio University. If you enjoyed the show please comment @philjohnsonlive or visit philjohnsondesignstheworld.com for more content and show playlists.
Benjamin Fainstein, Dramaturg
Benjamin is the literary manager for Portland Center Stage at The Armory and JAW: A Playwrights Festival. Selected dramaturgy and new play development credits include Howards End (upcoming, The Armory); Mary Kathryn Nagle's Crossing Mnisose (The Armory); Lauren Yee's Young Americans (in development, The Armory); Astoria: Part One and Two (The Armory); Sarah Sander's Golden (MIDD Summer Play Lab); Meghan Brown's The Tasters and Kevin Artigue's The Forcings (JAW); Meg Miroshnik's The Tall Girls (Carlotta Festival of New Plays); and Marcus Gardley's The House That Will Not Stand (Yale Repertory Theatre). Benjamin was a 2018 Lambda Literary Playwriting Fellow, and his plays have been staged in New York, New Haven, Boston, and Washington, D.C. Previous posts include founding artistic director of Whistler in the Dark Theatre, associate artistic director of Yale Cabaret, and managing editor of Theater magazine. He received his M.F.A. from Yale School of Drama.
Jamie Lynne Simons, Stage Manager
Jamie is delighted to return to Portland Center Stage at The Armory. Previously: Every Brilliant Thing, JAW: A Playwrights Festival, and other works in development. Most recent credit: In the Penal Colony at Portland Opera. Tour: production stage manager for Hundred Days, presented by La Jolla Playhouse, The Straz Center, and the Adrienne Arsht Center for the Performing Arts of Miami-Dade County. Other local credits: Artists Repertory Theatre, Third Rail Repertory Theatre, Portland Playhouse, Profile Theatre, Chamber Music Northwest, and Oregon Health & Sciences University — aiding in the education of medical professionals. Jamie worked for years on cruise ships with Carnival Cruise Lines and was able to visit the birthplace of their great-great-grandfather who immigrated from Denmark. B.F.A., University of the Arts, Philadelphia. Chair of Portland's Liaison Committee for Actors' Equity Association.
Dana Petersen, Production Assistant
Dana is thrilled to be a stage management apprentice at Portland Center Stage at The Armory. Earlier this season, she was a production assistant for In the Heights. Dana earned a B.A in theater from The Ohio State University where she stage managed The Curious Incident of the Dog in the Night-Time, Michael Von Siebenberg Melts Through the Floorboards, Four People, Execution of Justice, Beyond All Recognition, 7 Ways to Say I Love You, and Stupid F**king Bird. Dana was also a stage management intern on Much Ado About Nothing at The Old Globe. Dana sends all of her love to Mom, Dad, Carmen, and Murphy!
What Critics are Saying
"Allen, who also appears in the production, splices together race, identity and genealogy in a provocative piece that couldn't feel more timely in an increasingly multiracial America ... a challenging, memorable production that bodes well for the company's Wolf era." – The Oregonian

"Redwood is an insightful, funny, of-the-moment (occasionally tear-inspiring) play about race and identity ... The play recognizes the horrors of our collective past and the complexity of our present, while looking optimistically toward the future." – BroadwayWorld
"Allen's genius lies in her ability to grapple with the issues of our history and our country's racism in its many incarnations; to play real, hard and fair to get every member of the audience engaged in what she is saying; and to do it with comedy, wit, and grace." – Judy Nedry
What Audiences are Saying
"Hilarious, meaningful, and grounded! The stylization of the vignettes was phenomenal and felt incredibly new and refreshing onstage."
"Captivating and super entertaining."
"A clever, thought-provoking, important play. Go see it!"
"So gorgeous! I will never forget this riveting dance!!"
"Wonderful, shocking and funny at the same time. I would see it again!"
"Everything about the show was superb. The ending was unexpected and sudden and I loved it."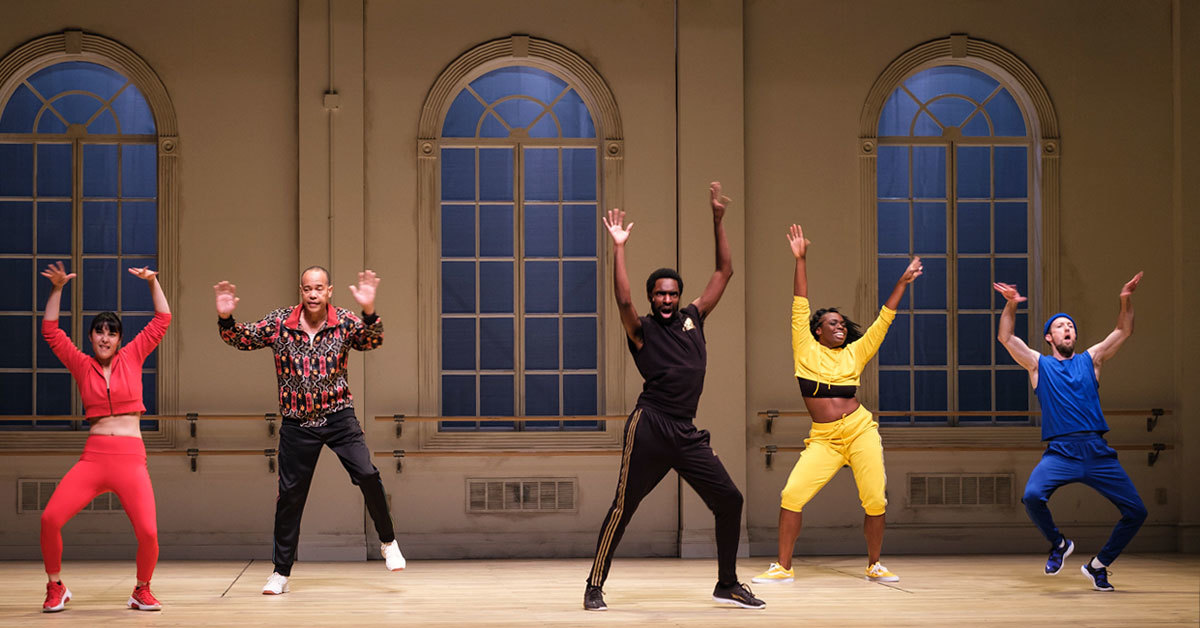 Highlights from Redwood at The Armory.  
---
---
"On the page it's one of the funniest scripts I've ever read, and also so smart and incisive  in the way that it talks about these huge issues."  -Redwood director Chip Miller. 
Get the inside scoop on Redwood, which makes its world premiere at The Armory beginning October 26.
Portland Center Stage is committed to identifying & interrupting instances of racism & all forms of oppression, through the principles of inclusion, diversity, equity, & accessibility (IDEA).