Resource Guide
for Young Americans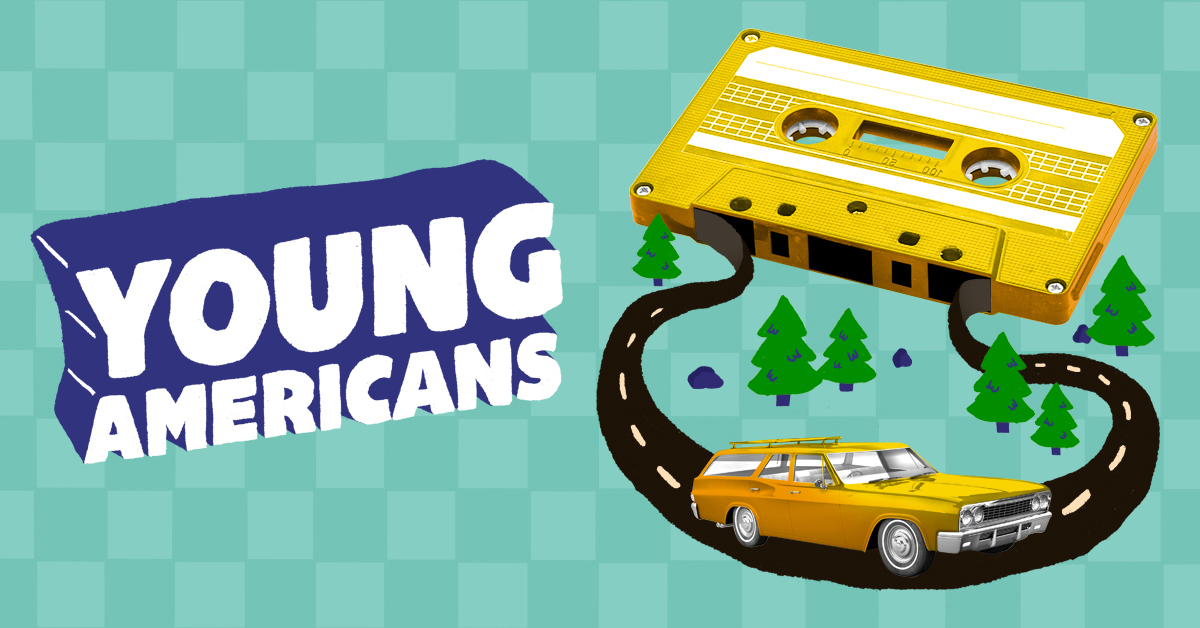 Student Matinee Curriculum
Portland Center Stage's Student Matinee Program seeks to provide all young people with opportunities to experience and directly participate in the art of high-quality, professional theater in a context that supports their education. The following is designed to help students explore themes found in our production of Young Americans. We encourage you to choose the most appropriate activities for your group and adapt as needed.
Goals:

To encourage personal connections between the students and the major themes of the play.
To excite students about the story and introduce the theatrical elements of the production.
To engage students using the "actors' tools" (body, voice, imagination, listening, collaboration, storytelling, etc).

Key Concepts:

Speaking your truth — even if it's a "small" one. Leaning into vulnerability.
The importance of attentive listening and focus as it pertains to being a member of an audience, and/or the member of a team/ensemble.
Bravely inhabiting your body and/or voice and using them to tell stories — both realistic and exaggerated/heightened. Exploring the importance of choice.
ACTIVITY:
A deeper dive into the importance of "choice" within character development, storytelling/performance, and life, in three rounds:

The playwright of Young Americans, Lauren Yee, writes about characters who are forced to (or choose to) "confront a set of new circumstances" (Yee's words) in their journey towards personal growth, identity, and belonging — as individuals and within their close relationships.

Round 1
Materials: Create the three sets of cards below, each a different color. For this activity, we will use blue cards for "emotion," yellow cards for "tactic," and green cards for "action." We will call these our Acting Choice cards. You will also need the "Jenny Prologue" sheet which is provided below.
Step 1: Form a big circle of chairs, one per student participant. Students begin seated.
Step 2: Hand each student a "Jenny Prologue" speech script handout (see below).
Step 3: Have students "activate the text," which means to read it aloud, at full volume, as a whole group in unison one time (if time allows).
Step 4: Answer any burning questions, thoughts, clarifications, etc.
Step 5: Hand each student one "emotion" card (blue); Have students keep them face down for now.
Step 6: Explain to students: Here's what's going to happen: In a moment, I'll have you all stand up and turn around, to face your chair (or, the outside of the circle), and when I say "Go!" you'll place your emotion card face up on your chair and begin reading the speech while applying the Acting Choice listed on your card. Take a couple of seconds to take in the choice listed on your card, if you wish — then, dive in! Don't judge it; don't overthink it. The most important aspect of this exercise is TRYING. About every 10 seconds, I'll yell "ROTATE!" (or use a noise-making device) and then you'll move one chair to your right (or left) and pick up from where you left off in the speech, layering on the new Acting Choice in front of you. Every time you finish the speech, just start over from the top. Any questions?
Step 7: Repeat this process for about 10 rotations (give or take, as time allows).

Step 8: Debrief about the process!
Which choices felt instinctively "right" or like they "fit" this speech?
Which choices felt more instinctively wonky, or like they didn't fit?
Which choices surprised you? Give a few examples.
Feel free to use your own prompts

Round 2
During Round 1's debrief session, hand out one "tactic" card to each student, and keep them face down.

Repeat the same process as above, having students simply set their "tactic" card on top of the "emotion" card in front of them. Repeat the debrief process as well.

Round 3
Same as Round 2! This time hand out one "action" card to each student during Round 2's debrief session, and repeat the same process as the prior rounds.
Jenny's Prologue


(JENNY speaks to us in her native language. It comes across to us in english.)

JENNY

It was something you realized early on as a child.

even before you left home.

before you knew that other homes were an option.

"you will never be happy here."

heavy, am i right?!

quite SOMETHING to be thinking as a child!

"you will never be happy here."

but the flip side of it?

you will never be happy anywhere else you will always be searching.

you were always meant to wander.

this is your curse, to make your roots in sand, to bend at the first sign of movement, the ground always shifting beneath you.

your curse, yeah, but also your strength.

so "okay" you think.

"why not?"

why not make your home somewhere else?

why not see who you have always been meant to be?
Portland Center Stage is committed to identifying & interrupting instances of racism & all forms of oppression, through the principles of inclusion, diversity, equity, & accessibility (IDEA).