The Santaland Diaries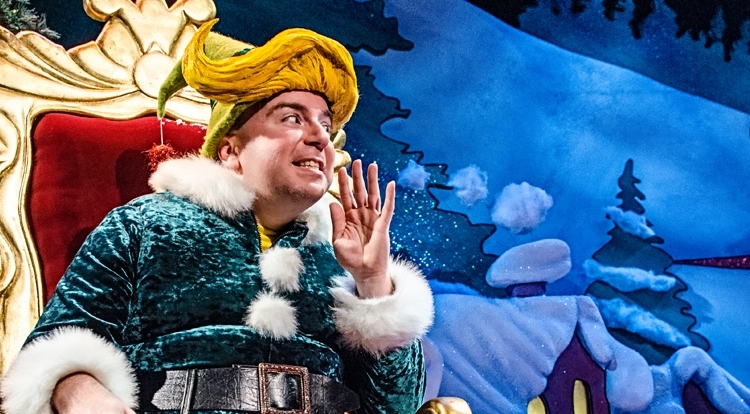 December 2 — 27, 2015
In the Ellyn Bye Studio
Previews are Dec. 2 & 3 | Opening night Dec. 4
By David Sedaris
Adapted for the stage by Joe Mantello
Directed by Wendy Knox
Based on the true chronicles of David Sedaris' experience as Crumpet the Elf in Macy's Santaland display, this cult classic riffs on a few of Sedaris' truly odd encounters with his fellow man during the height of the holiday crunch.
Run Time:
Approximately 75 minutes; no intermission.
General Performance Times:
Evenings: Tuesday - Sunday at 7:30 p.m.
Matinees: Saturday and Sundays at 2 p.m.
Special showing: Thursday, Dec. 24 at 2 p.m.
View the season calendar.
Who's Who:
View the cast and creative team bios.
Playbill:
Explore the Playbill.
Note:
The Santaland Diaries is recommended for ages 14+; contains mature content and language, and the secret of Santa is exposed. Children under 6 are not permitted at any PCS production. There is no late seating or re-entry in the Ellyn Bye Studio.
Resource Guide:
Download resource guide (PDF)
Performance Times
Evenings: Tuesdays – Sundays at 7:30 p.m.*
Matinees: Saturdays and Sundays at 2 p.m., Thursdays at noon*
*Schedule may vary for some shows. Please check our season calendar to confirm.
Alex Falcone, Amy Miller and Bri Pruett host the December Social Hours at PCS. Enjoy complimentary nibbles and your first glass of beer or wine is on us!
Tragedy + Time: A Humorous Memoir Workshop with Courtenay Hameister
December 13 from 10:30 to 1:00
$20
Register
Whether you're hoping to inject some humor into your blog, write a Bossypants-style memoir, or learn to look at those awkward, humiliating and/or litigation-worthy moments as funny instead ... Learn More
A Holiday Must-See"If you aren't familiar with David Sedaris' work, then The Santaland Diaries is a perfect introduction to his humorous work. And if you are a fan of David Sedaris' work, then you know this is a must-see cult classic for the holiday ... Learn More