The Santaland Diaries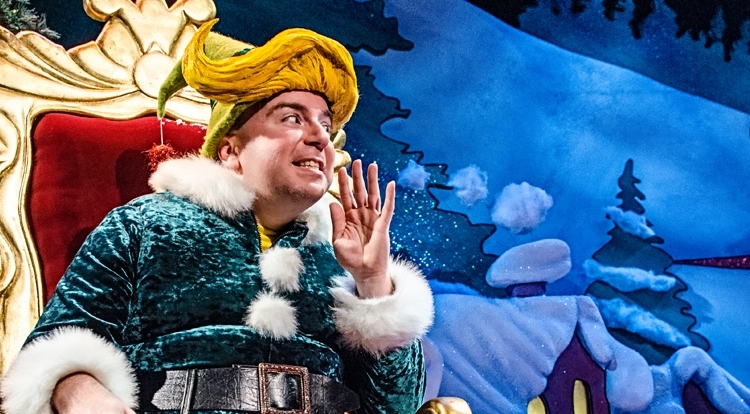 December 2 – 27, 2015
In the Ellyn Bye Studio
Based on the true chronicles of David Sedaris' experience as Crumpet the Elf in Macy's Santaland display, this cult classic riffs on a few of Sedaris' truly odd encounters with his fellow man during the height of the holiday crunch.
Run Time:
Approximately 75 minutes; no intermission.
General Performance Times:
Evenings: Tuesday - Sunday at 7:30 p.m.
Matinees: Saturday and Sundays at 2 p.m.
Special showing: Thursday, Dec. 24 at 2 p.m.
View the season calendar.
Who's Who:
View the cast and creative team bios.
Playbill:
Explore the Playbill.
Note:
The Santaland Diaries is recommended for ages 14+; contains mature content and language, and the secret of Santa is exposed. Children under 6 are not permitted at any PCS production. There is no late seating or re-entry in the Ellyn Bye Studio.
A Holiday Must-See
"If you aren't familiar with David Sedaris' work, then The Santaland Diaries is a perfect introduction to his humorous work. And if you are a fan of David Sedaris' work, then you know this is a must-see cult classic for the holiday season ... While Sedaris' writing is nothing short of genius, Pierce's delivery of Sedaris' story is impeccable. The Santaland Diaries is by far one of the funniest shows I've ever seen, and definitely the funniest one-man show." -Merlot Mommy
Sheer Momentum
"local stage and television veteran [Darius Pierce] navigates the poles of impish self-deprecation and scathing misanthropy with an eye toward sheer momentum ... playing a character as fractured by seasonal expectations as anyone he encounters, he wrings genuine sentiment from the sappiest time of the year." -Willamette Week
Laugh Knowingly
"Darius Pierce, a local favorite of mine all the way back to his days with Theatre Vertigo is wonderful in the role. In fact, the reason I made sure to see Santaland this year was because I was reminded of how much I missed his unique stage-presence after seeing him in Third Rail's Middletown. I can see why Santaland has been a PCS tradition for so many years, the tale of Sedaris' brief stint as a department store elf is just the thing for those who wish to laugh knowingly at forced holiday cheer." -The Crippled Critic
A Cynic's Take on Christmas
"David Sedaris's Santaland Diaries (both the play and the essay) are surely best recognized as a cynic's take on Christmas tradition ... With its multiplicity of narratives, the script becomes as flexible as taffy in the hands of its elfin elocutioner, Crumpet. And the star of this year's production at Portland Center Stage, Darius Pierce (who's spent prior seasons narrating another PCS holiday play, A Christmas Story), jingled in on the heels of two distinct predecessors ... Pierce fully dissolves into the story, allowing himself to flow freely through the inevitable bewilderment, snark, and childlike wonder as if he's feeling them for the first time. His immersive technique is, one might venture, on a lofty par with Lauren Weedman" -Oregon ArtsWatch
Blisteringly Funny
"[Pierce] delivers an energetic and ultimately very engaging performance. It is easy to forget that this is a one-man show when Pierce so expertly recreates the diverse characters that Crumpet encounters, from an 18-year-old girl looking to be the next Hollywood starlet to a ludicrously macho New Jersey husband with a wandering eye ... those who have already had enough melting hearts this holiday season will find this ice-cold yet blisteringly funny production a welcome new tradition. The Santaland Diaries is a place to laugh at the all too familiar absurdities and contradictions of what we're so emphatically told is the most magical time of the year." -BePortland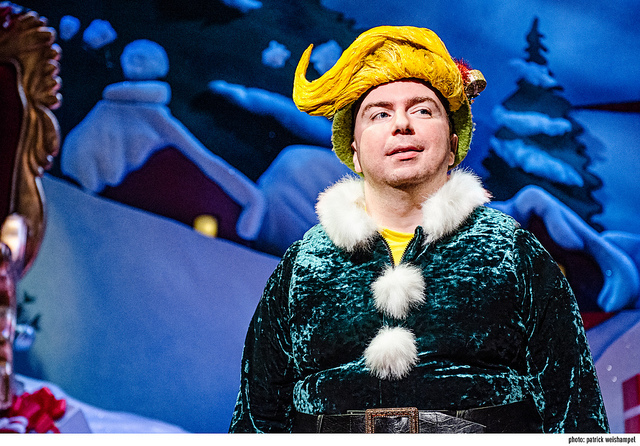 Portland Center Stage is committed to identifying & interrupting instances of racism & all forms of oppression, through the principles of inclusion, diversity, equity, & accessibility (IDEA).