October 10 – November 22, 2015
In the Ellyn Bye Studio
"Sexually and intellectually provocative … A HELL OF A LOT OF FUN!" —The Hollywood Reporter
A raging snowstorm traps strangers Olivia, an unsuccessful yet gifted 39-year-old writer, and Ethan, a tech- addicted and wildly successful young blogger, in a secluded cabin. Opposites instantly attract, and undeniable chemistry ignites. As the dawn rises, however, what could have just been a one-night-stand transforms into something more complicated when online exploits interfere with their real-life connection.
General Performance Times:
Evenings: Tuesday - Sunday at 7:30 p.m.
Matinees: Saturday and Sundays at 2 p.m.
Thursdays at noon
View the season calendar.
Run Time:
Approximately 2 hours; including one intermission.
Who's Who:
View the cast and creative team.
Playbill:
Explore the playbill.
Note:
Sex with Strangers is recommended for ages 16+; contains mature language, brief nudity and adult situations. Sex is imminent. Children under 6 are not permitted at any PCS production. There is no late seating or re-entry in the Ellyn Bye Studio.
This is your guide to the hot new play that The Hollywood Reporter calls, "sexually and intellectually provocative," and "A HELL OF A LOT OF FUN!"
Sex with StrangersBy Laura EasonDirected by Brandon Woolley
Cast
Danielle Slavick…………………………………Olivia
Christopher M. Smith…………………………Ethan
Creative Team
Laura Eason………….....................Playwright
Brandon Woolley……………….......Director
Tony Cisek……………………...........Scenic Designer
Christine Meyers.........................Costume Designer
Kristeen Willis Crosser...............Lighting Designer
Scott Thorson..............................Sound Designer
Kelsey Daye Lutz.........................Stage Manager
Bailey Anne Maxwell...................Production Assistant
Brandon Woolley.........................Casting
*The Actors and Stage Manager employed in this production are members of Actors' Equity ...
A titillating treat for grown-ups on date nights
"Friday, Sex with Strangers opened for a fall run. The show, a steamy, two-character take on lust and love in the tech era by Laura Eason, is particularly interesting counter-programming after family-friendly Our Town ... Eason weaves in quips and comments about social media, online anonymity and escaping your digital past, and touches on texting, Twitter and tech addiction. ... Both actors are in command of their characters' needs, vulnerabilities, changes and libidos. And Smith and Slavick bring the most important thing to this play: bubbling, believable sexual chemistry. ... Danielle Slavick and Christopher M. Smith are two highly charged sexual magnets that pull you right into the fun." -The Oregonian
Sex in the Digital Age
It's hard to imagine two characters more different than Olivia and Ethan. She's a neurotic intellectual who's always cleaning; he talks with his mouth full and pees with the bathroom door open. But it doesn't take long for these polar personalities to wind up doing the nasty in Sex With Strangers, playwright Laura Eason's ode to romance in the age of Wi-Fi. ... with its sharp dialogue and nuanced performances, the play is satisfying in the way that whipped cream is: a light treat before bedtime—the perfect nightcap and maybe even better than sex." -Willamette Week
An engaging, and of course, sexy show.
"Laura Eason's script has a lot more going on in it than intimacy between strangers. The current state of the publishing industry and how writers navigate it are central to the show. ... The dialogue is snappy and Eason really allows the audience to get to know the characters. They feel like real people and we find ourselves admiring and despising them at different times. ... It raises some interesting questions about the nature of relationships and publishing but doesn't go on to answer these issues. It's not meant to. This is a story about two people, dealing with these questions in their own way." -PQ Monthly
A fast-moving, highly entertaining play
"If you're like me, wondering whether you should attend Portland Center Stage's most recent production, the Laura Eason play Sex with Strangers, you can relax. The play is much tamer than many with less suggestive titles. It's the psychological blood and guts of having a relationship that makes this work so interesting. ... With the snappy dialog and insights into the world of writing, publishing, and digital media it's a fast-moving, highly entertaining play. " -Judy Nedry
Absolutely amazing
"The first production of the 2015-2016 season in the intimate Ellen Bye Studio is absolutely amazing. As the name indicates, this two-person production is about sex. Hot, hot, blush-worthy sex. And technology, social media, careers, ambition, history and rumors. ... Written by House of Card's Laura Eason, the screenplay is sharp, funny, fast and insightful." -Martha Chartreuse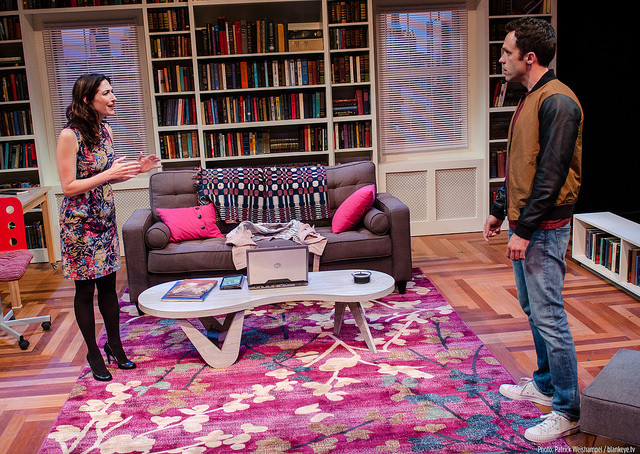 Portland Center Stage is committed to identifying & interrupting instances of racism & all forms of oppression, through the principles of inclusion, diversity, equity, & accessibility (IDEA).