Donor Stories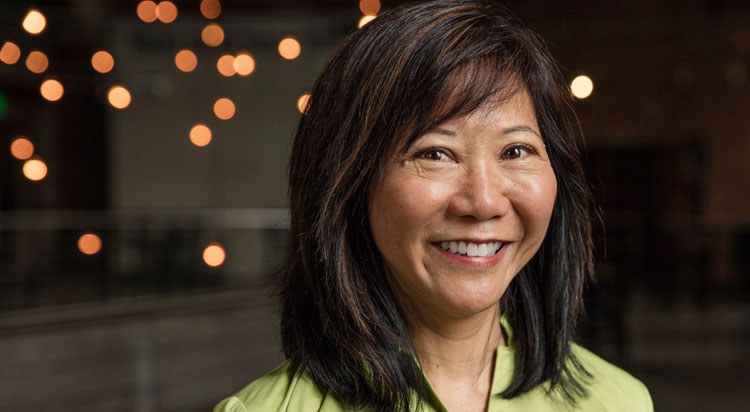 Lynne Johnston
Where is your hometown?
Honolulu, Hawaii
What do you miss most about your hometown?
Island-style food and that ripe fruity florally scent that you catch the instant you step off the plane
How long have you been attending Portland Center Stage?
One of the first shows I remember attending was Fully Committed @ 2003
Which PCS production has been your favorite throughout the years?
Sometimes a Great Notion and I'm partial to Snow Falling on Cedars
What is something most people don't know about you?
My son had a beloved 3rd grade teacher who believed that everyone comes into this world with a gift -- you just have to figure out what it is. It was then and there that I realized that I had squandered my gift on my talent for hula hooping.
Pets?
Love big, hairy dogs and my Golden Retriever, Bandon.
Hobbies?
Love to hike and climb mountains and see rocks.
What other organizations do you support in Portland?
Habitat for Humanity, Forest Park Conservancy, Columbia Gorge Conservancy, and Oregon Wildlife.
How did you get introduced to theater as an art form?
In 4th grade in Honolulu I saw a production of The King and I with Yul Brynner and was mesmerized. It was Et cetera, et cetera, et cetera from then on.
What do you think sets Portland apart from other cities? PCS?
Portland is one and a half hours drive to the beach or to the mountain.
Why is philanthropy important to you?
I live a blessed life and want to give back.
What is your favorite book?
Favorite children's book?
What is it about theater that inspires you?
I find that I hold my breath when I witness a scene where an actor fully commits. Maybe it's the oxygen depletion but I am left awestruck.
What is one of your biggest inspirations and why?
Lin Manuel Miranda ranks as a genius game-changer in my book.
If you could give one piece of advice, what would it be?
Climb On!
Portland Center Stage at The Armory is committed to identifying & interrupting instances of racism & all forms of oppression, through the principles of inclusion, diversity, equity, & accessibility (IDEA).