Venus in Fur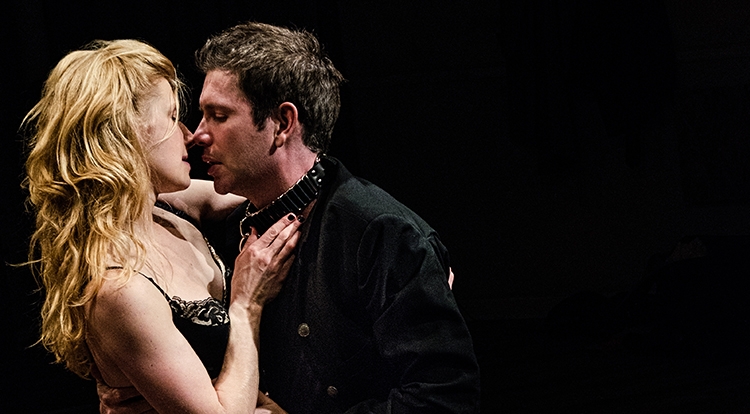 January 29 — March 10, 2013
In the Ellyn Bye Studio
By David Ives
Directed by Nancy Keystone

"Wickedly entertaining…one of the theater season's most remarkable performances." —The Oregonian
When a young actress shows up hours late for her appointment, she knows she may have blown her chances at the role. But when her emotionally charged audition for the demanding playwright/director becomes an electrifying game of cat and mouse that blurs the lines between fantasy and reality, seduction and power, love and sex—well, the rules may have all just changed.

Nominated this season for the Tony Award for Best Play.
Performance times:
Tuesday - Sunday evenings at 7:30 p.m
Saturday and Sunday matinees at 2 p.m.
Thursday matinees at noon
A full list of performances and dates will appear when you enter the ticketing section of the website.

The running time for Venus in Fur is one hour and 50 minutes, with no intermission.

View the cast and creative team bios.

View the playbill for Venus in Fur.

Learn more about accessibility options at PCS.

Performance Times
Evenings: Tuesday - Sunday at 7:30 p.m.
Matinees: Saturday and Sundays at 2 p.m.,
Thursdays at noon
*Note: These are general performance times. Certain productions may have exceptions. View the season calendar for more information.
This show's run time will be posted below the synopsis at left near the date of the first performance.
Production blog
Reviews and Features
Marty Hughley | The Oregonian [Review 19 Feb 2013]
"We're looking for somebody a little different," says Thomas, a writer/director, anxious to end an audition by an actress who seems to exemplify the undesirable qualities he's been seeing all day. But he finds out soon enough just how different this late-arriving actress, Vanda, really is, as reading and role playing turn into a tense, erotically charged game.

A Tony nominee from its 2011 Broadway run, David Ives' "Venus in Fur" plumbs sexual and psychological (and, for that matter, theatrical) power dynamics with devilish wit and intelligence.
But however sharp the writing, the play depends heavily on its two actors, in particular the woman playing Vanda. In the wickedly entertaining production that opened Friday at Portland Center Stage, directed by Nancy Keystone, willowy blonde Ginny Myers Lee's Vanda is mercury in a leather mini. Continually shifting personas, accents, moods, expressions and apparent (and not-so-apparent) intentions, she's a marvel of plasticity—off-putting, intriguing and alluring, first by turns, then somehow all at once. It's one of the theater season's most remarkable performances.

read more
Gigi Little | Ut Omnia Bene Blog [Review 19 Feb 2013]
When I told Stephen I was getting tickets to the Portland Center Stage production of Venus in Fur, he said, "I hope it's not so sexy it embarrasses me."
I hadn't thought about that. I'd just heard that Venus in Fur is a play about a playwright / director who's auditioning actresses for his own play Venus in Fur, based on the nineteenth century novel Venus in Furs (notice the s) by Leopold von Sacher-Masoch. That sounded innocent enough. Then, working, as I do, at Powell's, I decided to make a see-the-play-read-the-book shelf tag to post along with copies of the novel in the stores, and I looked up which section the book is kept in.
Erotica.
So: yipe. Sexy embarrasses me when I'm all by myself - I hated to think about what it would do to my wussy self in public.
Come Saturday night, Stephen and I were two prudes off for a night of saucy theater - but the play about the play about the novel that gave masochism its name turned out to be a smart, funny and fascinating study on the subject of power.
Yes, it was also sexy.
read more
Trey Reis | BePortland.com [Review 19 Feb 2013]
Portland Center Stage's production of Venus in Fur begins with a flustered, bumbling actress, hours late for her audition, talking circles around the playwrite who just wants to get home to his fiancee. That is, until Vanda Jordan, played by Ginny Myers Lee, convinces him to let her audition. The playwrite, Thomas (David Barlow) begrudgingly picks up a script. From there, the lines in front of him begin to transform and converge as the characters strip and redress their way through the script.
In her notes on the play, director Nancy Keystone outlines the appeal it has to her in exploring "the secrets that drive one to pursue difficult, painful or dangerous relationships." These secrets, introduced in the inspiration for the play, the 1870 German novel, Venus in Furs, by Leopold von Sacher-Masoch, led to the coining of the term "masochist." The transferral of this century-old term from a German novelist to a modern day playwrite seems like a wild move on the part of the play's author, David Ives. However, with each line of the play, the concept begins to feel more and more appropriate in highlighting the lasting, pain-seeking tendencies still alarmingly present in modern relationships.
It's the Portland Center Stage premiere for the play's two actors and their roles could not be larger. Throughout the audition, the two actors take on a number of different faces. These range from a rambling blonde, to a masochistic servant, to godlike entities, as the dividing line between reality and the script in front of them begins to fade away. And it all occurs within the confines of a flourescent-lit office cleared out to hold the actor tryouts. What Thomas thought was a hopeless audition, has turned into a sexual, eye-opening volley of direction and submission. This scraping away of the layers leads the play to a climax of divine proportions wherein the audience finally sees mankind fulfilling its role of being a reflection of the gods.
Tony Awards 2012 Best Nominee, Venus in Fur premiered at Portland Center Stage on January 29th and will continue through March 10th, with tickets for the remaining shows going fast.
Jonathan Frochtzwajg | Portland Monthly [Review 12 Feb 2013]
In the first scene of Venus in Fur, Portland Center Stage's new production, Thomas (David Barlow), the director/playwright of a theatrical adaptation of Leopold von Sacher-Masoch's scandalizing 1870 novella Venus in Furs (Masoch, masochism—get it?), paces around a dingy New York room at the end of a long day of unsatisfying auditions, complaining to his fiancée over the phone about the lack of qualified applicants. The scene, while establishing that Thomas is pedantic (his diatribe leaves no room for reply) and has issues with women (the female auditioners' sexuality seems to have offended him personally), is much too long.
That's the only bad thing to be said about Venus in Fur.
This taut, psychological play, which was nominated for a Tony last year, gets good—and then only gets better—with the entrance of Vanda (Ginny Myers Lee), an actor who seems, on first impression, just like the ones Thomas has been complaining about: attractive and entitled. She is, to boot, a hot mess, soaking wet with rain, prattling on with excuses and a trace of Valspeak, and generally making a fool of herself. But once Vanda has somehow convinced Thomas to let her try out, she astonishes not only him, but us, by utterly transforming into her haughtily erotic character. As the audition goes on—much longer than Thomas has told his fiancée it would—and the distance between director and actor, self and role, submission and domination, and, finally, reality and fantasy begins to close, we come to understand that Vanda isn't (or at least isn't only) the ditz she first appeared as; indeed, she isn't a proper character at all, but a representation of ideas that fascinatingly, maddeningly, ceaselessly changes faces. Is she an airheaded bimbo? A manipulative schemer? Or something more abstract: sexuality draped in animality, risen from the depths of our subconscious upon a seashell?
read more
Leela Ginelle | PQ Monthly [Review 12 Feb 2013]
The roles of submission and dominance, of mistress (or master) and slave, are played out consensually in bedrooms and dungeons around the world each day. For an hour or two at a time people slough off life's conventions and enter into erotic agreements made safe by their limits, time and otherwise.
In the world of porn and fantasy such scenarios become boundless, however, depicting the complete subjugation of one person to another, perhaps for eternity. The stories follow a sort of "porn logic," which does not resemble literary, or even soap opera logic, because of its cruelty, and highly specialized area of arousal.
The idea that such a story could rise to the level of art is tested in David Ives play "Venus in Fur," which shows now at Portland Center Stage's Ellen Bye Theater.
Ives' highly self-reflexive drama depicts a playwright, Thomas, adapting Leopold von Sacher-Masoch's novel of the same name. The novel, popularized for hipsters by the Velvet Underground, tells the story of a tormented 19th century gentleman, Severin, who convinces an aristocratic woman, Vonda von Dunajew, to enslave him.
Ives embeds this foundational S&M story into his play through a reading of Thomas's script at a highly charged, last-minute audition featuring Thomas himself, and an actress named Vonda Jackson.
In Thomas and Vonda we see all of the dynamics and paradoxes of sado-masochism played out. Thomas reads the role of the masochist Severin, but, as the author and director, holds the power in the relationship. When enacting von Dunajew, however, Vonda herself becomes Thomas's ideal and enthralls him.
read more