The Sheri and Les Biller Family Foundation Awards Theatre Enrichment Grant to PCS at The Armory
Posted 25 May 2017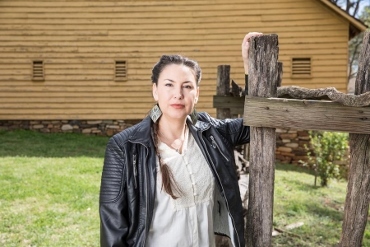 We are thrilled to be one of six arts organizations recently selected to receive a Theatre Enrichment Grant from The Sheri and Les Biller Family Foundation. The Seattle-based foundation awarded a $15,000 grant in support of our production of DeLanna Studi's And So We Walked: An Artist's Journey Along the Trail of Tears, part of The Armory's 2017-18 season.
Theatre Enrichment is one of the Biller Family Foundation's four focus areas, with a goal to foster the art form by expanding access to inspiring productions and immersive educational experiences. Grants aim to support excellent artistic content that also promotes important conversations around timely social issues.
And So We Walked relates actor and playwright DeLanna Studi's experience as a contemporary Cherokee woman who goes on a six-week, 900-mile journey with her father along the Trail of Tears in search of her heroic self. Journeying between the past, the present, and the dream world, this frank and funny dramatic memoir draws on interviews, historical research, and the artist's personal experience to convey the complexities and conflicts with which Ms. Studi and the Cherokee people wrestle. (To learn more about the play, you can hear an interview with DeLanna Studi here: https://youtu.be/qAAx3MCNY_M).
PCS at The Armory's production – scheduled for March 31-May 13, 2018 in the Ellyn Bye Studio – will be the work's West Coast premiere. In conjunction with the play, we will be partnering with curator Deana Dartt, the Oregon Historical Society, and other artists, experts, and organizations to offer a variety of education and community programs. Be on the lookout next spring at our Education & Community Programs page for more information about storytelling workshops, "Performance Perspectives" discussions, lobby exhibits, and more.
Close
Oct

18

Th

Available

Oct

19

Fr

Available

Oct

20

Sa

Available

Oct

20

Sa

A few seats

Oct

21

Su

A few seats

Oct

23

Tu

Sold out

SOLD OUT

Oct

24

We

Available

Oct

25

Th

A few seats

Oct

26

Fr

Available

Oct

28

Su

Available
A Life

Sep 29 – Nov 11
Oct

19

Fr

Available

Oct

20

Sa

A few seats

Oct

21

Su

Available

Oct

21

Su

Available

Oct

23

Tu

Available

Oct

24

We

Available

Oct

26

Fr

Available

Oct

27

Sa

A few seats

Oct

28

Su

Available

Oct

31

We

Available

Nov

01

Th

Available

Nov

01

Th

Available

Nov

02

Fr

Available

Nov

03

Sa

Available

Nov

04

Su

A few seats

Nov

04

Su

Available

Nov

07

We

Available

Nov

08

Th

Available

Nov

08

Th

Available

Nov

09

Fr

Available

Nov

10

Sa

Available

Nov

10

Sa

Available

Nov

11

Su

Available
Performance Times
Evenings: Tuesdays – Sundays at 7:30 p.m.*
Matinees: Saturdays and Sundays at 2 p.m., Thursdays at noon*
Accessibility