Happy Hour Conversation with Marissa Wolf and Macbeth director Adriana Baer
Event Details
Friday, October 25, 2019
6:30 p.m. – 7:30 p.m.
Ellyn Bye Studio Lobby
Enjoy a pre-show interview featuring Macbeth director Adriana Baer in conversation with Artistic Director Marissa Wolf. The discussions will dig into their shared experience as women directors and leaders in theater, as well as their individual career journeys from San Francisco to Kansas City and now to Portland.
Complimentary drinks until 7:00 PM, so arrive early!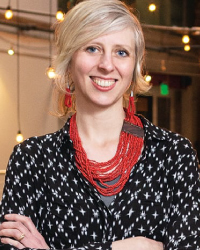 About Marissa Wolf
Marissa Wolf served as the Associate Artistic Director/New Works Director at Kansas City Repertory Theatre for three seasons, launching OriginKC: New Works Festival, a program that supports the creation, development and production of new work from a diverse body of major national playwrights. As part of the 2016 OriginKC: New Works Festival, Wolf directed the world premiere of Fire in Dreamland by Rinne Groff (co-commissioned by The Public Theater and Berkeley Repertory Theatre) and went on to direct its Off-Broadway premiere at The Public Theatre in June, 2018. Additional directing credits at Kansas City Repertory Theatre include the world premiere of Man in Love by Christina Anderson, The Curious Incident of the Dog in the Night-Time, The Diary of Anne Frank and A Raisin in the Sun.
Prior to Kansas City Repertory Theatre, Wolf served as the Artistic Director of Crowded Fire Theater in San Francisco for six seasons, where she directed numerous West Coast and world premiere productions for the company, including The Late Wedding by Christopher Chen, The Taming by Lauren Gunderson, The Bereaved by Thomas Bradshaw, Good Goods and DRIP by Christina Anderson, and Songs of the Dragons Flying to Heaven by Young Jean Lee. Other selected credits include 77% by Rinne Groff at San Francisco Playhouse, Precious Little by Madeleine George at Shotgun Players, Act II of The Lily's Revenge by Taylor Mac at Magic Theatre, and the Bay Area Premiere of Thom Pain (based on nothing) by Will Eno at The Cutting Ball Theater. Additionally, Wolf has directed workshops at The New Group, Berkeley Rep's Ground Floor, Marin Theatre Company, and Playwrights Foundation. She was nominated for Best Director from Broadway World San Francisco and the Bay Area Critics Circle Award. Wolf previously held the Bret C. Harte Directing Fellowship at Berkeley Repertory Theatre and has a degree in drama from Vassar College, with additional training from the Royal Academy of Dramatic Art in London.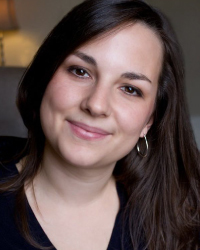 About Adriana Baer
Adriana is a theater director, practitioner, and coach whose driving purpose is to guide people towards authentic storytelling that inspires their communities.
As a theater artist, she has directed for Artists Repertory Theatre, Profile Theatre (Artistic Director, 2012 – 2015), Portland Playhouse, The Cutting Ball Theater (Associate Artistic Director, 2004 – 2007), Columbia Stages, Atlantic Theater Company Stage 2, the cell, and The Acting Company (Staff Director for 2012 national tour, bringing productions of Shakespeare to 32 cities in the US and Canada), and others. I have worked with Oregon Shakespeare Festival, Opera Boston, The Public Theater, Berkeley Repertory Theatre, San Francisco Circus Center/Pickle Circus, Theatre Communications Group, California Shakespeare Theater, and American Conservatory Theater.  Upcoming productions at Portland Center Stage and the Alley Theatre.
As Executive Artistic Director of Profile Theatre, she led the company through a major transition and growth period which included audience growth of 33%, a nearly doubled revenue and expense budget, a move to a new venue, significant staff increase, completion of a 5-year strategic plan, major expansion of the education and community engagement programs, a revamped mission and creative focus, and creation of top to bottom organizational structure.
Among other institutions, she has taught for Portland State University, Columbia University School of the Arts, The Acting Company, Berkeley Repertory Theatre, Portland Community College, and Boston Children's Chorus. She has also lectured as a guest speaker at over two dozen colleges and universities nationwide.
Born in San Francisco and raised in beautiful Sonoma, California, I hold a BA from Sarah Lawrence College and an MFA in Directing from Columbia University.  I am a resident artist at Artists Repertory Theatre and am a member of SDC, the professional union of stage directors and choreographers.