Writing Identities: Unpacking the Playwright's Point of View with Redwood's Brittany K. Allen
Event Details
Monday, November 11, 2019
6:30 p.m. – 8:30 p.m.
Conference Room
In this workshop, we'll discuss and explore new ways to tell stories about identity, particularly in the frame of the contemporary "social/political" play. Pertinent questions include: 1) when writing about a particular group of people, how does a writer balance nuance and honesty? And, 2) how do we as artists address the blind spots in our characters, even as we write boldly about those we know well (or those we don't)? Through in-class writing exercises and some guided group discussion, we'll consider the ways our own identities shape the stories we tell, and hopefully leave the day with some new methods for writing the Other (or the Self!) with rigor, compassion, and depth.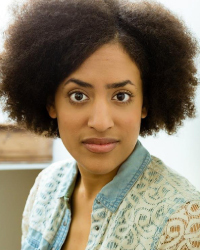 Brittany K. Allen, Playwright, Meg Wilson
Brittany K. Allen is thrilled to be making her Portland Center Stage at The Armory debut! A New York-based actor and writer, her plays have been developed at Manhattan Theatre Club, The Public Theater, Kansas City Repertory Theatre, and elsewhere. Brittany holds commissions from Playwrights Horizons and Manhattan Theatre Club/Alfred P. Sloan Foundation. She's a member of the emerging writers group at The Public Theater, the Obie Award-winning EST/Youngblood, and was a 2017 Van Lier Playwriting Fellow at the Lark. Redwood (Kilroys List, 2017) will be produced in 2020 at The Jungle Theater and Ensemble Studio Theatre. Recent New York performance credits include Gloria: A Life (Off-Broadway), Minor Character (New Saloon; New York Innovative Theatre Award for Best Ensemble), and workshops with Atlantic Theater Company, Clubbed Thumb, and New York Stage and Film. Brittany received her B.F.A. from NYU Tisch School of the Arts and studied at the Upright Citizens Brigade Training Center.