An Interview with Jamie Sanders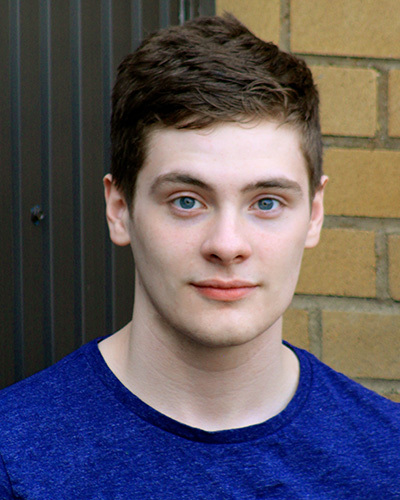 Actor Jamie Sanders, who plays Curious Incident's protagonist Christopher, reprises the role after collaborating with Portland Center Stage Artistic Director Marissa Wolf when she directed the play at Kansas City Repertory Theatre in 2018. Prior to his debut at KCRep, dramaturgs Mary Allison Joseph and Bethany Sulecki sat down with Jamie to discuss Christopher's journey and why this play resonates with him personally. We're pleased to share excerpts of that conversation with Portland audiences as we welcome Jamie back to Christopher's world.


BETHANY: What interests you most about this story?
JAMIE: I think it's a really interesting story about overcoming odds that are set by society rather than more tangible issues. The biggest enemy is a perceived inability to do things, rather than the actual inability to do things.
MARY ALLISON: What are you most looking forward to during the process of the show?
JAMIE: The train sequence on Christopher's trip to London. There's so much crammed into this rapid space, and it's true to the anxiety of the character. I think it comes as close as possible to giving the audience this feeling of being overwhelmed right along with Christopher.
BETHANY: What unique insights do you believe you bring to the play and the character?
JAMIE: I have a different set of circumstances than Christopher. I have Tourettes, and it causes me to be sensitive to the world around me, particularly to touch and sound. Obviously, part of acting is feeling things you necessarily wouldn't understand, but I get an added bonus when Christopher feels uncomfortable with touch because I also feel discomfort and overwhelming anxiety. Like Christopher, I perceive rules in the world around me that I have to follow but that no one else sees, and for me that's an everyday reality.
MARY ALLISON: As an actor who also has Tourette Syndrome, what unique gifts and experiences do you think you bring to the stage?
JAMIE: I think I bring an understanding of stillness. I feel like my relationship with it is extremely intimate because, as someone with Tourettes, I don't experience stillness very often. Finding that moment in a performance where I'm just existing, and I can feel everyone's eyes on me, which has normally been a feeling of shame but is now something beautiful, and I can be a statue, for even a half a second, that people can see real emotion on; that is what I strive for.
BETHANY: You have a popular YouTube channel called "Jamie Sanders," on which you post informative and often funny content about Tourette Syndrome and autism. What was your inspiration for your YouTube channel?
JAMIE: There wasn't enough representation on YouTube for Tourettes when I was growing up, and that really hurt as a kid trying to understand where I fit in socially. I can use the videos as a voice that I never had when I was in middle school. If I can make a YouTube video that makes anyone with Tourettes feel better about themselves and helps them to accept themselves, then that's why I'm making those videos.
MARY ALLISON: What do you hope audiences will take away from the show?
JAMIE: I think this is going to be the sappiest answer, but there is a line in the show that is basically saying, "If I can do this, I can do anything, can't I?" Through watching Christopher, regardless of their situation, I hope audience members can all take away this central, unifying message: If you set your mind to it, you are capable of accomplishing the things you really want.
Portland Center Stage is committed to identifying & interrupting instances of racism & all forms of oppression, through the principles of inclusion, diversity, equity, & accessibility (IDEA).