The Armory Bar Takes Teatime to a Boozy Level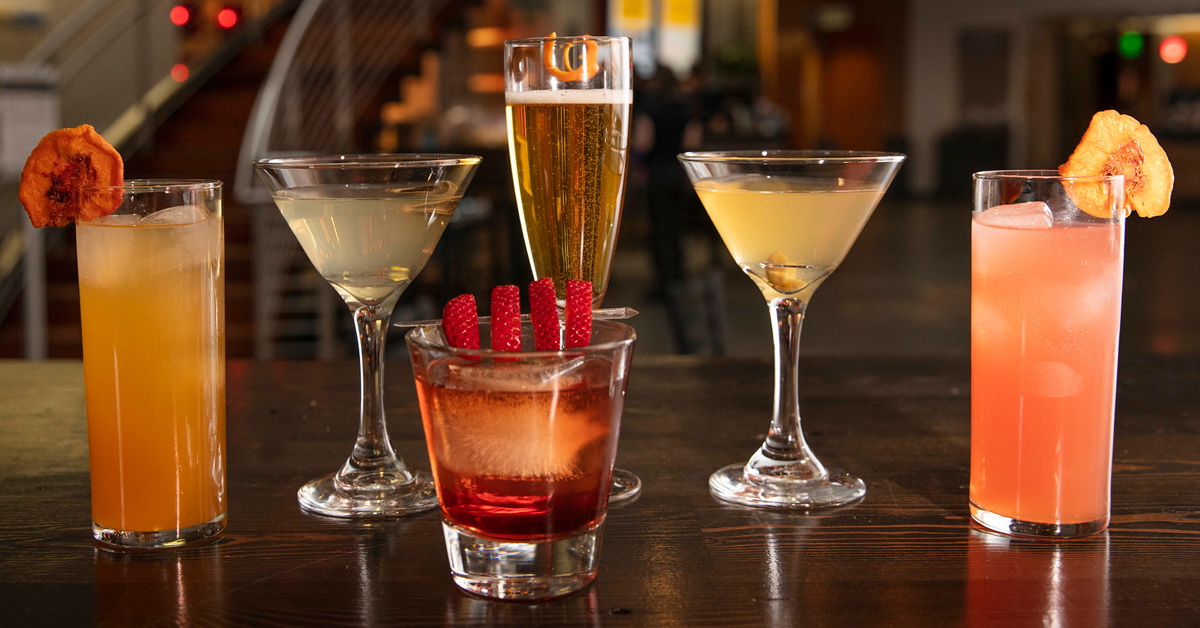 Fancy a cuppa? Katrina and I scoured the scripts for ideas to create our latest concoctions, and here is an account of how they came to be. We hope these drinks are your cup of tea!
And remember to come early to also check out our new Happy Hour cocktails available 5:30pm-6:30pm.
Murder Mystery - Christopher refers to murder mystery novels during his detective work throughout the play. Instead of imaging someone sipping a whiskey neat when thinking of these detective stories, my mind sees a martini style drink instead. This may have something to do with wanting to be Miss Scarlet while playing Clue when I was young, and envisioning myself in a gown with ballroom gloves holding a martini glass - eyeing everyone suspiciously. For fun, we skipped the traditional gin and vermouth opting for an English daiquiri to be our shaken and strained cocktail. Looking for English ingredients we haven't used in a while, we thought of elderflower. Having a long history in the UK being used for medicinal purposes, elderflower also has a mysterious background in folklore with fairies. We pair Darbo Elderflower Syrup with Below Deck's Silver Rum, and instead of lime juice, we use another local favorite, Crescendo's Limecello. We adorn this cocktail with a dehydrated lime and hope it helps you ponder the murder mystery of the play.
4 Red Cars - Chrisopher tells his teacher Siobhan, "...we passed 4 red cars in a row...so today is a Good Day." Ryan Smith, our other Food & Beverage Lead, remembered reading this line in the book and suggested doing a cocktail with it highlighting something that makes Christopher happy. Loving this idea we set out to create a cocktail that reflects this image of luck.
For flavors, I have been wanting to pair Stone Barn Brandyworks Tawny Duet with a whiskey and its rich reddish-brown color is perfect to create a reddish hue. We've brought back Bull Run's Straight Bourbon to go with the Tawny Duet, and to round out the drink, and its color, we add Incline's Marionberry Cider - making this drink completely NW based! To highlight the name, we put four strawberry chunks in a row on a cocktail pick so you can have a good day too.
Singularity - Another thing Christopher loves is space, and my favorite conversation in the play is when he asks a priest where exactly is heaven in our universe? Bubbles in Prosecco often remind me of shooting stars, so we set out to make a sparkling drink. Rather than going for a dark indigo space color though, we decided on an orange hue, a color Christopher likes. To add some English flavor we use Pimm's and tea. As we strive to have a local element in each cocktail, we use one of my favorite Portland tea shops, Tea Chai Té. Their Market Spice Tea (a blend first concocted at Pike's Place Market in Seattle) mixes black tea with cinnamon oil and orange peel which compliments the fruity, herbalness of Pimm's. Edible glitter is added to make this an extra unique cosmic cocktail.

Hidden Letters - After the popularity of our cocktail Wig In a Box, we decided to try another CBD cocktail. Lots of studies are being done on CBD, including seeing how it could benefit those who are on the spectrum. One thing is CBD is known for is helping with stress and anxiety which is what I imagine Christopher is feeling when he finds the hidden letters. For some cheery flavors, we pair Wyld's Raspberry CBD Sparkling Water and Purity Organic Peach Paradise. To spike this drink, we decide to make our own Wild Roots Vodka infusion with tarragon. It's garnished with a dried peach for a tasty treat.
Prime Numbers - When reading the play, we are always looking food mentioned to try and use as ingredients. After reading Christopher and Mrs. Alexander having a conversation about orange squash, I was tempted to try to it. It's a drink of mixing fresh orange juice, orange peel and sugar, but many of the recipes I found seemed very sweet. Instead, we decided to go for a teatime mocktail while still getting orange peel flavor by using Tea Chai Té Market Spice Tea. We mix this tea with Purity Organic Peach Paradise and add a little seltzer to round out the drink. This one also gets a dried peach garnish for you to nibble on.
This last drink is also named for something Christopher loves. He has such an appreciation for prime numbers that his book's chapters are numbered by them.
Sea of Desire - In the beginning of our studio show, 9 Parts Desire, the Mullaya speaks poetically of "a great dark sea of desire" and sets the tone for the play. Wanting to be respectful of these profound stories, we set out to honor the cultures portrayed in the play using a traditional Iraqi drink. At first I found search results saying that some of the popular drinks of Iraq are coffee, Arak (anise-based spirit), and mint tea. Deciding to go the tea route, I searched further and found examples of Iraqis who explained the way they make their "chai" (tea) and it didn't involve mint. Generally using Ceylon or Assam tea, they use a double kettle where the tea is in one kettle of boiling water placed over another kettle of boiling water to be steamed anywhere from 15-60 minutes - depending on the recipe. Sometimes cardamom pods are added for extra flavor. Inspired by this, we use Tea Chai Té Ceylon Tea, seeping it for extra time and mixing it with cardamom simple. New Deal's Dry Gin 33 pairs nicely with this tea and we add lemon juice for balance. Ceylon tea leafs float on this martini as a garnish.
---
Want to attempt one of these drinks at home? Here is the recipe for Hidden Letters, including instructions to make tarragon-infused vodka:

Hidden Letters
1.5 oz Tarragon-infused Wild Roots Vodka (see below)
2 oz Purity Organic Peach Paradise
Fill Wyld Raspberry CBD Sparkling Water
Fill a chimney glass full of ice. Pour the tarragon-infused vodka first, then the Peach Paradise, and then fill the rest of the glass with Wyld Raspberry CBD. Give it a stir and enjoy!
How to infuse vodka with tarragon: Infusions with spices and herbs are simpler than they seem. Tarragon is strong, so you only need 3-4 sprigs for a bottle of vodka and it'll infuse in about a day. Taste the vodka to see if the tarragon flavor is strong enough for you, if not, let it sit longer or add a little more tarragon. Once it's infused to your liking, strain out the tarragon using a fine mesh strainer or a coffee filter.
Portland Center Stage is committed to identifying & interrupting instances of racism & all forms of oppression, through the principles of inclusion, diversity, equity, & accessibility (IDEA).