Virtual Exhibit: Artists on the Autism Spectrum
In support of our production of The Curious Incident of the Dog in the Night-Time, we partnered with North Pole Studio to create a gallery show featuring the work of visual artists, including students, who are on the Autism spectrum or living with intellectual or developmental disabilities. Enjoy the virtual gallery below — or better yet, come see it in person! Special thanks to PCS House Manager Jenna Barganski for curating this exhibit, and to Chrissy McNair for her community outreach to local families and organizations.
Please email to purchase any of the art work for sale.
Shannon Anderson
Shannon Anderson is an artist who grew up in Astoria, OR. Now she lives in Portland and works at Albertina Kerr's Portland Art and Learning Studios (PALS), where she creates expressive and exciting colored pencil drawings in her signature style. Some of Shannon's favorite television and cinema references appear in her drawings, including the British Royal Family, Swiss Family Robinson and Crocodile Dundee. When she is not making drawings at PALS, Shannon enjoys shopping: "I'm into jewelry, and I'm into DVDs. And clothes. I'm also into posters."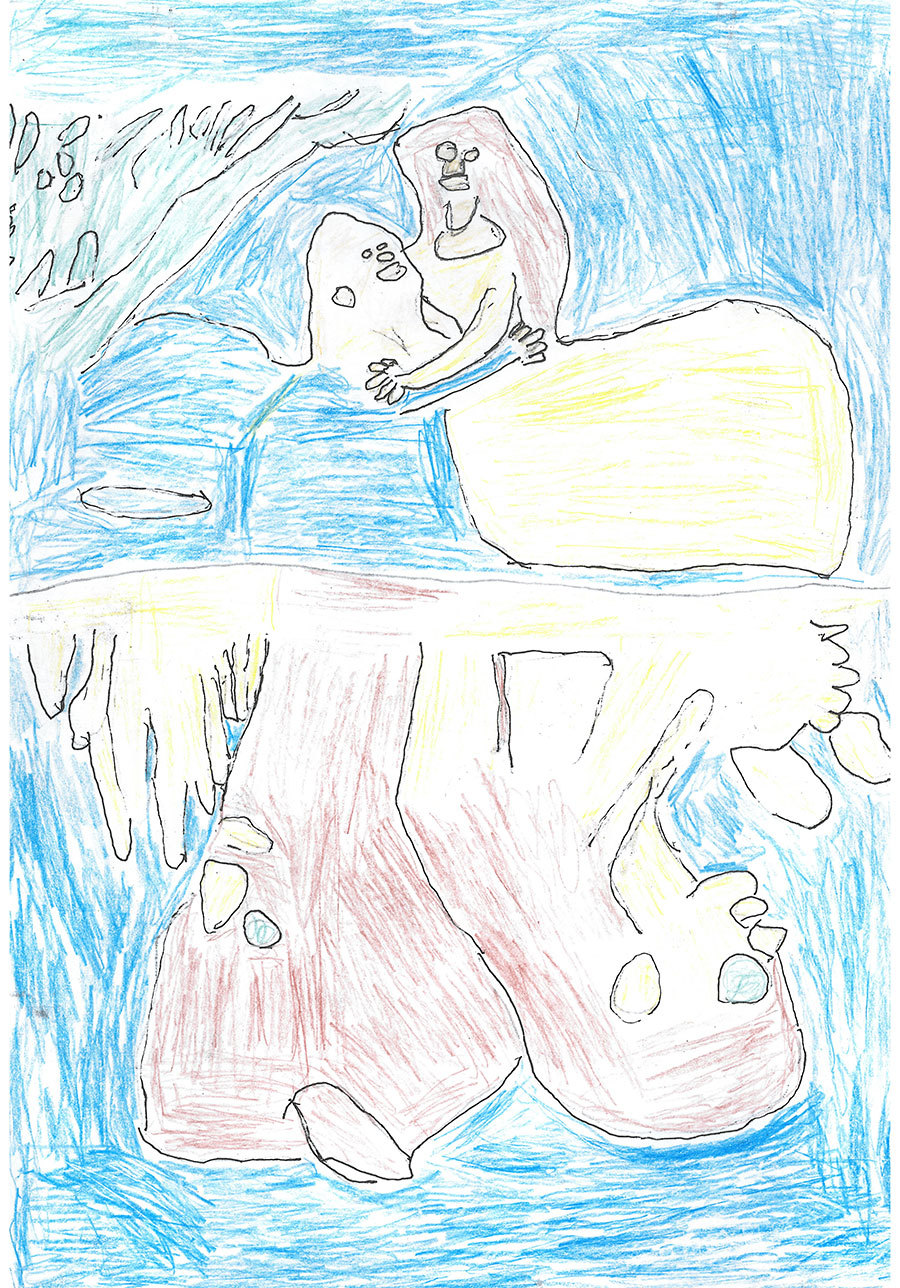 "Bute & The Beest Move," $125
Girlfriend Heidi Frisbee
Girlfriend Heidi Frisbee loves being from Portland because it's full of nice people. She splits her time at Portland Art and Learning Studios (PALS), a studio art program of Albertina Kerr, and her new job. Girlfriend Heidi is a big fan of cartoons, which is evident in her fantastic drawings and "rainbow-color" cross-stitched textile pieces that she produces at PALS. Her favorite color is red, like her birthstone, garnet (associated with January). She lives with a rainbow-colored bird named Charlie, who chirps all the time.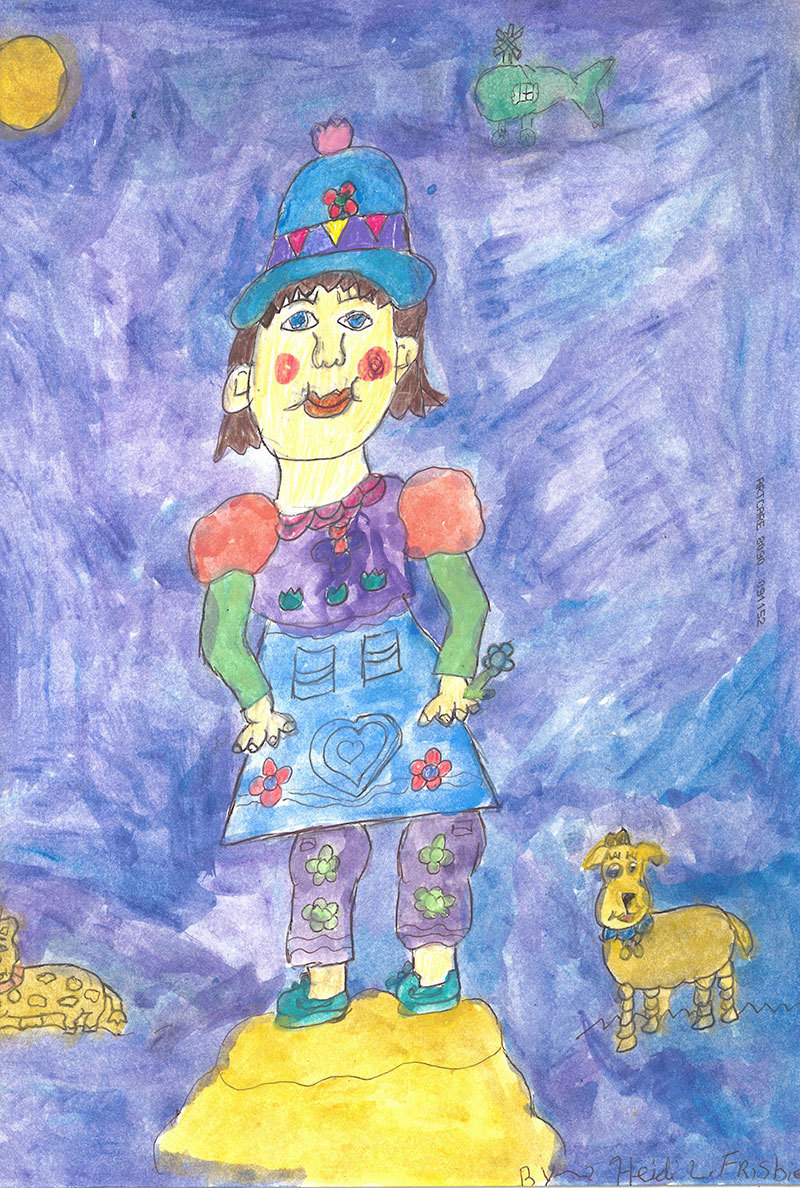 "Untitled," $125
Nole Jovanovic
Nole is a fifth grader at Rieke Elementary School in Portland. He loves humor and creativity, and can usually be found delighting in both; enhanced by his bright, autistic mind.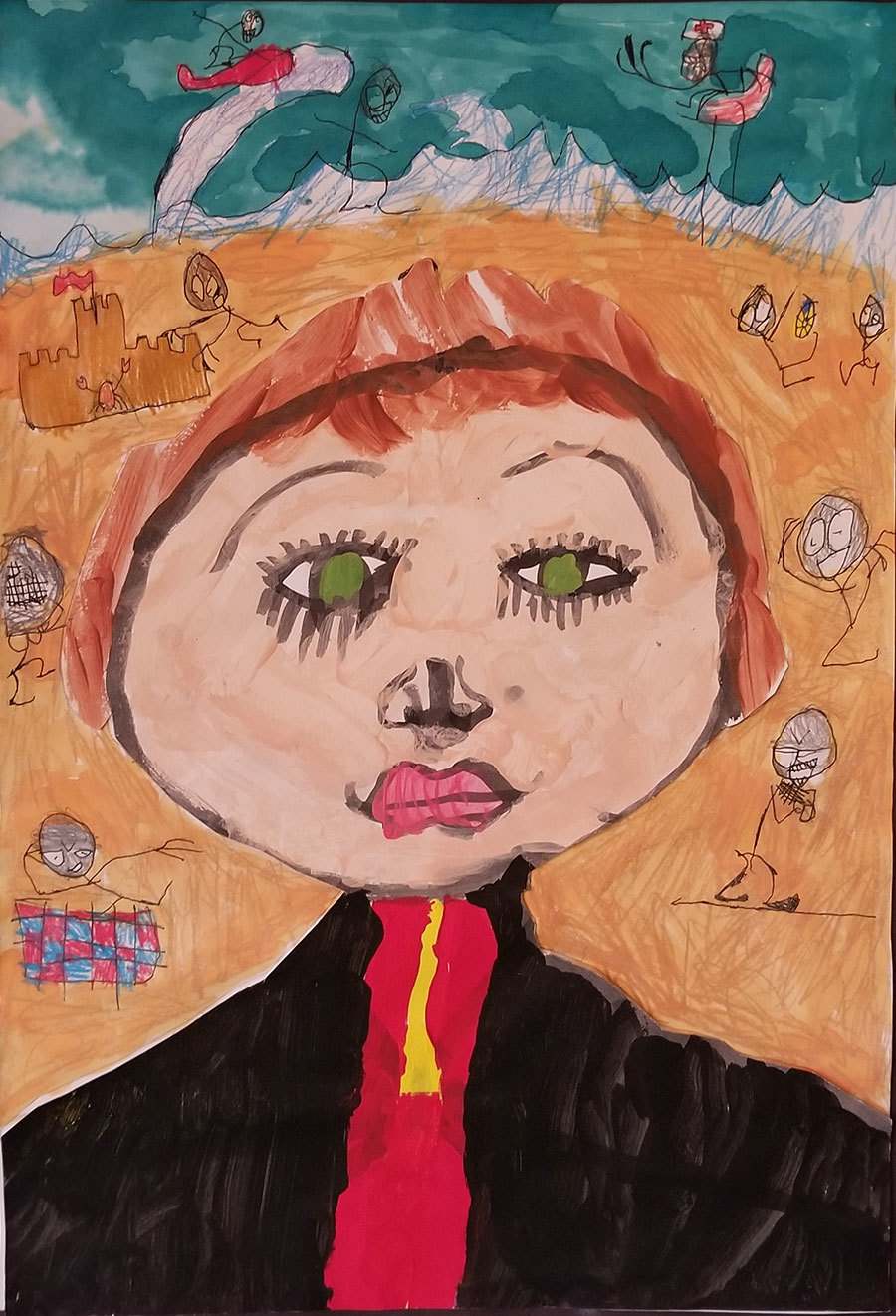 "Happy Beach"
Luke McNair
Luke McNair, age 20, loves The Lion King. It has expanded his world and introduced him to dance, live theatre, costume design, African languages and new visual art mediums. Luke's favorite pastimes include drawing, dancing, spending time with his dogs and cat, riding horses, and all things related to the "Incredible Hulk Coaster" at Universal Studios in Orlando.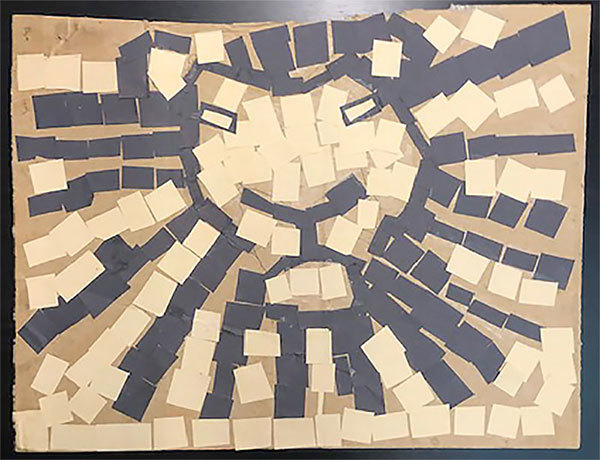 "Mufasa"
Jo Nagle
Jo is a senior at Lincoln High School. She is a Disney and musical theater encyclopedia and is very creative with a dry, cutting sense of wit, an incredible memory and a unique view of the world.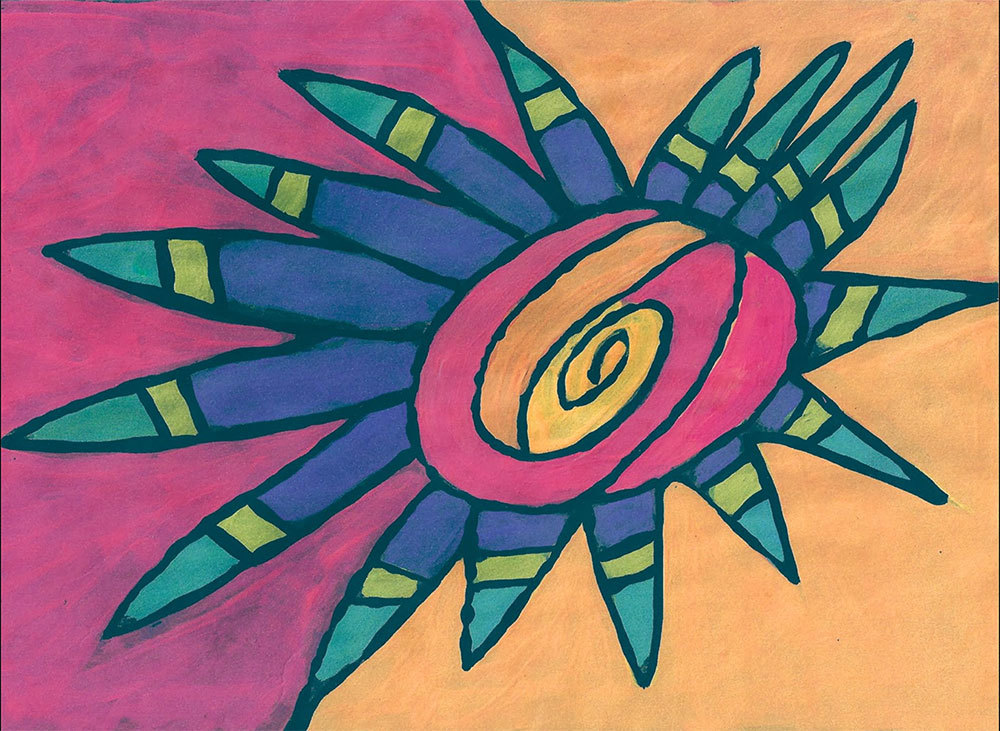 "Flower"

Juno Savage
Juno Savage, age 7, is a lifelong Portlander and keen artist. She loves animals, singing and dancing, and is never far away from her paper and pens. She is happy and social, adores painting and is very excited for her very first exhibition.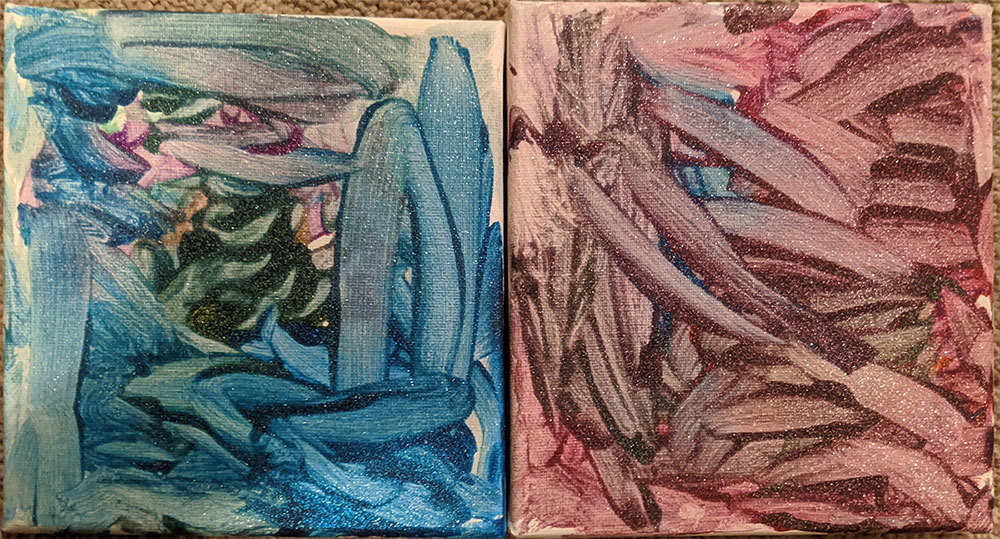 "Autumn Flowers," $100 for pair
Brian Teters
Brian Teters is constantly laboring over a fantastic body of work at Portland Art and Learning Studios (PALS). He collages kind feelings onto an encyclopedia of cinema and pop-music references. Oftentimes, Brian's collaged drawings take the form of letters and notes distributed to PALS staff. Elephants, rhinos, markers, cut-out Toy Story characters, and traceable shapes litter Brian's desk, collapsing foreground and background, and merging into a thoughtful and associative celebration of fandom. Brian is an avid cyclist who loves the Oregon Coast, especially the Cape Meares Lighthouse.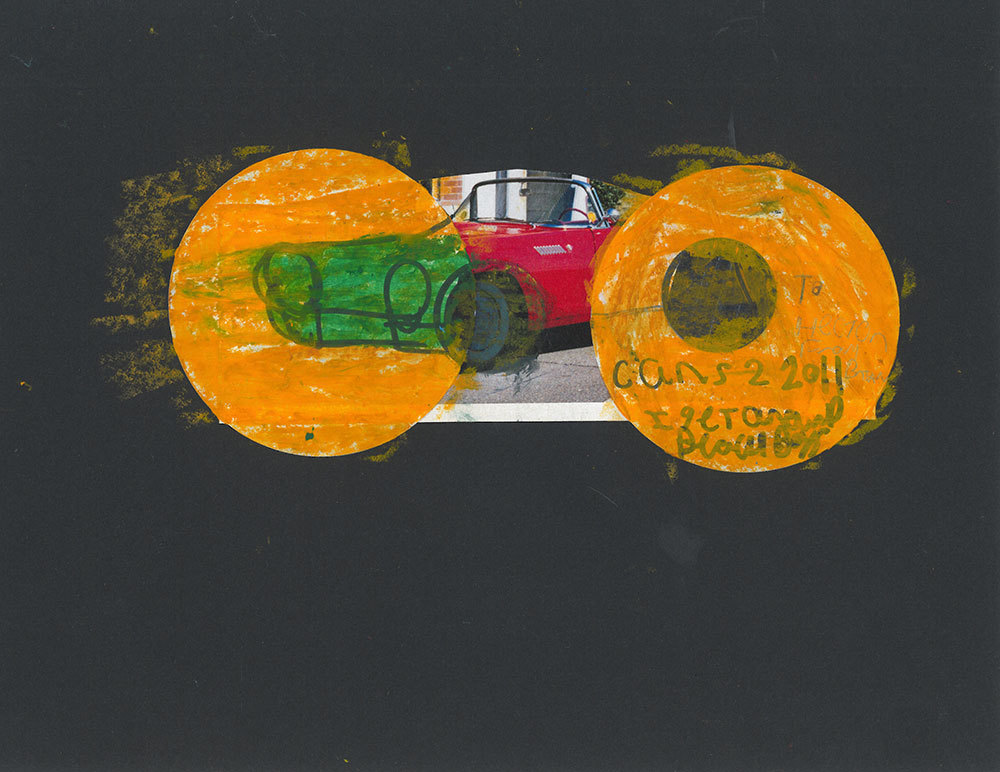 "From Brian to Hector," $75
Nathan Ueno
Nathan Ueno, age 19, is a student from Portland. He is a loving brother, son and friend. He has many interests including transportation, politics, and baseball.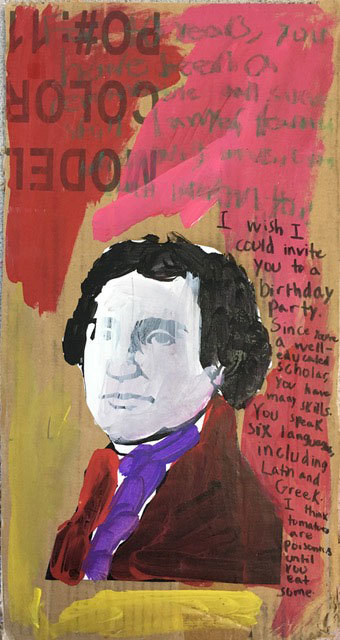 "Jefferson"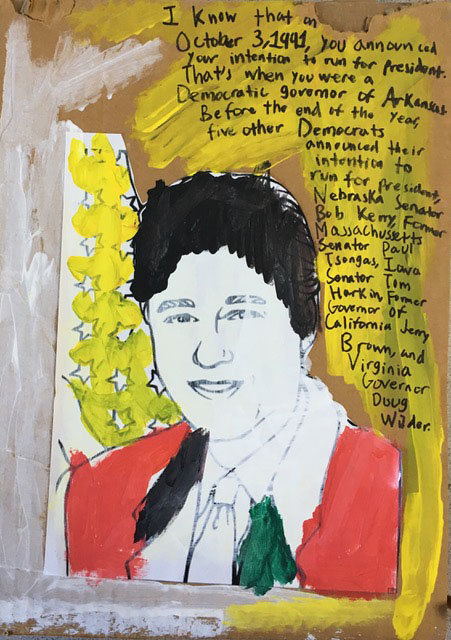 "Clinton"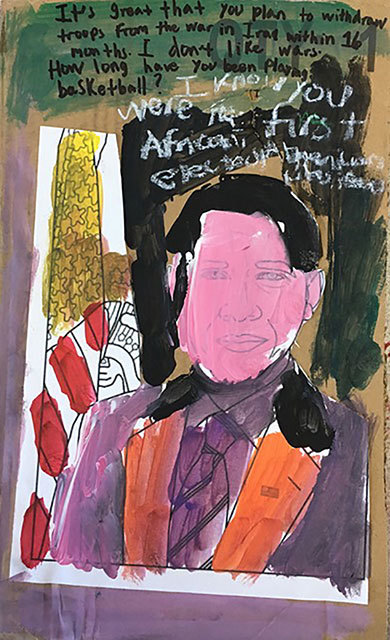 "Obama"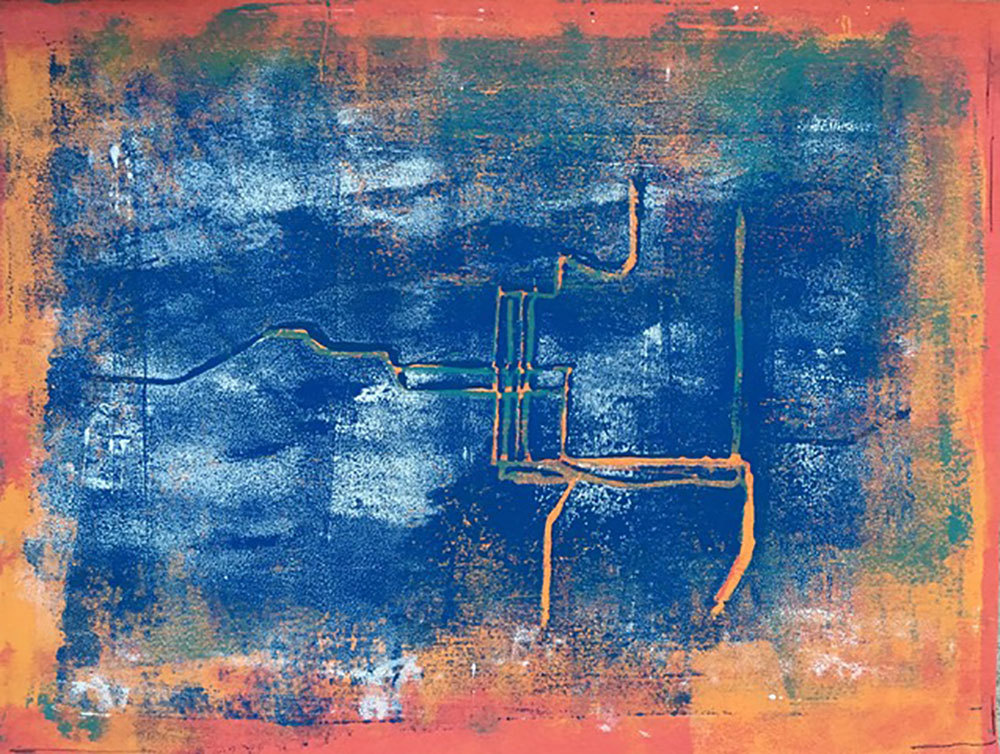 "Portland Train Routes"
Davis Wohlford
Davis Wohlford, age 20, is smart, brave, kind, honest, generous, loyal, colorful, funny, handsome and magical. He lives in the Portland hillside and attends school at Victory Academy. He is interested in art, making movies and toys, working at Victory, teaching about his art and being kind to animals.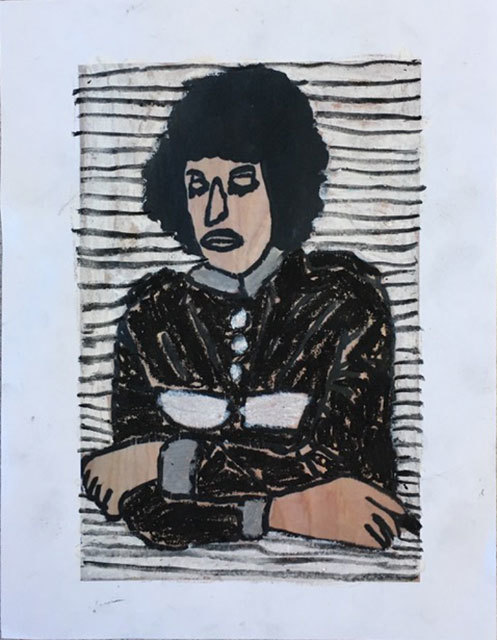 "Bob Dylan 1," $40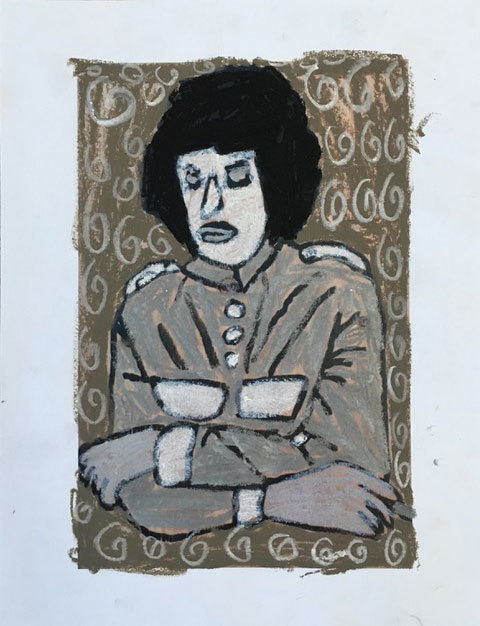 "Bob Dylan 2," $40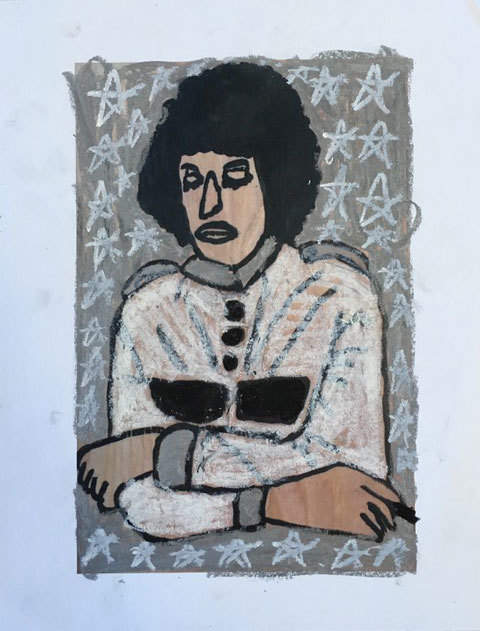 "Bob Dylan 3," $40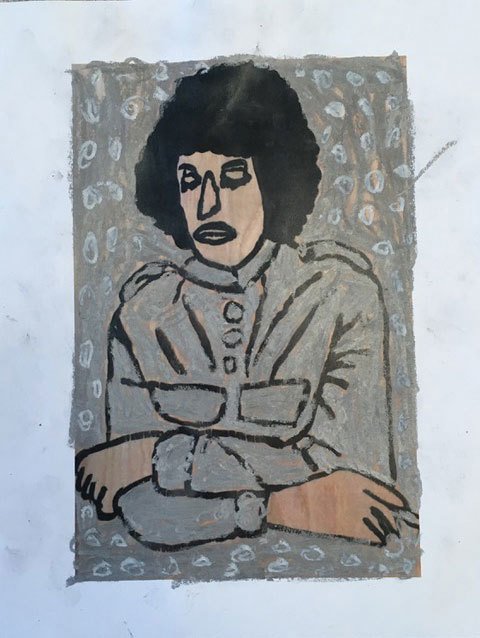 "Bob Dylan 4," $40
Portland Center Stage is committed to identifying & interrupting instances of racism & all forms of oppression, through the principles of inclusion, diversity, equity, & accessibility (IDEA).