Local Reviews for "The Pianist of Willesden Lane"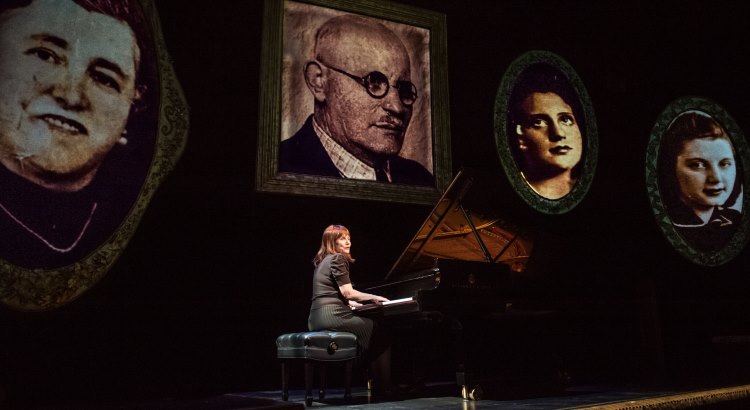 Engrossing One-Woman Show
"The Pianist of Willesden Lane has all the elements of a good book: joy, heartache, drama, poetry and suspense. It brings history to life in a vivid and personal way, and reminds us that human decency and artistic inspiration can survive even the worst of times." –The Oregonian
Music, Storytelling, and Inspiration
"Mona Golabek's one-woman show about her own mother's escape from Nazi-controlled Austria on the Kindertransport is part-concert, part-storytelling, and all magic." –BroadwayWorld.com
Left Me Full of Admiration
"The audience repaid Golabek's assured, heartfelt performance with an immediate warm, standing ovation, which she and the excellent production (including spare, deft lighting and sound design) deserve." –Oregon ArtsWatch
A Poignant Story
"I must confess to being powerfully moved by The Pianist of Willesden Lane. Its message of clinging to what makes you who you are; especially amidst hopelessness, turning to the pieces that define and comfort and express your pain and joy reverberated viscerally." –EDGE Media
An Unforgettable Evening of Theatre
"Golabek is just incredible. Story and music unfold flawlessly ... The combination of Golabek's musicianship plus a great story add up to an unforgettable evening of theatre!" –JudyNedry.com
Riveting
"Over the course of 90 minutes, Golabek delivered The Pianist of Willesden Lane with genuine, heartfelt emotion that connected immediately with the audience at Portland Center Stage." –Northwest Reverb
Journey of Memories, Emotions and History
"Golabek is inspiring, enchanting and empowering in her presentation! ... I, and my frequent companion to plays, Deanna, a musical talent in her own right, were easily moved to tears." –Dennis Sparks Reviews
Deserving of Every Superlative
"Ms. Golabek tells the story through truly virtuosic piano-playing, accompanied by vivid projections of relevant imagery ... it is a show worthy of boundless praise." –The Crippled Critic
The Power of Music in Our Lives
"Ms. Golabek interlaces her mother's harrowing tale of survival and self-discovery with riveting piano performances from greats the likes of Rachmaninoff, Chopin, Bach and Beethoven." –PDX Examiner
Prepare to be Moved
"It's the most emotionally moving play I've experienced in Portland. I cannot recommend this play highly enough – it's not often theater can be such a powerful, and memorable, experience." –Pechluck's Food Adventures
And here are some of the comments from audiences on Facebook:
"If you live in Portland DO NOT MISS this show!!! This was absolutely amazing. What a gift to be in the same room as Mona Golabek. BRAVO to Portland Center Stage for bringing us this amazing show! BRAVO!"


"This was one of the most moving, inspirational performances I have ever seen! I was in tears with her performance! Beautiful! She is incomparable. Thank you, Chris for bringing this to us! Extraordinary!"


"Incredibly moving and tore at my heartstrings. Fabulous in every respect ... BEST show I've seen for a very long time."


"One of the longest standing ovations at PCS I've seen! Touching and inspiring."


"This was fantastic. A wonderful story so eloquently told with the help of a piano! Please go if you can!"


"I have never seen any performance that compares with The Pianist of Willesden Lane. I brought my teen and preteen and they were moved by the story."


"This was an absolutely amazing performance, mixing piano virtuosity with a display of grit shown by the child survivors of the Nazis. Truly worth savoring."


"This is an amazing piece of theater that touches the heart on so many levels. I highly recommend it. I loved it so much I immediately bought the book it's based on to learn even more."


"Enthralling...moving...beautiful...intense...unique...absolutely a must-see! PCS productions are always well done but this one will stand out in my memory for a very long time. Thank you for an amazing afternoon of beauty!"


"This is one of a handful of plays that will stay with me for the rest of my life."


"Such an amazing show - my favorite PCS production in 10 years of great shows!"


Portland Center Stage is committed to identifying & interrupting instances of racism & all forms of oppression, through the principles of inclusion, diversity, equity, & accessibility (IDEA).