"The Pianist of Willesden Lane​" Cast and Creative Team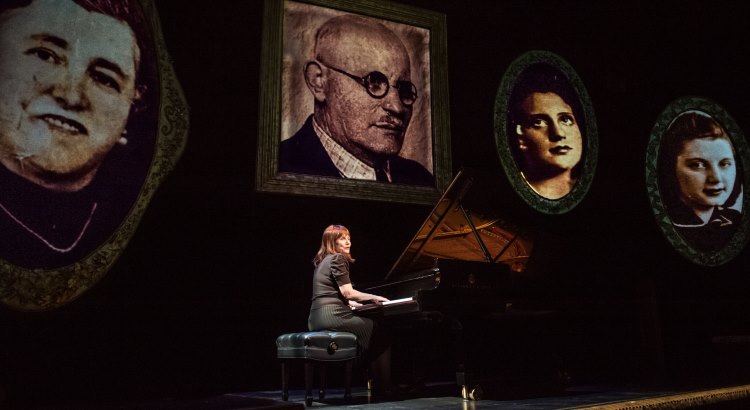 Portland Center Stage presents
Mona Golabek in
The Pianist of Willesden Lane
Based on the book The Children of Willesden Lane by Mona Golabek and Lee Cohen
Adapted and Directed by Hershey Felder
Cast
Mona Golabek as Lisa Jura
Creative Team
Hersey Felder and Trevor Hay...................Scenic Designers
Jaclyn Maduff ............................................Costume Designer
Christopher Rynne ....................................Lighting Designer
Jason Bieber .............................................Assistant Lighting Designer
Erik Carstensen .........................................Sound Designer/Production Manager
Andrew Wilder and Greg Sowizdral ...........Projection Designers
Lawrence Siefert ........................................Video Director
Cynthia Caywood, Ph.D. ............................Production Dramaturg
Trevor Hay ..................................................Associate Director
Kelsey Daye Lutz* ......................................Stage Manager
*The Actors and Stage Manager employed in this production are members of Actors' Equity Association, the Union of Professional Actors and Stage Managers in the United States.
Mona Golabek
Lisa Jura
Mona Golabek is the daughter of Lisa Jura, a concert pianist born in Vienna, Austria, who came to England as a young teenage refugee in 1938 as part of the Kindertransport rescue operation. Mona's father, Michel Golabek, was a French resistance fighter who received the Croix de Guerre. Mona's grandparents died at Auschwitz. Inspired and taught by her mother, Mona became a concert pianist and has appeared at Hollywood Bowl, The Kennedy Center, Royal Festival Hall, and with major conductors and orchestras worldwide. She is a Grammy nominee and prolific recording artist, and has been the subject of several documentaries, including Concerto for Mona with conductor Zubin Mehta. Her mother is the subject of Mona's acclaimed book, The Children of Willesden Lane, now in its 24th printing. The book has been translated and published in French and Italian with forthcoming German, Spanish and Hebrew publications. BBC Feature Films is currently in development for a feature film based on the book. In 2012, Mona made her debut at Los Angeles' Geffen Playhouse in The Pianist of Willesden Lane, adapted from her book. The production, directed by Hershey Felder, has been acclaimed by critics and audiences across America, with sold-out runs in New York and London. Mona has received best actress nominations from the New York and Los Angeles Drama Critics, and the show has been listed among the top ten shows in many major cities. In 2003, Mona established the Hold On To Your Music foundation. With the help of Milken Family Foundation, Facing History and Ourselves, and Annenberg Foundation, she created educational resources for the book that have been adopted into school curricula across America. To date, more than 250,000 students and families have experienced WILLESDEN READ – the educational program spearheaded by the non-profit, which is devoted to spreading the message of her mother's story.
Hershey Felder
Director/Adapter
Hershey Felder's work was recently named to Time Magazine's Top 10 Plays and Musicals. He has played over 4,500 performances of his self-created solo productions at some of the world's most prestigious theaters and has broken box office records consistently. Writing in American Theatre , Hedy Weiss said, "Hershey Felder is in a category all his own." His shows include: George Gershwin Alone (Broadway's Helen Hayes Theatre, West End's Duchess Theatre); Monsieur Chopin; Beethoven; Maestro (Leonard Bernstein) ; Franz Liszt in Musik; Lincoln: An American Story; and Our Great Tchaikovsky. In addition, he performs concerts of "The Great American Song Book Sing-Along" at every theater where his shows are presented, as well as private venues. Future productions include the new musical Chosen by G-d, for which he is writing the music, book and lyrics. His compositions and recordings include Aliyah, Concerto for Piano and Orchestra; Fairytale, a musical; Les Anges de Paris, Suite for Violin and Piano ; Song Settings; Saltimbanques for Piano and Orchestra; Etudes Thematiques for Piano; and An American Story for Actor and Orchestra . Hershey is the adaptor, director and designer for the very successful play with music, The Pianist of Willesden Lane; the producer and designer for the new musical Louis and Keely: 'Live' at the Sahara, directed by Taylor Hackford; and the writer and director for the upcoming Flying Solo, featuring opera legend Nathan Gunn. Hershey has operated a full-service production company since 2001. He has been a scholar-in-residence at Harvard University's Department of Music and is married to Kim Campbell, the first female prime minister of Canada.
Trevor Hay
Associate Director
Trevor Hay directed the world premieres of An American Story for Actor and Orchestra, Abe Lincoln's Piano, Hershey Felder as Franz Liszt in Musik, Hershey Felder as Irving Berlin and Our Great Tchaikovsky. He is the associate director for Hershey Felder and Beethoven. He is a former member of the historic Old Globe in San Diego where, at the age of nine, his first position was selling Old Globe memorabilia. Over the next 32 years, he went on to various aspects of production on more than 80 presentations, including the Broadway productions of Jack O'Brien's Damn Yankees, How the Grinch Stole Christmas! and Twyla Tharp's The Times They Are A-Changin'. Included in his 23 seasons at The Old Globe were 11 seasons of the Summer Shakespeare Festival Repertory, as well as work on Tracy Letts' August: Osage County, directed by Sam Gold, and Hershey Felder's George Gershwin Alone, Monsieur Chopin and Maestro Bernstein.
Erik Carstensen
Sound Designer/Production Manager
Erik has worked for Eighty-Eight Entertainment for 10 years. He has served as sound designer on Hershey Felder as Irving Berlin, Jamaica Farewell, Baritones Unbound, Louis and Keely: 'Live' at the Sahara, Jack Lemmon's Son, Rockstar, An American Story, The Pianist of Willesden Lane (2012 Ovation Award nomination), Maestro Bernstein, Our Great Tchaikovsky and Beethoven, As I Knew Him (2009 Ovation Award). Formerly, he was the master sound technician at The Old Globe in San Diego and was production engineer on over 60 productions, including Allegiance, Robin and the Seven Hoods, A Catered Affair, Hershey Felder's George Gershwin Alone, Dirty Rotten Scoundrels, Chita Rivera: The Dancers Life, Dr. Seuss' How the Grinch Stole Christmas!, The Full Monty, Dirty Blonde and Floyd Collins. Erik is a member of IATSE Local 122.
Jason Bieber
Assistant Lighting Designer
Jason made his debut with Eighty-Eight Entertainment for the world premiere of Jack Lemmon Returns. His other design credits include The Old Globe's The Mystery of Irma Vep and Since Africa; Mo`olelo's Cowboy Versus Samurai (2007 Patté Award), Permanent Collection, Night Sky (2008 Patté Award), Good Boys, Yellowface, Stick Fly, Kita y Fernanda, Extraordinary Chambers, and The Amish Project; Moxie Theatre's Topdog/Underdog, Dead Man's Cell Phone, Eurydice, Bluebonnet Court and Bleeding Kansas. Jason is currently the assistant lighting designer for San Diego Opera.
Lawrence Siefert
Video Director
For over 20 years, Lawrence has been involved in theater, corporate events and film. His credits include projection design for San Diego Opera's Wozzeck and Moby Dick. He is a recipient of two Telly Awards and one Davy Award for How Do You Build Hope (Habitat for Humanity). Lawrence has been a member of IATSE Local 1022 since 1996.
Jaclyn Maduff
Executive Director/Costume Designer
Jaclyn has been the director of Hold On To Your Music, Inc since its formation in 2003. Hold On To Your Music is a non-profit foundation dedicated to providing educators and students with the book The Children of Willesden Lane. For more information, visit holdontoyourmusic.org.
Meghan Maiya
Research
Meghan is the director of research and special projects for Hershey Felder Presents. She has been doing biographical and historical research for HFP's new theatrical productions since 2013. Productions include Hershey Felder as Franz Liszt in Musik; Hershey Felder as Irving Berlin; and Our Great Tchaikovsky. Additional projects include production research and imagery for Louis and Keely: 'Live' at the Sahara; scenic decoration for The Pianist of Willesden Lane, Abe Lincoln's Piano, Hershey Felder as Irving Berlin and Jamaica Farewell. Formerly, Meghan worked in the Department of Family Medicine and Public Health at the University of California, San Diego, as a senior program evaluation specialist and project manager. She managed multiple research projects in the fields of integrative medicine and behavioral health. Additionally, Meghan spent 12 years as a psychology professor at San Diego State University and local community colleges.
Karen Racanelli
Executive Producer
Karen comes to Hershey Felder Presents from Berkeley Repertory Theatre, where she worked as general manager for 21 years, overseeing daily operations and producing several shows performed and/or directed by Hershey Felder. She has represented the League of Resident Theatres during negotiations with both Actors' Equity Association and the union of stage directors and choreographers, served on LORT's executive committee, and served as a panelist at several LORT meetings. Prior to her tenure at Berkeley Rep, Karen worked as an independent producer at several Bay Area theater companies and served on the boards of Climate Theatre, Overtone Theatre Company, Park Day School, and Julia Morgan Center for the Arts. Karen was named a 2016 "Unsung Hero of Arts Administration" by the national arts and culture organization, Fractured Atlas. She is married to Bay Area arts attorney MJ Bogatin.
Samantha F. Voxakis
Producer/Company Manager
Samantha is a native of Maryland where she spent 12 memorable years working in the front office for the Baltimore Orioles. Since 2004, Sam has been responsible for the day-to-day operations of Eighty-Eight Entertainment/Hershey Felder Presents. With special thanks to her very supportive family, and to Ms. Golabek and Mr. Felder.
Kelsey Daye Lutz
Stage Manager
The Armory credits include: stage manager for His Eye is on the Sparrow, Hershey Felder as Irving Berlin, Hold These Truths, The Pianist of Willesden Lane (first engagement), Each and Every Thing, Forever, The Santaland Diaries, The Lion, The People's Republic of Portland (second engagement), Vanya and Sonia and Masha and Spike, The Typographer's Dream, The Last Five Years and A Small Fire; and production assistant for Clybourne Park, Venus in Fur, A Midsummer Night's Dream, The North Plan and Anna Karenina. Kelsey Daye is a graduate of University of North Carolina at Greensboro. She would like to thank her pups for all their unconditional love, and Shamus for being wonderful.
Hershey Felder Presents
Producer
Hershey Felder Presents is the newest division of Eighty-Eight Entertainment, which was created in 2001 by Hershey Felder and is devoted to the creation of new works of musical theater. Current projects include the musical plays Hershey Felder as Irving Berlin, Our Great Tchaikovsky and The Pianist of Willesden Lane. Recordings include Love Songs of the Yiddish Theatre; Back from Broadway; George Gershwin Alone; Monsieur Chopin; Beethoven, As I Knew Him; and An American Story for Actor and Orchestra.
Portland Center Stage is committed to identifying & interrupting instances of racism & all forms of oppression, through the principles of inclusion, diversity, equity, & accessibility (IDEA).