Resource Guide for Educators: The World of the Play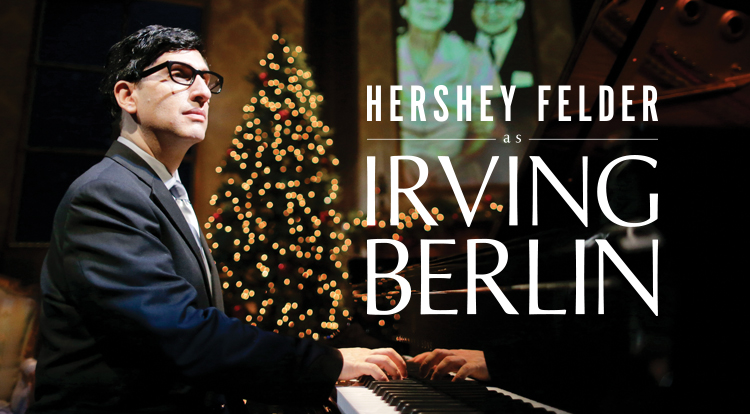 "Not for Just a Year, but Always" The Immortal Irving Berlin
Composer Jerome Kern once famously remarked that "Irving Berlin has no place in American music — he is American music." Such an enviable distinction could only be bestowed upon a musician with far-reaching success and a diverse body of work, and Berlin certainly fits the bill. He was born Israel Berlin in 1888 and immigrated to New York from Belarus at the age of five. After years of literally singing for his supper as a busker, he leapt to international success with his 1911 hit "Alexander's Ragtime Band." Throughout his lengthy career, he explored a variety of styles, from the ragtime, jazz and balladeering of Tin Pan Alley to Broadway showstoppers like "There's No Business Like Show Business" from his musical Annie Get Your Gun to Hollywood hits including Easter Parade, Holiday Inn and Blue Skies. Berlin's song catalog contains nearly 1,500 tunes, more than two dozen of which topped the charts before his death in 1989. Hundreds of artists have recorded his work, including Billie Holiday, Ella Fitzgerald, Ethel Merman, Dean Martin, Judy Garland, Diana Ross, Patsy Cline, Celine Dion, Bob Dylan, Jerry Garcia, Leonard Cohen, Willie Nelson, Cher, and the Muppets. His influence on American music is undeniable; his presence, ubiquitous. Here is a glimpse at the stories behind two of his most legendary songs.
"White Christmas"
Berlin's song was first broadcast on December 25, 1941, less than three weeks after the bombing of Pearl Harbor. The wistful tone of "White Christmas" took on a particularly poignant significance as American soldiers found themselves fighting overseas in the years that followed. Crooner Bing Crosby's iconic rendition of the tune became the best-selling song of all time by the end of World War II, and "White Christmas" has maintained that distinction in the Guinness Book of World Records. The song is also notable for being relatively secular, a fact which music scholars have pointed to as an engine for its universality. Berlin, a Jewish man, had a personal tradition that may have contributed to the yearning melancholy of the song: his infant son had died on Christmas Day 1928, and every year, Berlin spent the holiday visiting Irving Berlin, Jr.'s grave. Hundreds of musicians, from Elvis Presley to Destiny's Child, have recorded the song since, but Crosby's version is still the gold standard. The postwar era saw a shift away from the melodic keyboards of Tin Pan Alley toward the rebellious guitars of rock-and-roll. "White Christmas" stood at the apex of this transition, the pinnacle of an American moment that was, like a glowing yule log, slowly burning away.
"God Bless America"
On November 10, 1938 — the holiday then known as Armistice Day — popular singer Kate Smith debuted a new song by Irving Berlin that has endured as a kind of unofficial national anthem. Berlin began work on "God Bless America" twenty years before Smith sang it on the radio; he had intended it as a finale for a musical revue he wrote as a recruit in the U.S. Army. The song has been the subject of controversy over the years. Some have accused it of promoting war-mongering and xenophobia, while other groups, such as the Ku Klux Klan, have condemned its patriotism because of Berlin's status as a Jewish immigrant. But Berlin himself intended it as a peace song, and Kate Smith remarked on-air that she prayed "we shall never have another war" before she sang it. Despite mixed reactions from the public, "God Bless America" continues to be taught in schools, sung at sporting events, and performed in the wake of national tragedies. Berlin never made any money off of the song's success, a fact which perhaps adds to the evidence that he felt the song belonged to his fellow Americans rather than to himself. Since 1940, all royalty payments have been directed to the Boy Scouts and Girl Scouts of America.
---
Watch Irving Berlin in Performance:
Watch here: Irving Berlin "God Bless America" - The Ed Sullivan Show
Watch here:In one of his RARE few television appearances, Irving Berlin explains the workings of his "special" piano to Dinah Shore and Tony Martin, and plays an early composition.
---
WHO'S WHO:
Fred Astaire (1899-1987) and Ginger Rogers (1911-1995): American dancers, singers, and actors, perhaps best known for their ten collaborations for RKO Pictures, which elevated the duo to stardom. Famous film collaborations include Top Hat and Follow the Fleet, both with scores by Irving Berlin.
Fanny Brice (1891-1951): American singer, actress and comedian of stage, radio and film fame, known as the star and creator of the popular radio comedy series, The Baby Snooks Show.
George M. Cohan (1878-1942): American entertainer, playwright, composer, lyricist, performer and producer, known for such musical standards as "The Yankee Doodle Boy", "You're a Grand Old Flag", and "Give My Regards to Broadway." Known prior to World War I as "the man who owned Broadway," he continued to perform until 1940 and is commemorated by a statue in Times Square, New York City, for his contributions to musical theatre.
Bing Crosby (1903-1977): American singer and actor who became one of the best-selling musical artists of the 20th century with his trademark bass-baritone voice. Crosby's biggest career hit was his recording of Irving Berlin's "White Christmas," first heard on a radio broadcast on Christmas Day in 1941, and which remains the best-selling single of all time.
Stephen Foster (1826-1864): American songwriter of parlor and minstrel music, sometimes referred to as "the father of American music" and reportedly one of Berlin's favorite composers. Foster is known for such songs as "Oh! Susanna", "Camptown Races", and "My Old Kentucky Home," among others, noted as cornerstones of American musical identity.
George Gershwin (1898-1937): American pianist and composer of both popular and classical music, whose best-known works include Rhapsody in Blue (1924) , An American in Paris (1929), and the opera Porgy and Bess (1935). Like Berlin, Gershwin's family immigrated to America in the 1890s, fearful of increasing anti-Jewish sentiment in Russia under Tsar Nicholas II and resulting pogroms. The classically-trained Gershwin also made his name in Tin Pan Alley and on Broadway stages, and became a revered cornerstone of American music and composition.
Edmund Goulding (1891-1959): British film writer and director of Reaching for the Moon, Berlin's film depicting his relationship with Ellin Mackay. Originally intended to be a complete Berlin score, the querulous relationship between director and composer resulted in only one Berlin song in the score: "How Deep Is the Ocean?" (1930), which became a hit, nevertheless.
Oscar Hammerstein II (1895-1960): American librettist, theatre producer, and director, many of whose songs remain current as standard repertoire for singers and jazz musicians, and was bestknown for his longtime collaboration with Richard Rodgers whose partnership produced such works as Oklahoma! (1943), Carousel (1945), South Pacific (1949), The King and I (1951), and The Sound of Music (1959).
Sam H. Harris (1872-1941): Broadway producer and theater owner, with whom Irving Berlin partnered in 1921 at the conclusion of World War I to build the Music Box Theater for Berlin's Music Box Revue. Upon Harris's death in 1941, his shares in the theater were sold primarily to Berlin and to former competitor, the Shubert Organization, with whom Berlin and, later, his estate, retained a partnership until 2007.
Moss Hart (1904-1961): American playwright and theatre director, particularly known for his partnership with George S. Kaufman, which resulted in You Can't Take It with You (1936) and The Man Who Came to Dinner (1939).
Victor Herbert (1859-1924): American cellist, conductor, and composer of many successful Broadway operettas between the 1890s and World War I. He was a prominent product of Tin Pan Alley and worked closely with Irving Berlin, John Philip Sousa, and others to found the American Society of Composers, Authors, and Publishers (ASCAP) in 1914. He was also a composer for numerous Broadway revues including the shows of Irving Berlin and Jerome Kern, and was a contributor to the annual Ziegfeld Follies from 1917 to 1924.
J. Edgar Hoover (1935-1972): First Director of the Federal Bureau of Investigation, Hoover reportedly investigated Irving Berlin for the composer's political involvement. Berlin frequently donated rights to his songs to serve as rallying points for causes, including support of Al Smith and Dwight Eisenhower as presidential candidates ("I Like Ike"), as well as songs opposing prohibition, defending the gold standard, helping the war against Hitler, and a 1950 anthem for the state of Israel.
Scott Joplin (1867/68 - 1917): African-American composer and pianist known as the "King of Ragtime Writers" during his brief career, who popularized the ragtime genre prior to World War I. Scott Joplin.
George S. Kaufman (1889-1961): American playwright, theatre director and producer, drama critic and humorist. Kaufman is best known as the winner of the 1937 Pulitizer Prize for Drama for You Can't Take it With You, written with Moss Hart; Of Thee I Sing, with Morrie Ryskind and Ira Gershwin; and director of the Tony Award-winning Guys and Dolls.
Jimmy Kelly: An ex-prize fighter and proprietor of Jimmy Kelly's, a popular show business hangout, where young Berlin wrote and sold songs until Fanny Brice performed his "Good-bye, Becky Cohen" in the annual Ziegfeld Follies in 1910, sparking Berlin's prolific rise through the industry.
Jerome Kern (1885-1945): American composer specializing in popular music and musicaltheatre, best-known for such classics as "Ol' Man River", "The Way You Look Tonight", and numerous collaborations with leading lyricists and librettists of the era. He was a close friend and contemporary of Irving Berlin, and his musical innovation included 4/4 dance rhythms, syncopation, and jazz progressions building out of the ragtime and musical theatre traditions.
Ethel Merman (1908-1984): American actress and singer primarily known for musical theatre, designated the "First Lady of the musical comedy stage". Merman originated the role of Annie Oakley in Annie Get Your Gun (1946), from which the song "No Business Like Show Business" would become her personal theme song.
Cole Porter (1891-1964): American composer and songwriter, known as one of the major Broadway songwriters of the 1930s. Like Berlin, Porter was one of the few composers of the era who also wrote his own lyrics, though his witty, loftier style is sometimes described in contrast to Berlin's more direct musical approach. Some of Cole Porter's notable hits include the musicals Kiss Me, Kate and Anything Goes, and songs such as "I've Got You Under My Skin", "I Get a Kick Out of You", and "You're the Top", which contains a reference to his contemporary, Irving Cole Porter. Berlin: "You're the top! You're a Waldorf salad. You're the top! You're a Berlin ballad."
Mike Saulter (1868-1922): Underworld figure and proprietor of the Pelham Café in New York City's Chinatown, where 18-year-old Irving Berlin (then known as Israel Baline) found his first employment as a singing waiter. Eager to combat his competitors, Saulter pressed young Berlin toward ambitions as a songwriter. Teaming up with the resident pianist at the Pelham Café, Berlin wrote his first song, "Marie from Sunny Italy," in 1907 for which he earned 37 cents and, due to a printing error on the score, a new name: Irving Berlin.
WORLD CONTEXT-20TH CENTURY
Tzarist Russia and Jewish Persecution
The assassination of Tsar Alexander II in 1881 by members of the Narodnaya Volya, a Russian left-wing revolutionary organization, sparked a huge wave of anti-Jewish riots in the southwest region of Imperial Russia, resulting in the destruction of thousands of Jewish homes and livelihoods from 1881-1884. The next successor to the Russian throne, Tsar Alexander III, further persecuted the Jewish population with the issue of the May Laws in 1882, a series of harsh restrictions on Jewish civil and workers rights. The tacit governmental support of Jewish persecution initiated large-scale emigration from the region, with many Jews choosing to build new lives in the United States. Berlin's family left Russia for the U.S. in 1893, a mere decade before a more brutal wave of pogroms swept the region under Tsar Nicholas II from 1903-1906.
Ellis Island and the Immigrant Experience
Ellis Island in the Upper New York Bay served as the landing point and gateway to the United States for over 12 million immigrants as America's first Federal immigration inspection station from 1892-1954; approximately one-third of the current U.S. population can trace their roots to the immigrants who passed through Ellis Island during its operation. New arrivals at the immigration station were asked a total of 29 questions, primarily regarding their name, occupation, family status, and the amount of money they carried, followed by a physical examination by the army surgeons who staffed the Ellis Island Immigrant Hospital. Entrance to the U.S. could be denied to those with observable diseases or health problems, or those deemed likely to become a public burden such as unskilled workers, those with a criminal record, or those who demonstrated symptoms of mental illness or insanity. The medical inspection in particular came to be regarded as an intimidating admission exam: unusual techniques were employed, such as the use of a buttonhook to flip up the eyelid to examine immigrants for symptoms of eye diseases, and a chalk mark code placed on clothing to identify potential physical ailments observed by examiners while the applicants candidly climbed the stairs from the baggage area to the rest of the facility. Once through Ellis Island, new immigrants found themselves in the midst of New York City, a major metropolitan melting pot rife with burgeoning industry and large communities of immigrants striving toward the American dream. Many found themselves working long hours in dangerous work environments for wages that couldn't stretch far enough to feed a family, and crowded into dingy tenements in which sanitation was low and poverty was high. The early 1900s brought Theodore Roosevelt and the Progressive Era to the country, largely in response to the economic and social hardships endured by the lower and middle classes as modernization encroached, and the political and economic infrastructure struggled to keep pace with the capitalism and corruption induced by the previous Gilded Age.
The New Colossus" by Emma Lazarus
Not like the brazen giant of Greek fame,
With conquering limbs astride from land to land;
Here at our sea-washed, sunset gates shall stand
A mighty woman with a torch, whose flame
Is the imprisoned lightning, and her name
Mother of Exiles. From her beacon-hand
Glows world-wide welcome; her mild eyes command
The air-bridged harbor that twin cities frame.
"Keep, ancient lands, your storied pomp!" cries she
With silent lips. "Give me your tired, your poor,
Your huddled masses yearning to breathe free,
The wretched refuse of your teeming shore.
Send these, the homeless, tempest-tost to me,
I lift my lamp beside the golden door!"
Portland Center Stage is committed to identifying & interrupting instances of racism & all forms of oppression, through the principles of inclusion, diversity, equity, & accessibility (IDEA).