Reviews of "Hershey Felder as Irving Berlin"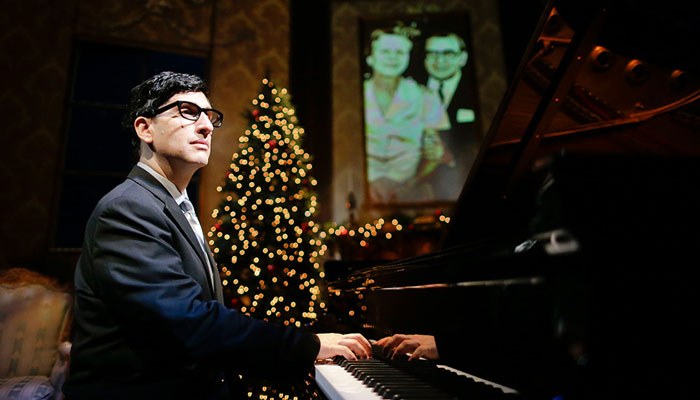 The Making of an American Legend
"Felder was a brash and pounding presence, attacking Berlin's songs with dominating passion and the piano keyboard with emphatic fury ... Hershey Felder as Irving Berlin moves at a brisk and lively but fully controlled clip, mixing biographical detail with a rapid fire of songs, from his very first, Marie from Sunny Italy, through a string of hits ... " -Oregon ArtsWatch
A Holiday Gift to Portland
"Musical play about Irving Berlin is a holiday gift to Portland ... With its incredible journey, sparkling keywork and heartening, hopeful tone ... Felder, a dynamic maestro of voices, singularly assembles a cast of vivid characters, some pivotal, some just colorful." -The Oregonian

It is Life-Enhancing
"Felder held the SRO audience at Portland Center Stage spellbound as he retold Berlin's remarkable life story, singing and playing the piano with such panache that you practically thought you were watching Berlin himself. ... Felder's superb performances as Irving Berlin at The Armory are due to expire at the end of the month. Be sure to see this amazing show. It is life-enhancing." -Oregon ArtsWatch

He Takes Us To Very Deep Places
"During a lot of Hershey Felder as Irving Berlin, I found myself musing on, and occasionally suddenly choked up about, the idea of Berlin's patriotism, his devotion to this country ... As this country moves more and more toward marginalizing and rejecting its immigrants and its so-called "outsiders," Hershey Felder's Irving Berlin has what we need: a determined love of home, a soupçon of old fashioned schmaltz (no, I mean that in a good way), and a reminder that, no matter what happens, there will still be music." -ut omnia bene
What our Audiences are Saying on Facebook:

"A fabulous time was had by all! What talent!"

"The Irving Berlin show at the Armory is wonderful--love story, history, and some of America's best music all rolled into one terrific evening!"

"Do yourself a favor and see this wonderful show."

"Just saw the Irving Berlin show...it was perfection. It covered every emotion, that guy was spectacular. I want to go again."

"I saw this today and it was amazing!! Don't miss it!!!"

"This show is incredibly timely given our current political climate. Fabulous production!"

"This really was a captivating play. Very well done"

"This was such a beautiful show! My husband and I were not sure what to expect, but we were so pleased. When we left the theater, we noticed that everyone was walking away smiling and engaging in warm conversation. Such an excellent story and performance!"

Reviews From Other Cities:
Richly Entertaining and Ultimately Touching
"That indefatigable purveyor of composers Felder now applies his singular blend of musical biography, character study and piano virtuosity toward the iconic songwriter about whom Jerome Kern famously said, 'Irving Berlin has no place in American music -- he is American music' ... The results are richly entertaining and ultimately touching ..." -Los Angeles Times
Hershey Felder Dazzles
"A stimulating, thrilling evening and a great education in American music. Hershey Felder is a phenomenon ... this Irving Berlin tribute is something very special ..." -The Huffington Post
Full of Humor, Insight, Compassion
"A virtuoso pianist, singer, actor and playwright, Canadian-born Hershey Felder has for years been charming audiences with his solo 'musical plays' ... Beautifully directed by Trevor Hay, it's full of humor, insight, compassion and, of course, great songs from the guy who wrote such keepers as 'Blue Skies,' 'What'll I Do,' 'White Christmas' and, according to Felder, thousands more, unheard by the public." -San Francisco Examiner

Portland Center Stage is committed to identifying & interrupting instances of racism & all forms of oppression, through the principles of inclusion, diversity, equity, & accessibility (IDEA).