The Hill District
The Hill District is a 1.4-square-mile section of Pittsburgh that has been predominantly African American since the 19th century. This small strip of Pittsburgh is where all but one (Ma Rainey's Black Bottom) of the Century Cycle Plays are located. The population saw a dramatic increase during the early 20th century. According to the census data, the African American population grew by 93% between 1910 and 1930. The city saw an even bigger increase in the African American population between 1930 and 1970 when it grew 54,943 to 100,692.
The vast increase in Pittsburgh's African American population can be attributed to the migration of Black folks from the South hoping for a more prosperous life that the expansion of steel mills and infrastructure projects promised. Many also sought to escape the injustice of the South, including purposeful discriminatory laws, the KKK, poverty, voter disenfranchisement, and more.
Prosperity was difficult to attain in Pittsburgh, economic hardships coupled with racial segregation led to the concentration of most Black people in Pittsburgh to neighborhoods like the Hill District. At least two-thirds of the city's African American population lived in one of three areas – Homewood, Brushton, East Liberty, or The Hill District.
The growth of these areas led to the mass conversion of single-family homes into multi-family dwellings. Furthermore, since housing outside of these neighborhoods was difficult to find, landlords in these areas had little to no pressure to renovate or perform even basic maintenance on these homes.
Beginning in the 1950's and lasting through the 80's, the city of Pittsburgh underwent Urban Renewal. The plan was to demolish large chunks of the city to make room for parks, offices, and other buildings. The Hill District was one of the neighborhoods that was greatly affected by this supposed "progress". The district declined following ambitious projects that shifted traffic patterns, blocked streets, isolated or divided neighborhoods with highways, and several projects were simply left unfinished. Businesses and homeowners were bought out by the city and many Hill District residents were displaced. An estimated 8,000 people were removed from the area during the construction of the Civic Arena alone.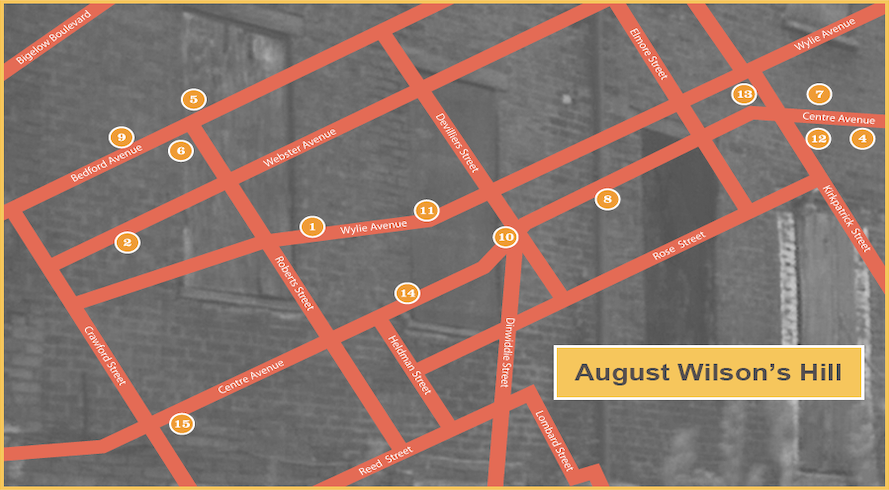 Gem of the Ocean
Joe Turner's Come and Gone
Ma Rainer's Black Bottom
The Piano Lesson
Seven Guitars
Fences
Two Trains running
Jitney
King Hedley II
Radio Golf
Original Carnegie Library
Original West Funeral Home
Eddie's Restaurant
Irene Kaufmann Settlement House (Hill House)
Freedom Corner
Portland Center Stage is committed to identifying & interrupting instances of racism & all forms of oppression, through the principles of inclusion, diversity, equity, & accessibility (IDEA).