Behind the Curtain: Spotlight on Aunt Ester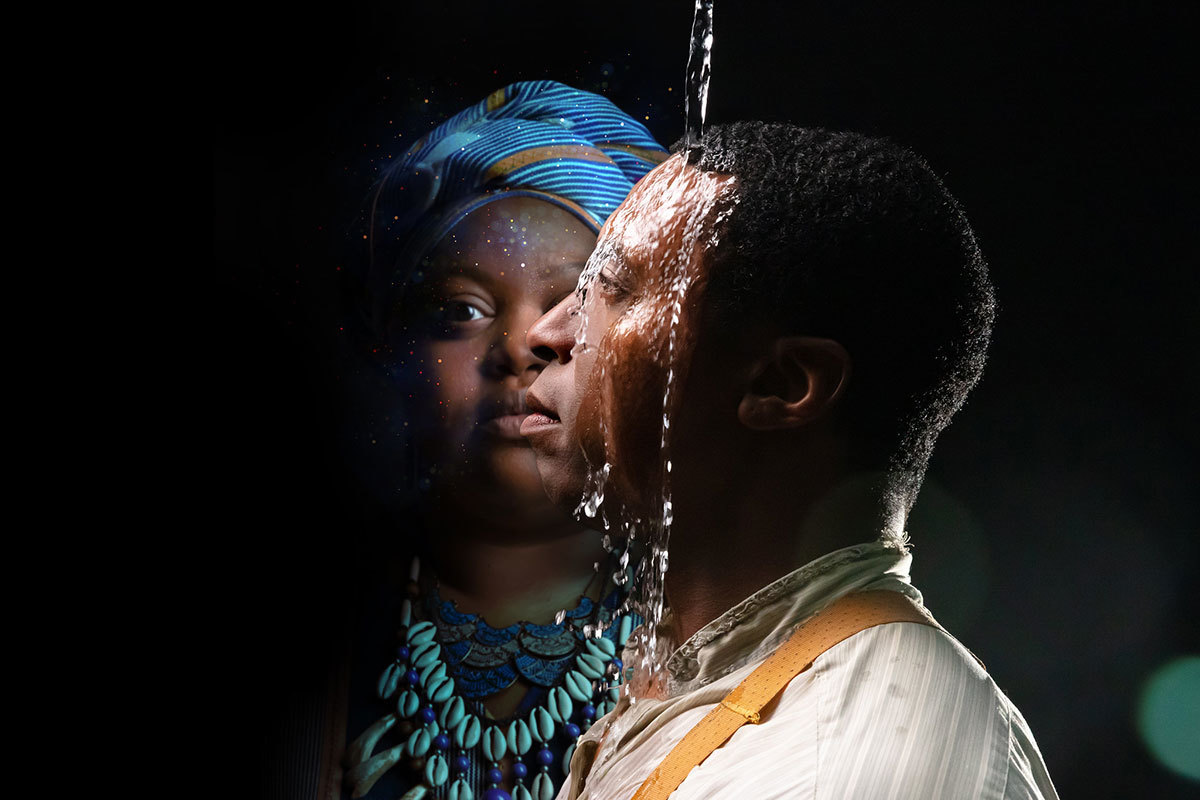 "She Make You Right With Yourself" —Aunt Ester in August Wilson's 10-Play Cycle
Beginning in 1904 with Gem of the Ocean and ending in 1997 with Radio Golf, August Wilson's 10-play American Century Cycle charts the lived experience of African Americans. Over the course of approximately 26 years, Wilson wrote one play for each decade in the 20th century. A feat unrivaled in the theatrical canon, the Cycle is primarily set in Pittsburgh's Hill District — a historically Black neighborhood — and celebrates the traditions and magic of what he described as a "separate and distinct" culture with "different philosophical ideas, different ways of responding to the world, different ideas and attitudes, different values."
Driven by this distinctness, which Wilson saw as "blood memory" from African identities prior to the trans-Atlantic slave trade, the Century Cycle teaches us of the history, trajectory, and spiritual journeys of the Black people who have made the Hill their home. Over the 10 plays, many of the characters appear multiple times and references are made to family and ancestral ties, creating a mosaic of an interconnected community. At the center of this tapestry stands Aunt Ester, the character which Wilson himself deemed the most significant in his plays. Four of the 10 plays — Gem of the Ocean, Two Trains Running, King Hedley II, and Radio Golf — feature Aunt Ester. While she only appears onstage in Gem of the Ocean, her impact is heavily felt throughout the other plays. As "the embodiment of African wisdom and tradition," Aunt Ester, said to have arrived in America in 1619, carries the history of Black people in America. With the special power of remembrance, she helps many of the people in the Hill discover the tools they need to not only rid themselves of guilt and shame, but to carry the legacy of the culture forward.
The character of Aunt Ester follows in the tradition of many African cultures. Before enslaved Africans were forced to travel the Middle Passage, the carrying of history through word of mouth was well established. A sacred storyteller, called a griot, embodied the history and music of a community. Like Aunt Ester, a griot's role was that of a memory carrier — anchoring the community in the past and guiding it into the future.
Aunt Ester first appeared as an offstage character in Wilson's Two Trains Running. Set in Memphis Lee's Diner in 1969, characters such as Memphis Lee, Holloway, and Sterling go to her house located at 1839 Wylie Avenue. These characters recount their stories of "going up to the house with the red door" to get their "souls washed." Holloway says simply, "She make you right with yourself … Aunt Ester got a power cause she got an understanding. Anybody live as long as she has is bound to have an understanding." Her house becomes a sort of symbol in the plays — the site of memory and cleansing. Behind the red door lies the secret to Black American life.
Aunt Ester next appears as an offstage force in Wilson's King Hedley II, set in 1985. In that play, the Hill's then 366-year-old keeper of memory dies, severing the community's link to their cultural past. Characters in that play, like King, Ruby, and Stool Pigeon, reminisce about the profound impact that Aunt Ester had on their lives and lament the loss. Stool Pigeon says, "Aunt Ester knew all the secrets of life but that's all gone now. She took all that with her. I don't know what we gonna do. We in trouble now."
Wilson doesn't reveal the full weight of what Aunt Ester means to the Hill District until Gem of the Ocean, which focuses on her story in 1904. In this play, Aunt Ester appears onstage and audiences witness her wisdom and memory in action.
Beginning in 1904 with Gem of the Ocean and ending in 1997 with Radio Golf, August Wilson's 10-play American Century Cycle charts the lived experience of African Americans. Over the course of approximately 26 years, Wilson wrote one play for each decade in the 20th century. A feat unrivaled in the theatrical canon, the cycle is primarily set in Pittsburgh's Hill District, a historically Black neighborhood, and celebrates the traditions and magic of what he described as a "separate and distinct" culture with "different philosophical ideas, different ways of responding to the world, different ideas and attitudes, different value."

Jitney (1982): Set in 1977, this play follows the men who congregate in the jitney cab station owned by Jim Becker. Veterans, formerly incarcerated people, and number runners tell a story of brotherhood, tragedy, and reconciliation.
Ma Rainey's Black Bottom (1984): This play (the only one not set in Pittsburgh) fictionalizes a recording session of real-life blues legend Ma Rainey and her band. The band gathers on a sweltering Chicago day in 1927 as Ma fights for agency over her art while hot-headed trumpet player Levee confronts the weight of existing in Jim Crow America.
Joe Turner's Come and Gone (1984): In Seth Holly's boarding house in 1911, a community forms among the newly freed roomers. A "conjure man" with a connection to African religion, a young migrant from North Carolina, and a mysterious stranger who arrives searching for the wife who abandoned him and his daughter.
Fences (1987): The first of Wilson's two Pulitzer Prize-winning plays, and arguably the most famous of his works, this play is set in 1957 and tells the story of the Maxon family. Led by complicated patriarch Troy, a former Negro League baseball player, and his devoted wife of 18 years, Rose.
The Piano Lesson (1990): The second of Wilson's plays to win a Pulitzer Prize, this play is set in 1936 in the aftermath of the Great Depression. Siblings Boy Willie and Berniece disagree on what to do with an invaluable heirloom, the family's hand-carved piano, crafted by their formerly enslaved ancestor. While Boy Willie, a sharecropper living in the South, feels they should sell it and buy the land he tends, Berniece is emphatic and believes that they should keep it in honor of their family history.
Two Trains Running (1991): In 1969, Memphis Lee's diner serves as a meeting place for members of the Hill District. Set against the backdrop of the Civil Rights movement and the rapid gentrification of Pittsburgh, the diner is set for demolition. While Memphis fights for what his restaurant is worth, his customers search for love, freedom, and justice in a changing country.
Seven Guitars (1995): Fresh from his release from jail and on the heels of the release of his first and only hit record, blues singer Floyd Barton returns to the Hill District in 1940, in hopes of reconnecting with his love, Vera. However, the demons of his past come back to haunt him and he is tragically killed. Those who love him gather to mourn and celebrate his electric life and work.
King Hedley II (1999): In 1985, King Hedley, a formerly incarcerated man, hatches a plan to support his wife and mother by selling stolen refrigerators to buy a video store and becomes a respectable businessman. This play is a searing critique of the Reagan administration and the "supply-side economics" that led many to financial precarity.
Gem of the Ocean (2003): In 1904, we are introduced to Ester Tyler, the matriarch of August Wilson's Century Cycle. Referred to as "Aunt Ester," she is known for opening her home to individuals on the journey toward redemption and the building of a new culture that recognizes the path from Africa to post-enslavement America.
Radio Golf (2005): The last play in the Cycle, set in 1997, revolves around Harmond Wilkes, an Ivy League-educated local politician whose redevelopment project would alter the Hill District in irreparable ways, namely, by demolishing 1839 Wylie Avenue, the home Aunt Ester occupied for nearly 100 years.
Portland Center Stage is committed to identifying & interrupting instances of racism & all forms of oppression, through the principles of inclusion, diversity, equity, & accessibility (IDEA).