January 30 – March 20, 2016
In the Ellyn Bye Studio
"This show is a must-see" –BroadwayWorld
"It is excellent theater" –Oregon ArtsWatch
"As a performer, Orlandersmith is unmatched."–The Oregonian
Forever begins in Paris at the famed Père Lachaise Cemetery, where strangers from around the world make pilgrimages to the graves of legendary artists such as Marcel Proust, Richard Wright and Jim Morrison. As she visits the resting places of her idols, Orlandersmith is moved to investigate the complex legacy she received from her mother and their often harrowing life together. Riveting and powerful, Forever is about family – the ones we are born into; the strange way powerful bonds are formed with people who, though unrelated by blood, come to feel like family; and the legacies that shape us all.
Run Time:
Approximately 80 minutes; no intermission.
General Performance Times:
Evenings: Tuesday - Sunday at 7:30 p.m.
Matinees: Saturday and Sundays at 2 p.m.
Thursdays at noon
View the season calendar.
Playbill:
Explore the playbill.
Note:
Forever is recommended for ages 16+. Contains mature language and graphic descriptions. Learn more about the show's content in this rave review from The New York Times. Children under 6 are not permitted at any PCS production. There is no late seating or re-entry in the Ellyn Bye Studio.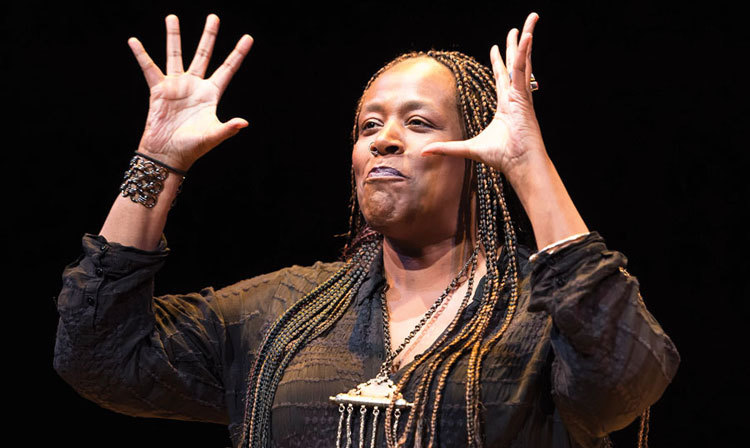 Dael Orlandersmith first performed her solo show Forever in 2014 at the Kirk Douglas Theatre in Los Angeles. Since then, she has performed the piece at several theater companies across the country, earning much critical acclaim, as well as an Off-Broadway Alliance Award nomination for Best Solo Performance. Here's a roundup of the great reviews the production has recieved since its world premiere.

"In language that is always spare and simple, with rhythms now jagged and discordant, now incantatory and soothing, Ms. Orlandersmith holds us in a taut, quiet spell for the 80-minute show." -The New York Times

Brave and Heartfelt
"Ms. Orlandersmith has a gift for raw immediacy ... first and foremost, Ms. Orlandersmith is a poet, and her language sings." -The New York Times

"A harrowing memoir ... searching, brutally honest monologues ... This arc is familiar from Orlandersmith's earlier solo pieces, Beauty's Daughter, Monster and Gimmick, all about young black women determined to rise above bleak circumstances, who find salvation in art." -Los Angeles Times

"In Forever, she also redefines "family" for herself. Perusing Pere Lachaise, she insists that the famous people on the map there — the artists there — are her true family. ... They're all alive, and so is Orlandersmith, as, dressed in black with braids swinging and directed by Neel Keller, she takes the stage and transforms it." -The Huffington Post
"Orlandersmith's intention, she says at one point, was to finally write something with the "naked, gut-honest" candor of an author like Wright. And in the harrowing, very personal and unflinchingly courageous journey described in Forever, she achieves it." -LA Weekly