Hedwig and the Angry Inch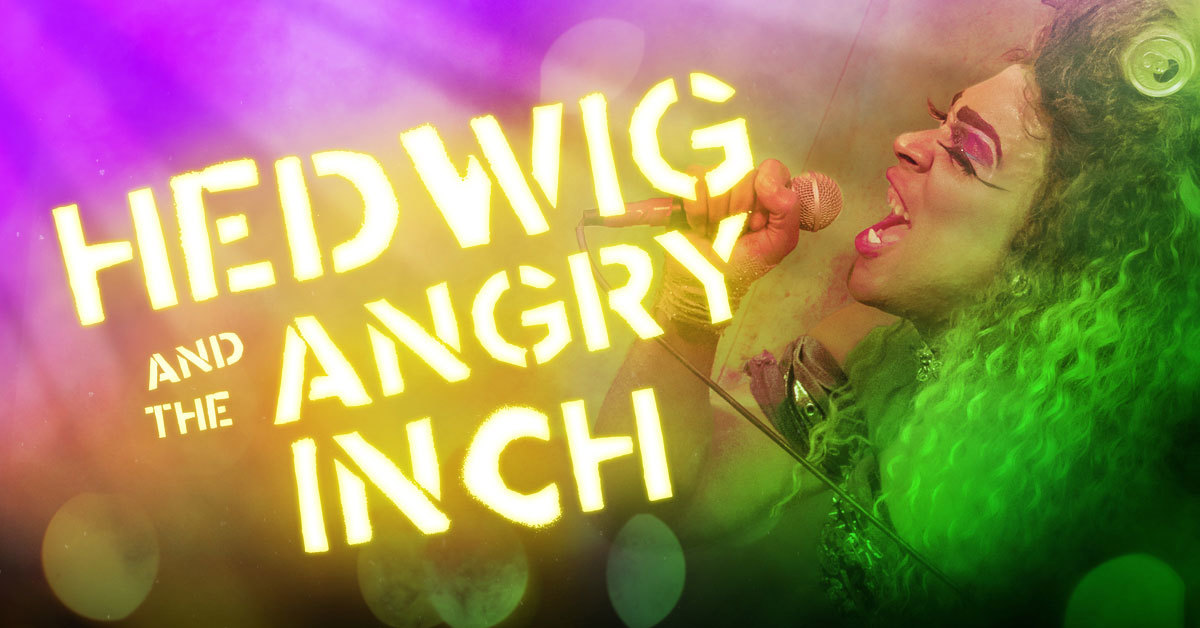 A remount of our 2020 sold-out hit!
January 22 – March 6, 2022
In the Ellyn Bye Studio
Winner of 4 Tony Awards, including Best Revival of a Musical

Brilliantly innovative, moving, and wickedly funny, this genre-bending, fourth-wall-smashing musical sensation tells the story of one of the most unique characters to ever hit the stage. Hedwig, a German emigrant, is out to set the record straight about her life, her loves, and the operation that left her with that "angry inch." Part rock concert, part cabaret, part stand-up comedy routine, this one-of-a-kind musical proves time and again that an indomitable spirit can't ever be tied down.
"This glam rock concert musical delivers the goods — it's a kickass testament to self-acceptance."
–BroadwayWorld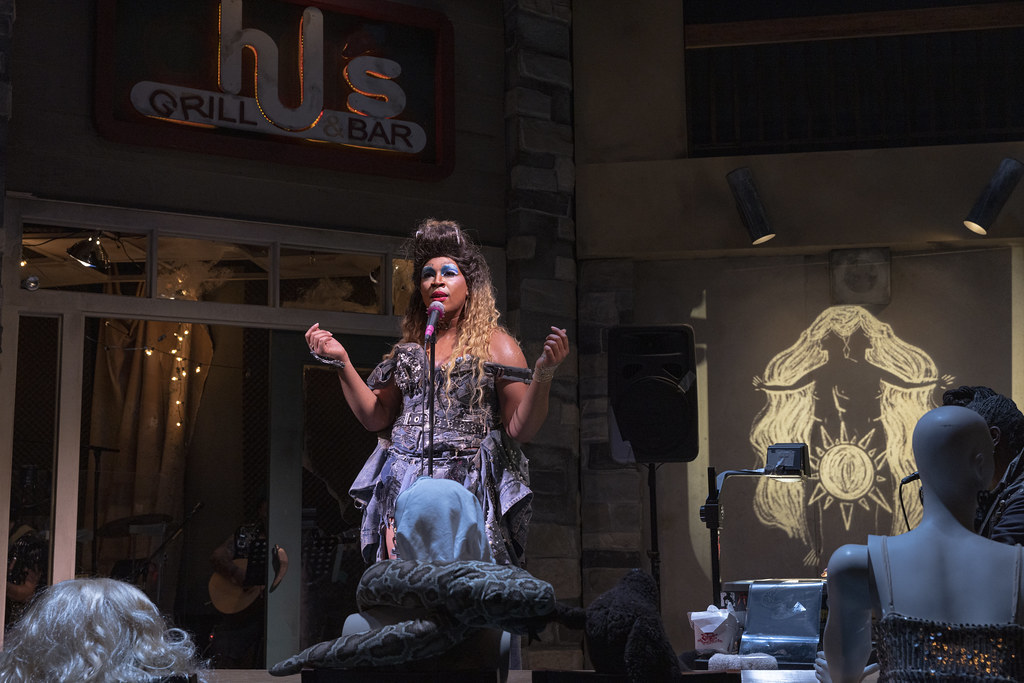 Hedwig and the Angry Inch Plot Synopsis
Please note, this synopsis contains spoilers.

In an abandoned mall turned last-stop-before-the-grave performance space, the grungy and glam rock band The Angry Inch welcomes us to their gig and introduces their lead singer and frontwoman, Hedwig, a German immigrant refugee from formerly communist East Berlin. During an explosive opening number, Hedwig describes how the political chaos of the Berlin Wall era parallels the chaos of her own journey to self-discovery.
We come to realize that Hedwig plans to use her concert to tell us her life story — not only so we can get to know her, but more importantly, so that she can expose her ex-lover, the megastar pop rocker Tommy Gnosis, as a fraud who stole all of her songs and career opportunities. Soon, the concert begins to morph, at times feeling like a confessional booth, a cabaret, or even a stand-up comedy show. We are firmly in Hedwig's grasp, in a world propelled only by her seductive storytelling, gut-punch sense of humor, and addictive tunes.
Growing up as a young boy in East Berlin, Hedwig (born Hansel) lived a meager life with his single mother after she threw his father out when he sexually abused Hansel. Due to the ascetic and paranoiac lifestyle of the East German regime, Hansel developed an active inner life and found solace in American rock music, especially the balladeering women of folk and the proto-punk and glam counter-culture bands of the 1970s. Hedwig reveals that even as a child, she felt an intangible emptiness inside, a sense that her "other half" was missing. She sings of how this feeling permeated her perspective and ushered in her search for love.
One day, while sunning himself on some rocks after being dismissed from university for radical lectures, Hansel meets an American G.I. named Luther and begins a romantic relationship with him. Luther initially thinks Hansel is a girl, and when it comes time for Luther to return to the States, he wants to marry Hansel and go together. But to do this, Luther and Hansel's mother force him to undergo gender reassignment surgery. Hansel becomes Hedwig, but the operation on her genitals is botched. Hedwig is left with what she calls her "angry inch."
Luther abandons Hedwig soon after they arrive in the USA. Alone in the rural Midwest, Hedwig works odd jobs and performs sex work to survive while spending her free time writing songs. She eventually lands a job as a nanny to the children of an Army commander, the eldest son of whom is Tommy. Hedwig and Tommy fall violently in love and begin creating music together; she expands his creative horizons and even gives him his stage name: Tommy Gnosis. But Tommy is a conservative Christian and will not accept Hedwig's status as a social outsider or her gender journey. He rejects Hedwig and leaves her behind. A bit of time passes, and Tommy Gnosis rises meteorically as a pop idol by watering down the song catalog that Hedwig co-wrote. Finally fed up with being pushed aside and silenced, Hedwig puts together her band The Angry Inch and follows Tommy's stadium tour around the country, using the tabloids to her advantage to try and take Tommy down and get what is rightfully hers.
But the night we're present with her, Hedwig comes to a realization that the struggle may not yield the results she desires … and perhaps it's just time to let go and start over on a new path, even if she's alone forever. In the poignantly surreal final sequence, Hedwig assumes — and then sheds — Tommy's stardom before bestowing her own mantle upon Yitzhak, her faithful bandmate and tempestuous lover. As Yitzhak transforms into a new version of Hedwig, Hedwig seems to make peace with her existence. The show ends when she is drawn into a bright light, ascending to a realm of her own, a private place of self-completion, where we may never follow her.

Meet the Cast & Creative Team
Reviews of our 2022 Remount! 
What Critics Are Saying
"A strong reminder of how good theater can be and why we missed it so much." - Portland Mercury
"Delphon "DJ" Curtis Jr. once again puts his indelible mark on this show and makes it his own!" - Judy Nedry
Audience Raves
"The set design was fantastic! Beautifully built and designed. Similarly, the lighting really brought a new dimension to the show. The second act was so heartbreaking and so wonderfully acted." - Audience Rave
"Second time seeing it at PCS and love it every time!" - Audience Rave
"I love the show, and you could not have found two better performers to play off of each other. I laughed and I wept - the sign of a perfect show." - Audience Rave
"Powerful performance!" - Audience Rave
"It was wonderful. The lead playing Hedwig was magnificent - the talent and energy was magnetic. The set was inspiring and creative and the musicians were excellent." - Audience Rave
"Amazing talent and great production! We had a blast." - Audience Rave
"This was my first time seeing Hedwig and I was not disappointed! I loved the intimate atmosphere and of the performance. I was deeply moved by the play - so timely in so many ways. Everyone was outstanding - SO SO impressed by all the actors and musicians. I haven't stopped thinking about all the layers of meaning and the importance of resilience, courage and freedom to be who you are. This play has expanded my understanding and compassion for the stories we all carry - that are too often left untold. It will live in me for awhile. I have grown as a result of seeing this performance. Thank you." - Audience Rave
"Seen at least 3 different Hedwigs around country. This is our favorite by far." - Audience Rave
Reviews of Our 2019-2020 Production
"A guitar-churning, face-melting, inventive new take on the genderqueer rock musical Hedwig and the Angry Inch. It's cleverly conceived, masterfully designed and mightily sung ... the show still speaks, shouts and sings to the struggles of anyone coping with outsider-ism and self-identity." - The Oregonian
"Portland Center Stage's current production of Hedwig and the Angry Inch is my third experience of this iconic show. And this production is the one that captured my imagination and moved me at the heart level. It's the one that motivated me to jump to my feet at the end, and the one I can most enthusiastically recommend." - The Portland Observer
"The show totally rocks! And is hilarious and is raunchy and is complex and is a wonderfully immersive experience in the Armory's intimate Ellyn Bye Studio ... You're immersed in not only the drama of the stage play but the joy inherent in a rock show." - Ut Omnia Bene
"Energized, outrageous, and more than a little crazy ... wildly melodramatic, with pounding rock music and Beyoncé-inspired costumes and wigs. It's a pop-culture/cult happening that Portland-area Hedwig aficionados will need to see again. And again." - Judy Nedry
"This glam rock concert musical delivers the goods -- it's a kickass testament to self-acceptance and a reminder that the world is a lot less binary than we try to make it." - BroadwayWorld
"Revolutionary, astonishing, and very worthy of comparison to Beyoncé. It's certainly a tall order, but Curtis' singing style has a powerhouse soulful approach, which brings the vision of a Hedwig/Beyoncé hybrid out of our dreams and into the Ellyn Bye." - The Mercury
Audience Raves
"I had been waiting over 20 years to see this live and it blew me away!"

"So Amazing!!!"
"A 1,000,000!!!"
"Loved Loved Loved!!!"
"I love the movie. I love the off Broadway version. And now I love the Portland Armory version!! DJ and Ithaca are fantastic!!"
"We left changed, invigorated, and moved to tears. You owe it to your soul to see [Delphon "DJ" Curtis Jr. and Ithica Tell] and this kickass band absolutely blow the roof off of The Armory ... from the basement."
"Hedwig was gorgeous beyond my dreams and the band generous. These are the reminders of why art is important."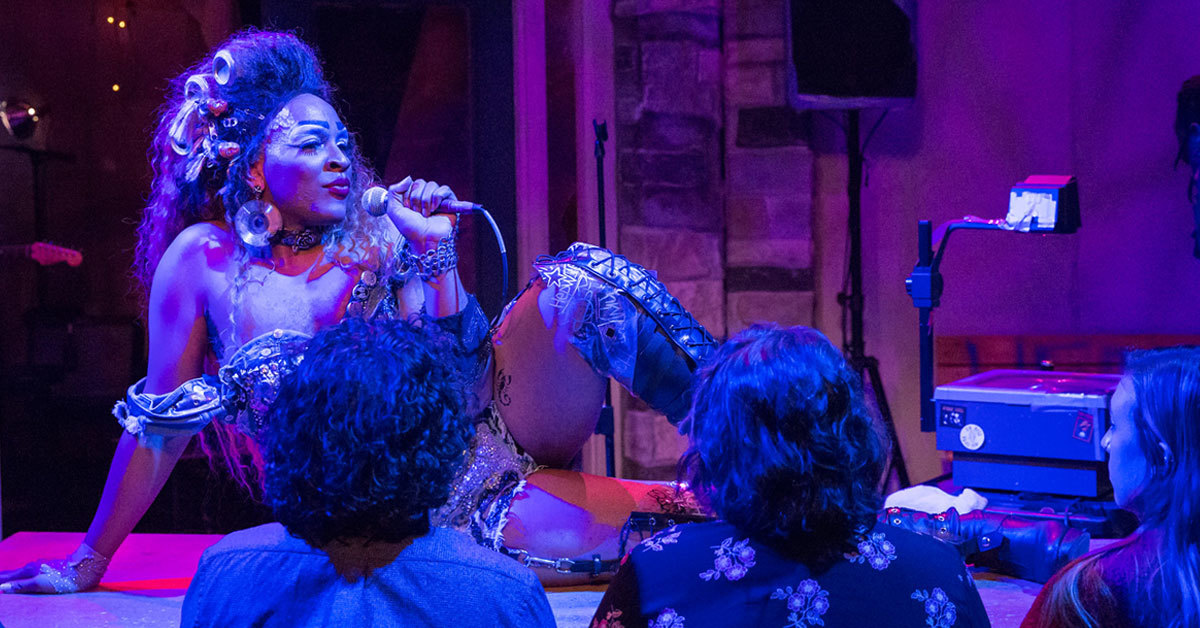 Top of page: Photo by Owen Carey
Portland Center Stage is committed to identifying & interrupting instances of racism & all forms of oppression, through the principles of inclusion, diversity, equity, & accessibility (IDEA).