Please note: the box office (window and phones) will be closed on Monday, May 29, in observance of Memorial Day. Tickets available online.
JAW History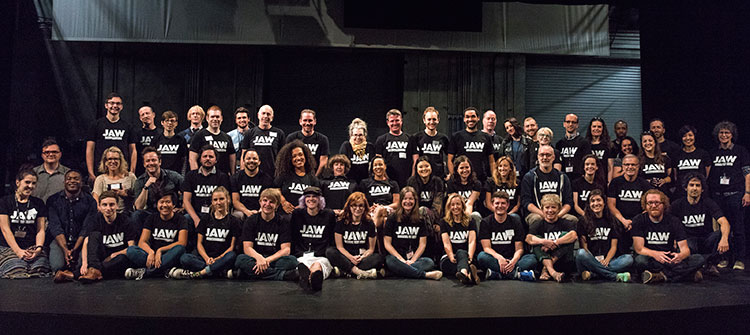 In 1999, members of New York Theater Workshop came to Portland to work in concert with PCS staff to launch a new play development effort; they called it Just Add Water/West, after their own festival back east. Associate Artistic Director Rose Riordan led the festival's earliest efforts.
Just Add Water grew, with productions ending up in PCS's regular season, and moving on to be seen at theaters outside of Portland. Just Add Water streamlined its name to JAW, expanded its footprint by including performances from other theaters around the community, and began to create a national reputation for itself.
JAW Through the Years

2016
The Forcings by Kevin Artigue
Catch as Catch Can by Mia Chung
The Saints by Nathan Dame
Wild and Reckless by Eric Earley and Blitzen Trapper
Lauren Weedman Doesn't Live Here Anymore by Lauren Weedman
2015
Miller, Mississippi by Boo Killebrew
Wink by Jen Silverman
Colchester by Adam Szymkowicz
Long Division by James Presson
2014
Keys of the Kingdom by Penny Penniston
db by Tommy Smith
The Royal Society of Antarctica by Mat Smart
A Life by Adam Bock
2013
Threesome by Yussef El Guindi (World Premiere at PCS in 2015)
complex by Dominic Finocchiaro
Mai Dang Lao by David Jacobi
The Ocean All Around Us by David Lavine
2012
San Diego by Adam Bock
Bo-Nita by Elizabeth Heffron (produced at PCS Winter 2014)
The Few by Sam Hunter
Broken Stones by Fin Kennedy
The Bachelors by Caroline V. McGraw
The People's Republic of Portland by Lauren Weedman (World Premiere at PCS Spring 2013)
2011
Tales From Red Vienna by David Grimm
The Huntsmen by Quincy Long
The Body of An American by Dan O'Brien (World Premiere at PCS in Fall 2012)
Anna Karenina by Kevin McKeon (World Premiere at PCS in 2012)
2010
Gnit by Will Eno
Necessity by William S Gregory
A Maze by Rob Handel
The North Plan by Jason Wells (World Premiere at PCS in 2012)
2009
Birds of a Feather by Marc Acito
Middletown by Will Eno
Futura by Jordan Harrison (World Premiere at PCS in 2011)
Concerning Strange Devices.... by Naomi Iizuka
99 Ways to Fuck a Swan by Kimberly Rosenstock
On the Nature of Dust by Stephanie Timm
2008
Paradise Street by Constance Congdon
Enchantment by Carson Kreitzer
Crazy Enough by Storm Large (World Premiere at PCS in 2009)
Pony by Sylvan Oswald
A Brief Narrative of an Extraordinary Birth of Rabbits by C. Denby Swanson
2007
Marie Antoinette by David Adjmi
Box Americana (A Wal-Mart Fantasia) by Jason Grote
Bruise Easy by Dan LeFranc
A Story About a Girl by Jacquelyn Reingold
2006
The Listener by Liz Duffy Adams
Telethon by Kristin Newbom
Lost Wavelengths by Steve Patterson
A Feminine Ending by Sarah Treem (World Premiere at PCS in 2008)
2005
The Thugs by Adam Bock (World Premiere at PCS in 2007)
Act a Lady by Jordan Harrison (World Premiere at PCS in 2007)
Celebrity Row by Itamar Moses (World Premiere at PCS in 2006)
Number Three by Ebbe Roe Smith
2004
Bulrusher by Eisa Davis
BFE by Julia Cho
Hazard County by Allison Moore
Mimesophobia by Carlos Murillo
2003
O Lovely Glowworm, or Scenes of Great Beauty by Glen Berger (World Premiere at PCS in 2005)
Thunderbird by Joseph Fisher
Tallgrass Gothic by Melanie Marnich
Anon by Kate Robin
2002
Another Fine Mess by Steven Drukman (World Premiere at PCS in 2003)
Auto Delete by Honour Kane
Manna by Steve Murray
Two Birds and a Stone by Amy Wheeler
2001
Tundra by Joseph Fisher
Parts They Call Deep by Lauren Gunderson
Outrage by Itamar Moses (World Premiere at PCS in 2003)
This Thing of Darkness by Craig Lucas & David Schulner
2000
Flesh and Blood by Peter Gaitens (World Premiere at PCS in 2001)
Places Names by Linda Stephens & Jeff Lunden
Throw Pitchfork by Alex Thomas
Five Minute Wars by Sharon Whitney
1999
Back to Baka by Judith Alexa Jackson
Fighting Words by Sunil Kuruvilla
The Shadow Testament by Susan Mach
Lobster Alice by Kira Obelensky
---
Accessibility