JAW Turns 20!
Celebrate our history with past seasons of JAW
Script Submissions
Eligibility
(Note: we have made updates! Please read carefully.)
Only full-length plays and musicals are eligible for consideration. There are no requirements regarding theme, content, genre, or form; past JAW plays have run the gamut of theatrical invention and subject matter. The single exception to this is that we do not accept material intended specifically for children or youth audiences, nor are playwrights under the age of 18 eligible to submit to JAW.
We accept submissions that have received prior readings or developmental workshops, but plays that have received prior productions are ineligible for JAW. We include in this stipulation all productions—whether professional, academic, or amateur in nature—which featured ticketed attendance, were labeled a "premiere," and/or gave the author a chance to see the play with anything more than the most basic of design elements. We are also unable to accept plays that are scheduled for a future production and/or plays that have been commissioned by another theatre that currently maintains its premiere production option.
JAW exists to support playwrights as they explore their plays in process. Our focus is on discovery and development, not presentation and competition. We strive to give writers the opportunity to truly play with their plays! Therefore, we encourage submissions that find themselves in the stage of having at least a well-established early draft but in need of a collaborative workshop environment to go further.
Submissions to JAW are accepted by direct personal invitation only via email, with the exception of Oregon-resident writers who may submit with or without invitation. Each play is guaranteed to be read by multiple readers through a "blind" reading process, meaning that the reading committee considers each play without any knowledge of its title and authorship until after the festival selections have been finalized.
Due to the volume of submissions we receive, we can only accept one submission per author per year. A play may be submitted to JAW a maximum of two (2) times.
Submission Instructions
(Again! More updates! Please read carefully.)
To submit to JAW, all that eligible applicants need to do is send us two (2) separate files. One: the script itself, from which you must remove your name, the play's title, and any notes on development history from all pages (including your headers and footers, dear friends). Two: a one-page document containing the title of your play, your name, email address, phone number, and agent contact if applicable. Please also give us an idea on this page of what questions you're asking yourself about the play at this point and/or what you think you would work on if selected for JAW (maximum 150 words).
Your script file name should follow this format: "Play Title_Your Name" and your info document should follow this one: "Info Sheet_Your Name"
Email both documents (PDF or Microsoft Word formats only) to jaw@pcs.org. Submissions that do not meet the formatting guidelines or eligibility criteria above will not be considered.
Only electronic submissions are accepted. You will receive a confirmation of receipt within 10 days; if you have not heard back from us within that time frame, feel free to follow up.
If you are sending sound files, we prefer to access them through a downloadable site (Dropbox, for example); if that's not an option for you, no problem, but please give us a heads-up so we can ensure your files come through our server without issue.
Submissions are accepted from November 1 through 11:59pm PST on November 20, 2017. Submissions arriving after the deadline will not be considered.
All applicants will be notified of the committee's decision in the spring, absolutely no later than May 1, 2018. JAW happens during the final two weeks of July each year (July 15-30, 2018). If your play becomes slated for production in the interim (congratulations!), or if you become aware that you will be unable to attend JAW for the full duration of the residency, then you must alert us immediately so that we may remove your submission from consideration.
Please briefly indicate your favorite animal when you email your submission so that we know you read this far. (Just kidding.) (Wait, no - actually we're not kidding! We love animals and sharing and following instructions.)
Last, on the occasion of our 20th anniversary, we want to take a moment to note that we consider each and every submission an honor. While we can only workshop a fraction of the magnificent new plays that come our way, we are humbled that playwrights choose to share their art with us each year. So we want to say, quite simply, to everyone that has submitted over the years: THANK YOU. For your imaginations, your voices, and your courage. Here's to the future!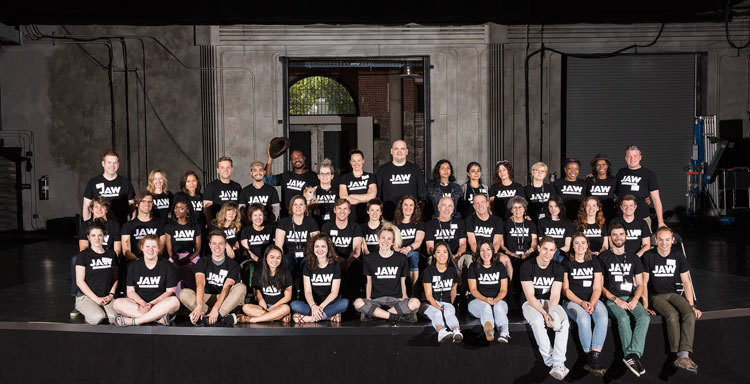 Questions? Ask jaw@pcs.org!
About JAW
In 2018, JAW: A Playwrights Festival will proudly present its 20th year of championing new plays and bringing invigorating theatre to Portland. For two decades now, each summer has confirmed for us the vitality of this ever-changing, crazy fun, wild world of theater when JAW (short for Just Add Water) takes over The Armory. The festival welcomes a handful of playwrights, whose scripts are chosen from nearly 200 annual submissions, to spend two weeks collaborating with directors, dramaturgs, actors, and other theater professionals from across the nation. During these workshops, JAW playwrights get to hear, revise, and sometimes completely rewrite their plays in a supportive environment where their creative needs set the agenda. The festival culminates in a vibrant outpouring of artistic energy, as staged readings of the JAW plays are presented to the public. Adding to the festivities are unique performances pieces from local artists of all disciplines. And the whole thing kicks off with an evening of work by the Promising Playwrights, high school students selected from our Visions & Voices program, who write and develop their own short plays alongside the professionals. Thousands of audience members join us annually to celebrate theatrical innovation and the enduring power of storytelling. See you there!
Press Play
A series of dynamic performance pieces hand-selected for JAW that animate the building and engage audience members before every reading. Dancers, musicians, musicians and more pop up throughout the building adding to the vibrant festival spirit of JAW.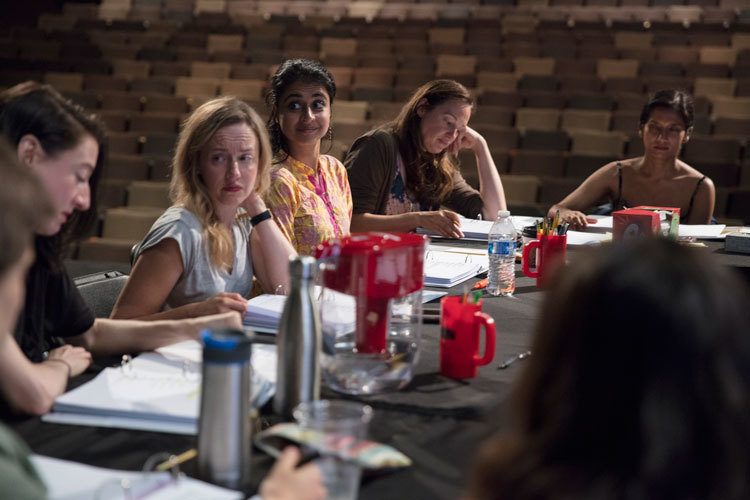 Community Artist Labs
Artists from across the nation conduct educational labs for our local community on a diversity of performance-related topics. Admission is FREE, but in order to maintain a high level of quality, attendance for each lab is limited and determined by random lottery.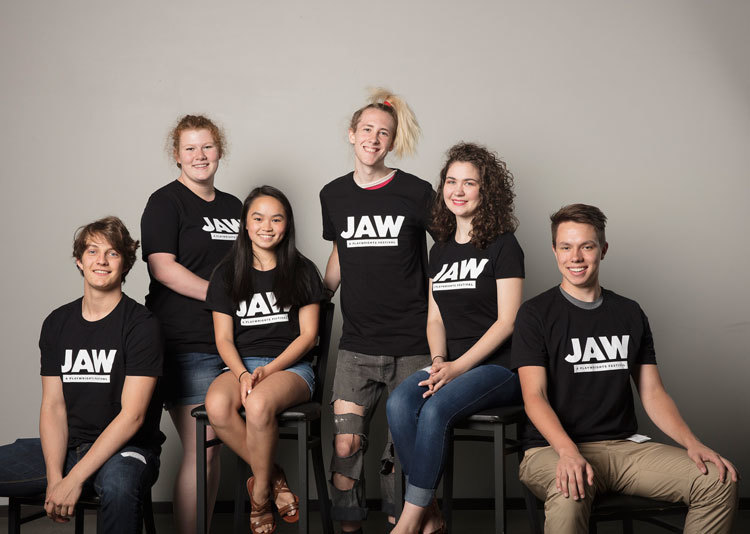 Promising Playwrights
The 20th annual JAW: A Playwrights Festival will kick off with staged readings of new scripts from Portland-area high school playwrights. Come ready to celebrate and socialize. These 10-minute plays by Promising Playwrights are selected from our Visions & Voices Playwriting Program, a residency program offered to Portland-area schools.
JAW 2018's "Big Weekend" of staged readings and other events will occur July 27-29. JAW is free and open to the public.
Dates are subject to change.
JAW Staff
Just a few of the hardworking folks behind the JAW festival. Contact us at jaw@pcs.org.
Rose Riordan – JAW Festival Director
Kelsey Tyler – JAW Festival Producer
Brandon Woolley – JAW Festival Producer
Benjamin Fainstein – JAW Literary Manager
Will Cotter – JAW Festival Company Manager
Accessibility Info
PCS is committed to making our performances and facilities accessible to all of our patrons. Wheelchair seating, sound amplifying devices and large print programs are available for JAW. For more information, visit our accessibility page.
Accessibility