Resource Guide
for The Great Leap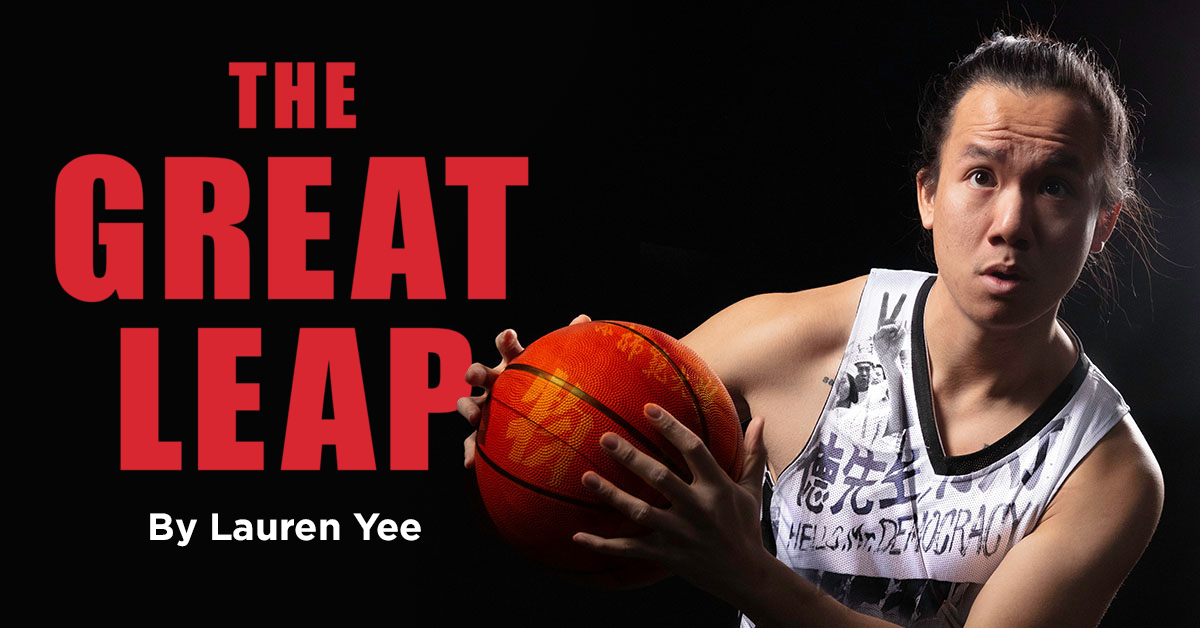 Student Matinee Curriculum
Portland Center Stage's Student Matinee Program seeks to provide all young people with opportunities to experience and directly participate in the art of high-quality, professional theater in a context that supports their education. The following is designed to help students explore themes found in our production of The Great Leap. We encourage you to choose the most appropriate activities for your group and adapt as needed.
DISCUSSION QUESTIONS
How do you choose whether to stand up for what you believe in when the consequences are significant?
What are you willing to risk for what you believe in?
What is the role your culture plays in your life?
How do you define your identity? Is that different from your culture?
How does where your family is from affect who you are? Does their relationship to that place affect your connection?
How do you approach clashes in culture?
ACTIVITY I: FRIENDLY RIVALRIES
Engage the entire class in a rock, paper, scissors tournament. (5 minutes)
Rules: Everyone starts in pairs and plays rock, paper, scissors (best of one). Whoever loses will follow the person that beat them and cheer them on as the winner continues to challenge others who have also won. This pattern will continue until there are only two people left to face off.
Reflection Questions:
What are some other friendly competitions you have with your friends or that others have?
Why do you opt into these friendly competitions? Or why do you think others choose to?
Without an actual reward, what motivates you to win these competitions?
What feelings emerge when you win? What about when you lose?
Why do you think it's important for different countries to have friendly rivalries?
ACTIVITY II: TO PROTEST OR NOT TO PROTEST?
Step 1: Split the class into groups of 6-8.
Step 2: Ask each group of 8 to divide themselves as evenly as possible and to label each group either A or B.
Step 3: Group A will argue for protesting, Group B will argue against protesting.
Step 4: Give each group up to 10 minutes to form at least one argument.
Step 5: Have each group of 8 present, either in front of the whole class or to another group of 8.
Step 6: Group A will go first and will have up to 2 minutes to present their arguments. Repeat with Group B. *Both groups should take notes while the opposing group is presenting in order to form a counterargument. (4 minutes)
Step 7: After presenting their initial arguments, give each group 2-5 minutes to create a counterargument. (4-10 minutes)
Step 8: Group B will have up to 2 minutes to present their counterargument, repeat with Group A. (4 minutes)
Step 9: Open the conversation for each group to freely discuss their points and to argue their case (2 minutes).
Step 10: Allow for the group observing the argument to ask both Group A and B questions or push back on their arguments (5 minutes).
Reflection Questions:
Did you agree with the side you had to argue for? How did arguing for a side you were for/against make things easier or harder?
Did you learn a new perspective that you hadn't considered before? Did it change your opinion on protesting? (Raise your hand if you've changed your opinion on protesting from for to against or vice versa).
Have you ever protested before? If so, what was your experience like? If not, what is your impression of protesting based on how it's reported on social media?
Portland Center Stage is committed to identifying & interrupting instances of racism & all forms of oppression, through the principles of inclusion, diversity, equity, & accessibility (IDEA).