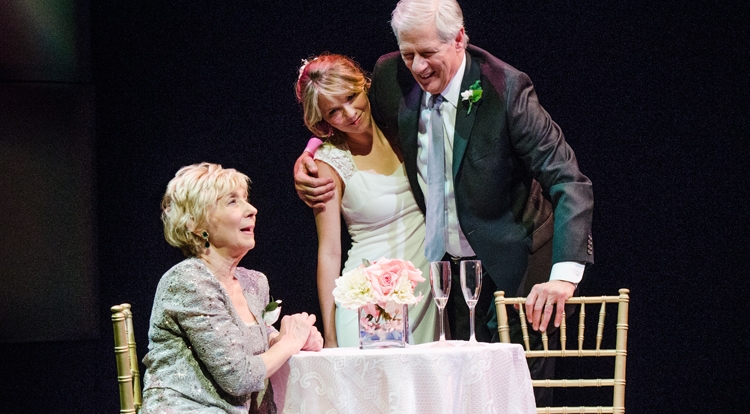 February 22 — March 23
On the Main Stage
By Adam Bock
Directed by Rose Riordan

A Small Fire follows John and Emily Bridges, a long-married couple whose happy, middle-class lives are upended when Emily is overcome by a mysterious disease. As this indomitable woman's senses are slowly stripped away—smell, taste, sight—she finds herself suddenly and completely dependent on the husband whose endless devotions she had always taken for granted, and their lives transform in ways neither could have imagined.

"The play is raucous, funny and unexpectedly touching, as we are made intimate witnesses to a frank demonstration of how much of life, of love and of happiness remain within reach even when so much appears to be lost." The New York Times

By the author of The Receptionist and The Thugs. PCS audiences will recognize the complete originality and deep humanity to be found in Bock's characters.

Performance times:
Tuesday - Sunday evenings at 7:30 p.m
Saturday and Sunday matinees at 2 p.m.
Thursday matinees at noon

View our Season Calendar for a full list of performances and dates.

The estimated run time is 85 minutes. A Small Fire will be performed with no intermission.

Learn more about accessibility options at PCS.

Read the cast and creative team bios.

View the playbill.

Note: A Small Fire contains mature content, strong language, partial nudity and sexuality. Most productions at PCS are recommended for high school age and up; children under 6 are not permitted.


Reviews and Features
Richard Wattenburg | The Oregonian [Review 06 Mar 2014]
A Small Fire Follows a Family's Struggle With a Strange Isolating Disorder
"Adam Bock's A Small Fire, currently appearing at Portland Center Stage, might be a small play but it asks some pretty big questions…this lean, spare drama explores the nature of life, love, and human connection — big subjects indeed."
"Directed by PCS associate artistic director Rose Riordan, who also directed the PCS productions of The Thugs and The Receptionist, the play's four-member cast works wonderfully well together."
"Peggy J. Scott ably portrays Emily's fiery feistiness and her irascibility, and yet even from the start she allows us to see that beneath the crusty exterior there is a woman, who in her own way really means well. As Emily's disabilities reduce her to helplessness, some of the abrasive edge that is predominant early on gives way to a reluctant patience and finally at play's end to something approaching a subdued ecstasy."
"Scott's Emily is nicely complemented by Tom Bloom's John Bridges. Bloom's Tom is low-keyed, even tempered. His movements are restrained, thoughtful, and deliberate, and he speaks with an unruffled easy rhythm. Sure, occasionally he allows us a glimpse of a tortured grimace but only when no one else on stage could possibly detect his dismay. As Billy, Emily's construction company employee, Isaac Lamb gives us a good-hearted teddy bear of a man, and Holleye Gilbert, as John and Emily's daughter Jenny, very ably conveys the frustrated deep-seated ambivalence she feels toward her mother — a woman who could never offer Jenny the tenderness she so desperately sought."
Bob Hicks | Oregon ArtsWatch [Review 06 Mar 2014]
"A Small Fire seems to me to have a more generous presence than The Receptionist or The Thugs, a deeper sympathy and understanding for the varying tugs and pulls on its characters. It creates four lovely acting vehicles, and maybe the biggest pleasure of watching Center Stage's production is the joy of watching such fine craftsmanship in the art of acting. Peggy J. Scott is at the center of things as Emily, creating a character who's abrasive and wryly funny and vulnerable and surprisingly sexy all at once: it's a tough balancing act, but she handles it brilliantly. Tom Bloom, as John, the husband Emily ruthlessly and reflexively belittles, is a highly effective match, like sponge to water, soaking up Emily's spills and taming her floods of emotion: he delivers a quiet and beautiful performance, filled with love and regret. Hollye Gilbert, as their grown daughter Jenny, who can't quite handle her resentment over her mother's casual cruelties, neatly deals with Jenny's disappointments and sense of betrayal. And Isaac Lamb quietly lights up the stage as Emily's construction-company sidekick, Billy, who softens her hard edges and makes sure the crew's treated right and takes time for his own pleasures (don't blame me if you develop a sudden enthusiasm for pigeon-racing). Lamb provides a presence of light and splendid humor: things rise and warm like baking bread in his presence."
Join the conversation! We invite you to share your comments with us on our Facebook page.
Production blog

Accessibility