Travel The Trail

Inspired by Bekah Brunstetter's The Oregon Trail, Portland Center Stage at The Armory has developed this itinerary to inspire audiences to interact with Oregon in a unique way – by using a story produced for the stage as a lens to explore Oregon's rich cultural history and land. In the mid-19th century, the Oregon Trail was the main pathway for American emigrants searching for new lands and opportunity. The Oregon Trail and its many offshoots were used by about 400,000 settlers, farmers, miners, ranchers, business owners and their families.
Much of that history has been preserved and can be seen across various regions of Oregon. We invite you to travel the trail for yourself. See it in six days as presented below, or take sections of the trail for a unique weekend trip and make it your own! Be sure to share photos of your journey, and tag them with #travelthetrail.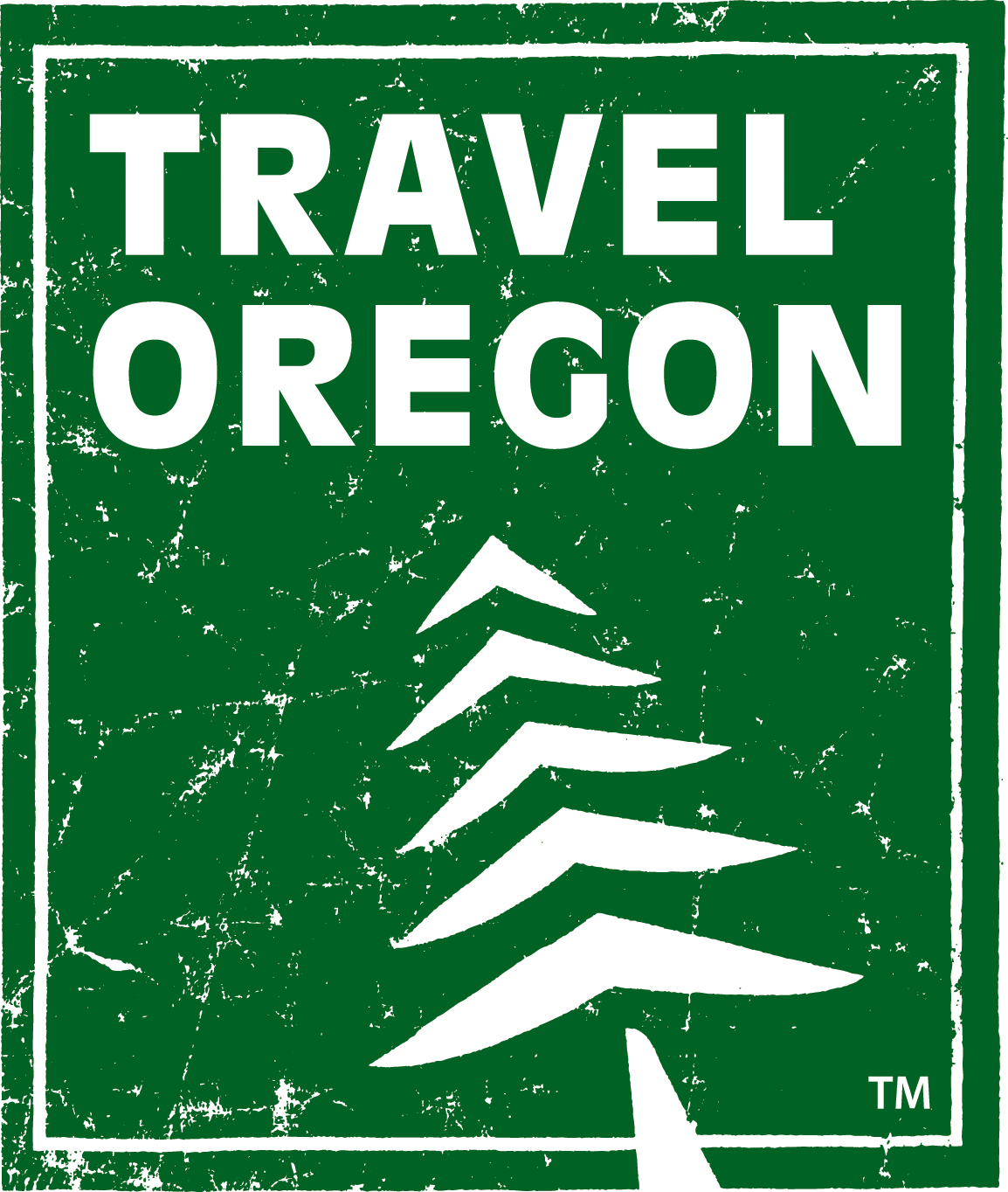 Take this itinerary with you by downloading our PDF version.
Interested in biking part of the The Oregon Trail? We've got your bike itinerary right here!
This project was made possible in part by a grant from Travel Oregon.

---
Portland - Day 1 +
Start your historical journey by exploring Oregon's history at The Oregon Historical Society (1200 SW Park Ave, Portland, OR). Oregon My Oregon is an award-winning exhibit that tells Oregon's story from the region's earliest inhabitants, to the arrival of Europeans, through the Oregon Trail, and onward to early settlements and industries. Visitors can explore Native American collections and re-creations of a Hudson's Bay Company ship hull, a 19th century explorer's tent, and a store stocked with 1940s-era merchandise from the Hood River Yasui Brothers Mercantile. www.ohs.org
Visit Portland Center Stage at The Armory (128 NW 11th Ave, Portland, OR) and see The Oregon Trail running October 29 – November 20, 2016. In this fresh and funny retelling of Oregon's history, two Janes traverse the Oregon Trail – one plays the 1997 computer game and one is in a covered wagon in 1848. www.pcs.org/oregontrail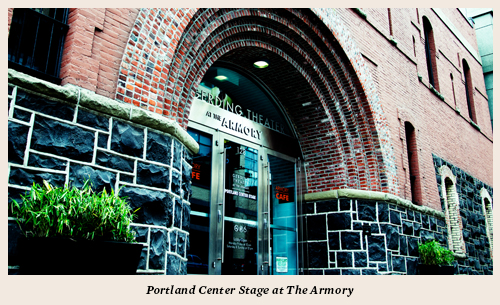 Stay at the Mark Spencer Hotel (409 SW 11th Ave, Portland, OR), a short walk from Portland Center Stage at The Armory, shops and other Portland attractions. www.markspencer.com
---
Oregon City/Mt. Hood - Day 2 +
Discover what it was like to be a pioneer at the End of the Oregon Trail Interpretive & Visitor Information Center (1726 Washington Street, Oregon City, OR). Experience history with the "Bound for Oregon" film presentation and interactive exhibits that include pioneer games and crafts like candle dipping. Heritage garden and state welcome center are also on site. www.historicoregoncity.org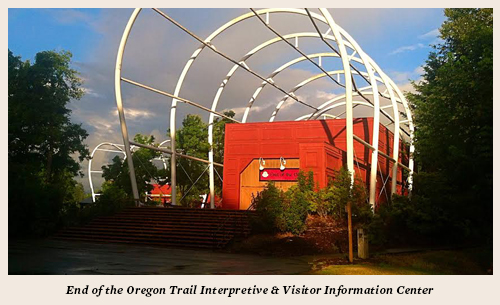 En route to Mt. Hood is Philip Foster Farm (29912 SE Hwy 211, Eagle Creek, OR), a seasonal attraction where you can view the house and farm owned by early Oregon Trail pioneer, Philip Foster. The farm is open May - October. www.philipfosterfarm.com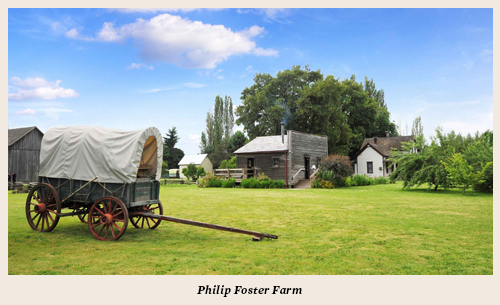 Just outside of Sandy, stop at Jonsrud View Point (SE Bluff Rd, Sandy, OR) which offers expansive views of the Sandy River Valley and "Devil's Backbone," a ridge named by pioneers traveling the trail. www.mthoodterritory.com/jonsrud-viewpoint
Stay at The Resort at The Mountain (68010 E Fairway Ave, Welches, OR) a premier full service mountain resort offering quick access to the mountain's many Oregon Trail treasures. www.mthood-resort.com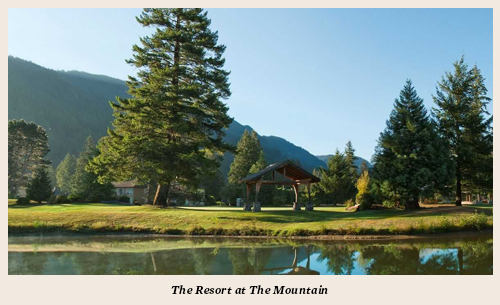 ---
Mt. Hood/The Dalles - Day 3 +
Stop at the Pioneer Tollgate Campground (Highway 26/Milepost 44, Rhododendron, OR). This part of the Oregon Trail (Barlow Road) required a toll – $5 per wagon and 10¢ for every piece of livestock. A replica of the tollgate can be seen alongside two big leaf maples that date back to the period.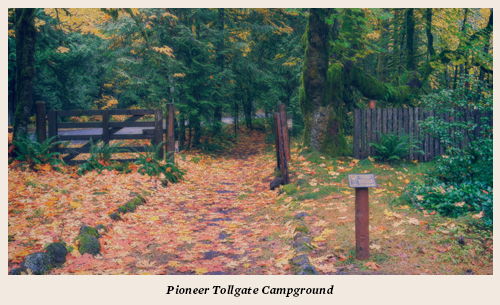 A pullout directly off Highway 26 and a short trail will lead you to Laurel Hill Chute (Highway 26, Milepost 50), the most difficult descent on the Oregon Trail. Travelers used ropes and sheer strength to lower their wagons down a near vertical slope.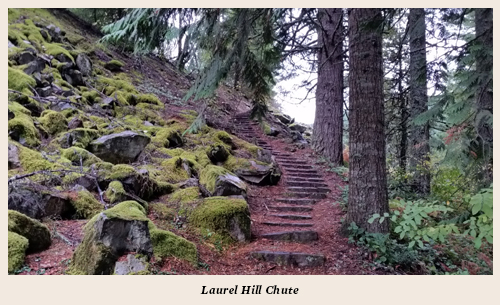 Stop at Timberline Lodge (27500 W Leg Rd, Timberline Lodge, OR) for a delicious lunch and breathtaking views of Mt. Hood. www.timberlinelodge.com/dining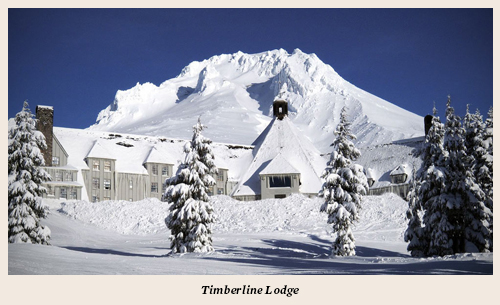 Drive the path of the Oregon Trail via Highway 197 toward The Dalles. Once there, visit Columbia Gorge Discovery Center & Museum (5000 Discovery Drive, The Dalles, OR). The museum has exhibits on Ice Age floods, Native American basketry, early explorers (including Lewis & Clark), the Oregon Trail and early pioneer settlement in Wasco County. Winter hours for raptor presentations are weekends, Saturday and Sundays, at 11 am and 2 pm. Named by True West Magazine as one of the "Top 10 True West Western Museums for 2016." www.gorgediscovery.org
Stay at Cousins Country Inn (2114 W 6th St., The Dalles, OR) and enjoy the country charm and hospitality, including a bottomless jar of homemade family-recipe cookies. Cousins Country Inn provides road weary travelers and hungry diners a great night's sleep and terrific "home cooked" meal. Cousins Country Inn is often referred to by repeat guests as an "Oasis of Home Style Hospitality." www.cousinscountryinn.com
---
The Dalles/Pendleton - Day 4 +
Before taking off to Pendleton, visit the Fort Dalles Museum (500 W. 15th St., The Dalles, OR), one of Oregon's oldest history museums located in the old Fort Surgeon's Quarters, built in 1856. The museum is closed November - January. www.fortdallesmuseum.org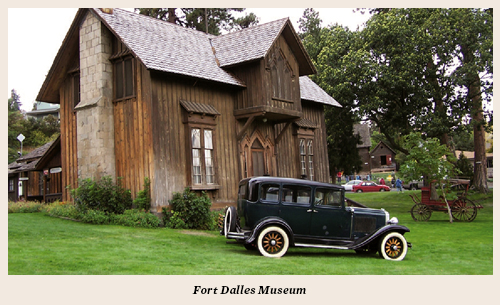 Once in Pendleton, immerse yourself in the history, culture and hospitality of the Cayuse, Umatilla, and Walla Walla peoples who have lived on this land in NE Oregon and SE Washington for more than 10,000 years at Tamástslikt Cultural Institute (47106 Wildhorse Blvd, Pendleton, OR). World-class exhibits, interactive displays, an expansive museum store, and the best view of the Blue Mountain foothills from Kinship Café await you at Tamástslikt Cultural Institute. Perhaps one of the most important stops on this itinerary – learn about the impact that the Oregon Trail and pioneer settlement had on numerous Native American tribes. www.tamastslikt.org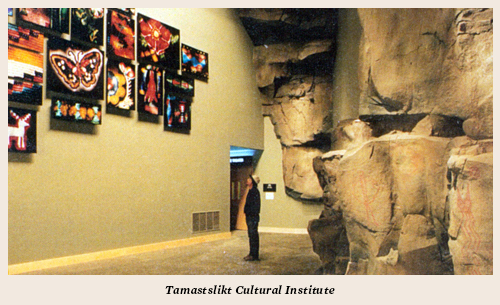 Head to Hamley Steakhouse (30 SE Court Ave, Pendleton, OR) for dinner and authentic American Old West décor, located in downtown Pendleton on the original path of the Oregon Trail. www.hamleysteakhouse.com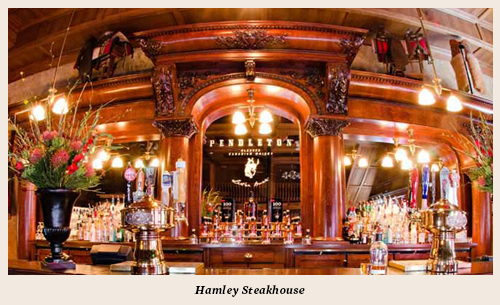 Stay at Wildhorse Resort & Casino (46510 Wildhorse Blvd., Pendleton, OR) owned and operated by the Confederated Tribes of the Umatilla Indian Reservation. www.wildhorseresort.com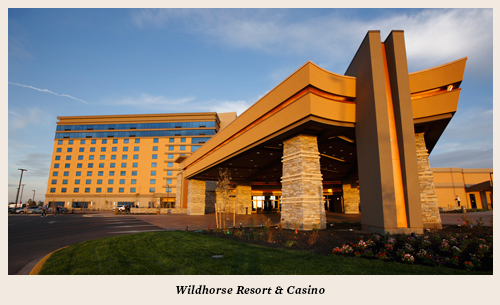 ---
Baker City - Day 5 +
On route to Baker City, stop by Emigrant Springs State Heritage Area (65068 Old Oregon Trail, Meacham, OR) to explore a popular pioneer stop along the Oregon Trail. www.oregonstateparks.org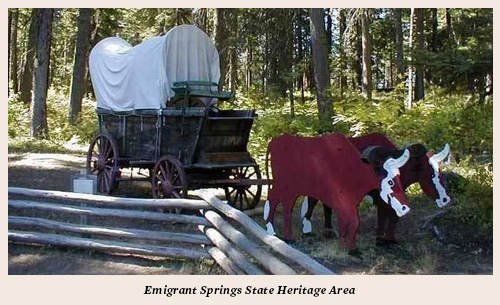 Visit The National Historic Oregon Trail Interpretive Center (22267 OR-86, Baker City, OR) and take the 2.5-mile loop around the interpretive center to walk in the footsteps of the pioneers and explore Oregon Trail wagon ruts still visible today. www.blm.gov/or/oregontrail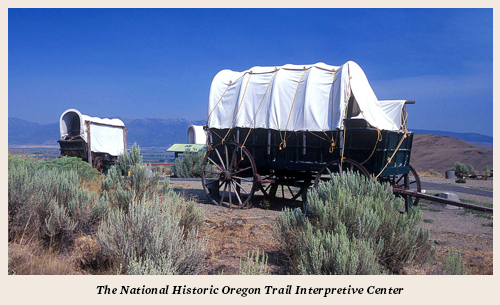 Housed in the historic 1920 Natatorium, the Baker Heritage Museum (2480 Grove Street, Baker City, OR) displays and interprets the rich history of the region. Open daily mid-March through October. www.bakerheritagemuseum.com
Enjoy the historic atmosphere and high-quality steak at Haines Steak House (910 Front St, Haines, OR). Induldge your taste buds with a variety of menu choices, including their famous prime rib, Chuckwagon Salad Bar and Flame Kist Iron Branded steak. www.hainessteakhouse.com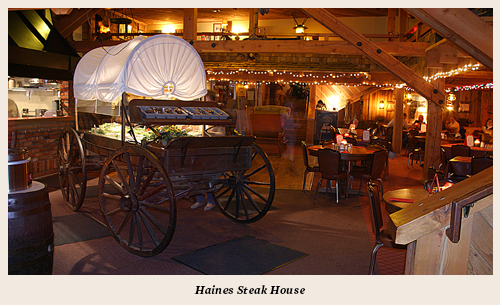 Stay at Baker City Blue Door Inn (2324 First Street, Baker City, OR) a bed and breakfast located in a beautiful historic home dating back to 1920. The Inn offers elegant and comfortable hospitality just 2 - 5 blocks from restaurants, galleries, museums, Geiser Pollman Park and the Armory. www.bakercitybluedoorinn.com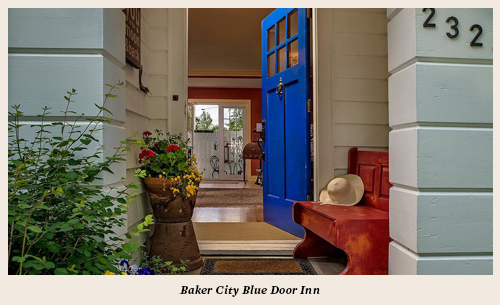 ---
Baker City/Hells Canyon - Day 6 +
Head out to Hells Canyon and explore the dramatic, rugged beauty of the ten-mile-wide canyon and winding Snake River where the Oregon Trail once passed through. For a unique experience, take a jet boat tour with Hells Canyon Adventures (4200 Hells Canyon Road, Oxbow, OR) where the captains will entertain you with stories of early Native Americans and ranching families. We recommend the Kirkwood Adventure. Adventures are available May - October each year. www.hellscanyonadventures.com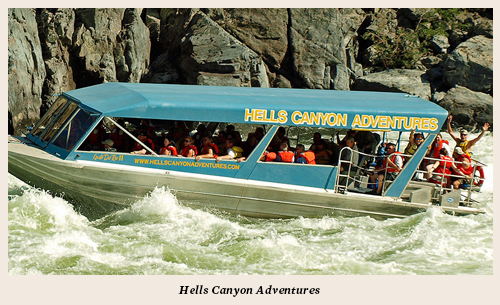 Return to Baker City and stay at Baker City Blue Door Inn.
---