10 Things to Know About Barbra Streisand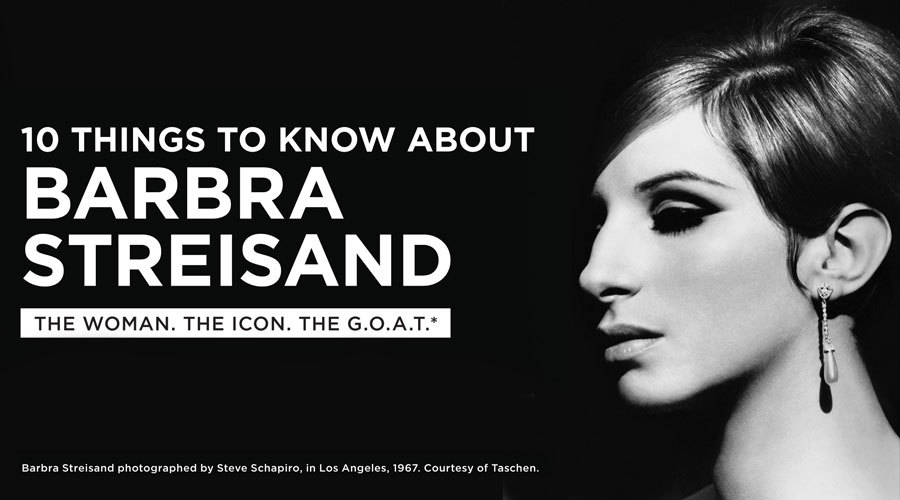 1. Barbra Streisand is one of the best-selling recording artists of all time, with more than 68.5 million albums in the U.S. and 150 million albums and singles sold worldwide.
2. More than just an E.G.O.T. winner (an artist awarded an Emmy, Grammy, Oscar, and Tony), Barbra is the only artist who has received the Directors Guild of America, Golden Globe, National Medal of Arts, and Peabody awards, as well as France's Légion d'Honneur and the American Film Institute's Lifetime Achievement Award. In 2015, President Barack Obama presented her with the Presidential Medal of Freedom.
3. She was born 'Barbara,' but changed her name … sort of. "Well, I was 18 and I wanted to be unique, but I didn't want to change my name because that was too false. Let's see, if I take out the 'a,' it's still 'Barbara,' but it's unique."
4. Barbra is the only recording artist to have a number-one album in each of the last six decades.
5. For her first motion picture, Funny Girl, she won the 1968 Academy Award for Best Actress.
6. With her song "Evergreen," from her 1976 hit film A Star Is Born, Barbra became the first female composer to win an Academy Award.
7. She was almost Canada's First Lady. Barbra was dating Canadian Prime Minister Pierre Trudeau (father of current Prime Minister Justin Trudeau) in 1969, but turned down his marriage proposal.
8. As the first woman to produce, direct, co-write, and star in a major motion picture, Yentl in 1983, Barbra fought tirelessly to make the film a reality and won the Golden Globe Award for Best Director. To date, she is the only woman to have won that category.
9. As a champion of social justice, Barbra was awarded the Commitment to Life Award from AIDS Project L.A., the ACLU Bill of Rights Award, and a Humanitarian Award from the Human Rights Campaign. In a love letter to the LGBTQ community, she wrote: "We're all unique and beautiful in our own way and entitled to love and be loved by whomever we choose."
10. Barbra's underground mall is a verified fact. Lady Gaga and American Horror Story creator Ryan Murphy were recently invited down to the mall. Ryan had this to say:
"We had dinner with Barbra and Jim [Brolin], and Kelly [Preston] and John [Travolta], and Gaga and I. That's all the people who were invited. And after dinner, she said, 'Do you want to see the mall?' And Gaga and I were out of that chair so fast. … We went down to the mall and spent an hour down there. She pulled out her collection of gowns from Funny Girl and Hello, Dolly! and then she said, 'Do you want frozen yogurt?' I could write a whole book about that night."
And Just for Funsies.
Portland Center Stage is committed to identifying & interrupting instances of racism & all forms of oppression, through the principles of inclusion, diversity, equity, & accessibility (IDEA).