From the Playwright: DeLanna Studi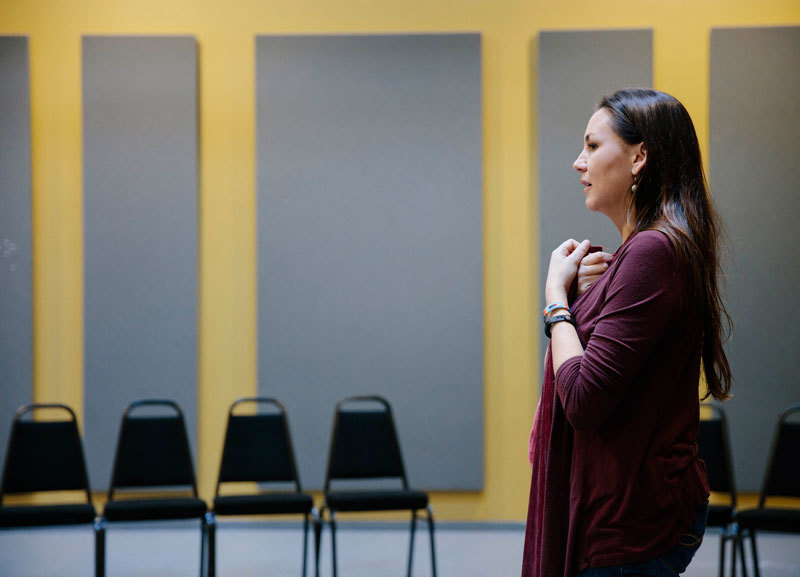 This is a story about a journey.

Perhaps that is a statement of the obvious, since you are here to see a play about "An Artist's Journey along the Trail of Tears."
But it is more than that.
It isn't just my story about my journey. It is a Cherokee story, one that transcends my own personal identity and experiences. It belongs to the Cherokee people, past and present; to the Cherokee Nation in Oklahoma and the Eastern Band of Cherokee in North Carolina; and to the dozens of people across the country who helped me complete this project.
The Cherokee have a word, gadugi, ᎦᏚᎩ, which describes the tradition of coming together as a community to promote, support and celebrate each other. Gadugi is a reflection of the tribal mentality and the awareness of our ancestors that we are stronger together. By helping one another, we help the collective.
While the word is often connected to communal work (such as barn raising), it also has a more spiritual meaning. Benny Smith, a Cherokee elder from Oklahoma, once said that gadugi ensures that "no one is left alone to climb out of a life endeavor."
The thought of standing alone on stage, performing a piece that has consumed so much of my heart and soul (not to mention my days and nights) for the past three years is my current "life endeavor," and if I am being completely honest, it is a bit intimidating.
What calms me is my knowledge that I am not really alone. I am joined by all the wonderful, beautiful, complicated characters who I will tell you about over the next two hours.
I am joined in spirit by my ancestors, particularly my grannies, who have spoken to me so clearly throughout my life.
And I am joined by you, the audience.
This play is a testament to the spirit of gadugi. My dream of traveling the Trail of Tears with my father was a "life endeavor" of monumental proportions, and so many generous people helped along the way to make it possible. In particular, I could not have done this project without the support and love of my incredible family, director Corey Madden, and the staff at the Kenan Institute for the Arts.
To all of them, and to all of you, I say WaDo, ᏩᏙ, thank you, for coming along with me on this journey.
-DeLanna Studi
Portland Center Stage is committed to identifying & interrupting instances of racism & all forms of oppression, through the principles of inclusion, diversity, equity, & accessibility (IDEA).