"And So We Walked" Cultural Resources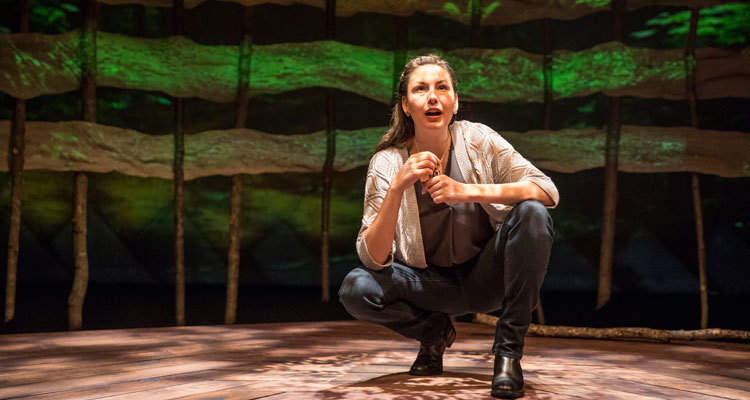 ​From the Playwright and Performer DeLanna Studi
This is a story about a journey.

Perhaps that is a statement of the obvious, since you are here to see a play about "An Artist's Journey along the Trail of Tears."
But it is more than that.
It isn't just my story about my journey. It is a Cherokee story, one that transcends my own personal identity and experiences. It belongs to the Cherokee people, past and present; to the Cherokee Nation in Oklahoma and the Eastern Band of Cherokee in North Carolina; and to the dozens of people across the country who helped me complete this project.
The Cherokee have a word, gadugi, ᎦᏚᎩ, which describes the tradition of coming together as a community to promote, support and celebrate each other. Gadugi is a reflection of the tribal mentality and the awareness of our ancestors that we are stronger together. By helping one another, we help the collective.
While the word is often connected to communal work (such as barn raising), it also has a more spiritual meaning. Benny Smith, a Cherokee elder from Oklahoma, once said that gadugi ensures that "no one is left alone to climb out of a life endeavor."
The thought of standing alone on stage, performing a piece that has consumed so much of my heart and soul (not to mention my days and nights) for the past three years is my current "life endeavor," and if I am being completely honest, it is a bit intimidating.
What calms me is my knowledge that I am not really alone. I am joined by all the wonderful, beautiful, complicated characters who I will tell you about over the next two hours.
I am joined in spirit by my ancestors, particularly my grannies, who have spoken to me so clearly throughout my life.
And I am joined by you, the audience.
This play is a testament to the spirit of gadugi. My dream of traveling the Trail of Tears with my father was a "life endeavor" of monumental proportions, and so many generous people helped along the way to make it possible. In particular, I could not have done this project without the support and love of my incredible family, director Corey Madden, and the staff at the Kenan Institute for the Arts.
To all of them, and to all of you, I say ᏩᏙ, WaDo, thank you, for coming along with me on this journey.
Cultural Resources
Materials curated by Christine Dupres, CHt/ Ph.D.

Learn more about Native Voices on the American Stage: A Constitutional Crisis written by Mary Kathryn Nagle, award winning playwright and lawyer. Catch her latest work, Manahatta played at the Oregon Shakespeare Festival or in the 2018-2019 season right here at The Armory with the world premiere of Crossing Mnisose.
When I was asked to curate a week of Native voices, I was both thrilled and terrified. What do we say?! This could be viewed as an introduction, as many American theatres have never before worked with a Native artist. But truly, we've already been introduced. Our identity has been appropriated and used on the American stage for hundreds of years—we've just never had any say in it. So this week is not an introduction. It's a revolution. For the first time on a national scale, we are telling our stories. I am confident that when you read the words of the seven Native artists I've asked to write, you will agree with me that as American theatre artists, we are capable of much more than redface. Today, we have the talent and the power to tell real Native stories by Native artists. - Mary Kathryn Nagle
In 2007, Portland Indian Leaders Roundtable (PILR) published "Making the Invisible Visible" to educate key audiences and the public about Portland's growing Native American community, including consistent population undercounts and inequities in funding and services. Ten years later, working with tribes and almost 30 Native American organizations in the region, PILR has released "Leading with Tradition: Native American Community in the Portland Metropolitan Area."
The Portland Metro Area sits on the traditional sites of the Multnomah, Wasco, Cowlitz, Kathlamet, Clackamas, Bands of Chinook, Tualatin Kalapuya, Molalla and many other tribes. Today our community represents over 380 tribes from across the country and 70,000 of Portlanders (a 16% increase in ten years). While our peoples have faced elimination, assimilation, and termination, we are now numerous, our stories are powerful and we are thriving. We have important and diverse indigenous values and worldviews that contribute to the livability and uniqueness of Portland, and we see ourselves as part of its future.
Unfortunately, our community still faces wide disparities like the highest rates of poverty, homelessness and unemployment of any racial group; disproportionate rates of addiction, diabetes and depression. Too many of our Native children are in the foster care system (24%) and do not graduate from high school on time (63%). Our communities are still under-counted and misunderstood leading to inequities in services and outcomes.
However, Portland Metro's Native American community continues to grow, thrive, innovate, contribute, and celebrate our heritage. We are working with our local jurisdictions, creating programming and tackling these disparities head on. We are building a collective vision for our children's future and building stronger connections among the community. "We have important and diverse indigenous values and worldviews that contribute to the livability and uniqueness of Portland, and we see ourselves as part of its future." We are not invisible, the report reiterates; we are building our collective future leading with tradition.
The full press release from the Coalition of Communities of Color and more information can be found here.
Portland Center Stage is committed to identifying & interrupting instances of racism & all forms of oppression, through the principles of inclusion, diversity, equity, & accessibility (IDEA).