Caribbean Flavors Take Over The Armory Bar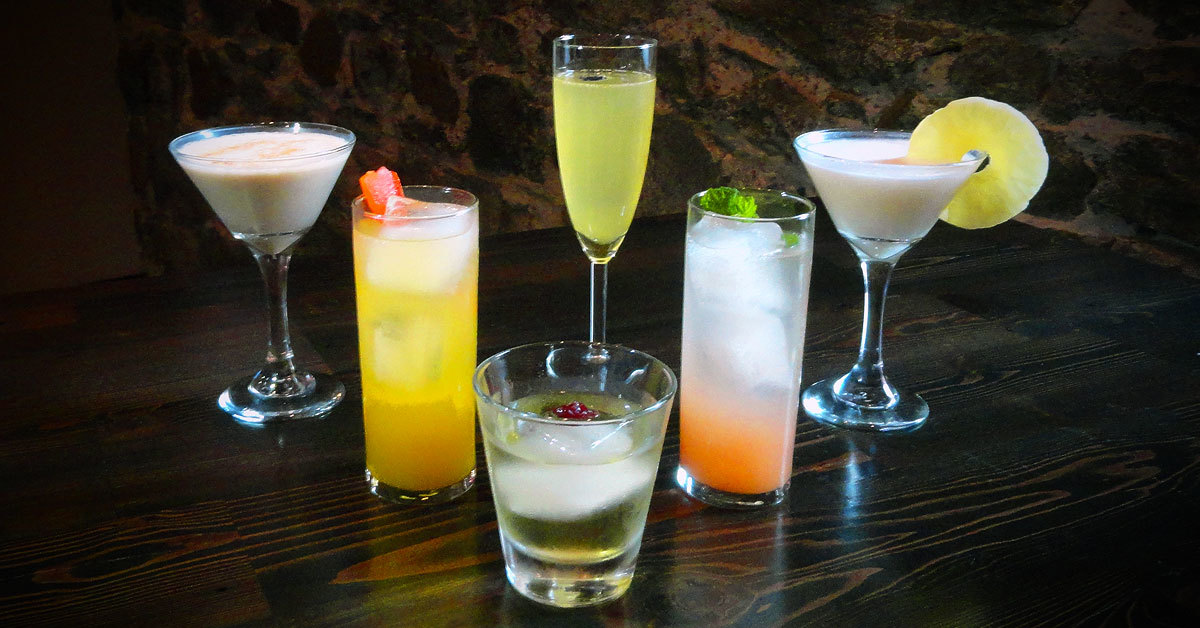 In the Heights is a dream play for a bartender to make drinks for as the first pages of the script lists flavor possibilities. Not to mention the cultures represented in the show created some of the most famous cocktails. Here are the cocktails and mocktail for In the Heights with explanations of their inspiration.
Paciencia y Fe - or "patience and faith" in English, is the one of the resounding themes throughout In the Heights. You hear Abuela Claudia, who is the rock of the Barrio, say it many times to everyone, even herself. For this cocktail I chose two of the many flavors of Piraguas that are shouted at the beginning of the show, passion fruit and mango. They are mixed with some bubbles inspired by Vanessa and Usnavi's talk of getting Champagne to celebrate their wins over their loses. I combined Giffard's Passion Fruit Liqueur and mango juice with LaMarca Prosecco and add a dried flower for garnish as a salute to the show for reminding us to have patience and faith.
Con Leche - This musical almost demands a coffee cocktail as coffee is the flavor spoken about the most during the show. I was immediately inspired by the mention of mixing condensed milk with coffee by Abuela Claudia to Usnavi when his milk goes bad. In a martini style, we shake together condensed milk with Eastside's Hue-Hue Coffee Rum that uses cold-brew free-trade Arabica coffee beans grown in Huehuetenango, Guatemala. As Usnavi adds some cinnamon to Vanessa's coffee, we also throw in Portland Potato Vodka that has been infused with cinnamon sticks. We top it off with another island spice, a sprinkle of nutmeg.
Ay, Que Calor - I thought I would do a fun play on words as Calor means "heat," and do a cocktail with a little heat to it. With this cocktail you can tell your bartender how much heat you want, including no heat at all. We can use all Crater Lake Hatch Chile Vodka, all Wild Roots Vodka, or a combo of both for a medium kick. To honor Abuela Claudia's Cuban roots, who sings "Calor!" in the song "Paciencia y Fe," this cocktail is in the style of a mojito using mint simple, lime, and soda water. For an additional flavor component, I added a personal reference. My first experience with Cuban food was when my friend Stephanie made me pastelitos de guayaba. Her father being a refugee from Cuba, Stephanie was always proud to share her heritage with me through food and I still dream of pastelitos de guayaba. So the last element of this drink is guava for Stephanie and then garnished with a mint leaf.
$96.000 - As the song says "...we drink pina coladas…" but if you know anything about my cocktail making style, there always has to be a twist. I have made pina coladas many ways using a variety of rums and even frozen coconut yogurt (try it, it's really good!) Since our bar cannot do blenders and hurricane glasses, I decided to make this pina colada a martini. We use the standard coconut cream, but for the "pina" we use Giffard's Caribbean Pineapple Liqueur. For silver rum, we are for the first time featuring Trail Distillery, based in Oregon City, using their First City Rum. For an additional twist we add another Caribbean spice, pimento, using Addition's Allspice Cocktail Spice and garnish with a dried pineapple. Fun fact: the origin of the pina colada is heavily disputed, but in 1978 Puerto Rico declared pina coladas its official drink.
Nuestra Estrella - This is our mocktail for this this show. Meaning "our star," it is a reference to Nina as she struggles with being the star of the barrio while dealing with her failures. I have been wanting to use starfruit as a garnish, but sadly they are not in season and I can't find them anywhere. Polar saves the day with their starfruit lemonade seltzer. I added some mango and lime juice to make a unique tropical drink. Starfruit and mango are not native to the Caribbean, but you can find them there, especially mangoes!
There you have it! But, wait there is another cocktail on the menu? That's right we threw in a cocktail for our studio show, Macbeth. "To-morrow, and to-morrow" comes from Macbeth's famous soliloquy spoken as he hears of Lady Macbeth's death. Knowing I should definitely do a whiskey cocktail, we use Crater Lake's Rye Whiskey. To honor the play's Scottish roots we add in Drambuie and Dr. Adam's Winter Spiced Bitters. Rhubarb root is one of the many elements of this bitters which is also mention in the play as a remedy for Lady Macbeth. It's topped with soda water and garnished with a dried cranberry.
I hope you enjoy these treats as you watch these amazing shows!
Visit The Armory Bar page for hours of service and complete menu of beverages and quick bites.
Portland Center Stage is committed to identifying & interrupting instances of racism & all forms of oppression, through the principles of inclusion, diversity, equity, & accessibility (IDEA).