Reviews for "Mary's Wedding"
May 2, 2017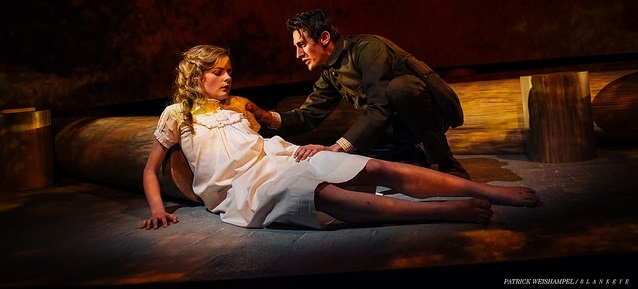 Darling Canadian Romance
"Do you love Forrest Gump, Our Town, and Anne of Green Gables? Many or even most people do. That type of lovability also graces Mary's Wedding, and will no doubt provide a refuge from the tempests of modern complication to those who seek a family show, a simple show, a sweet story, a date night. ... This is romance. This is innocence. Don't overthink it, but do appreciate it while it lasts. It won't stay this way forever." -Oregon ArtsWatch
Enchanting and Unforgettable
"It is a small gem that resonates with the big universal themes of who we are, what we stand for, and how we as humans behave, not just during those fleeting, joyous times, but when the big, horrible things in life occur ... The brilliantly simple set of bare logs, the sounds of thunder that presage the horror of the trenches, and the solid theme of horses in peace and in war, build this enchanting and unforgettable play into more than the sum of its parts." -JudyNedry.com

What people are saying on Facebook:
"Great show! Tears in my eyes at the end. Two thumbs up!"

"Loved it!"

"Touching performance."

"Sensitive actors. Beautiful play."

"Beautiful show!"

"What a wonderful play and the acting was excellent!"

"Great performance. Lexi and Alex were amazing."

What reviewers from around the globe have said about this play:
"Don't miss this romantically powerful drama" - Chicago Critic
"With a refreshing lack of cynicism, this deeply romantic dream-play goes straight to the heart with timely themes of love and loss during wartime ... Massicotte's one-act, 90-minute play is richly theatrical and obviously demanding as it ranges from Canadian courtship to battlefield horror." - The Seattle Times
"The dialog is quick, clever and funny. In dreamlike surrealism, we watch the flirtatiousness of young love ... The two storylines arc brilliantly together." - BrodawayWorld