Reviews of "A Streetcar Named Desire"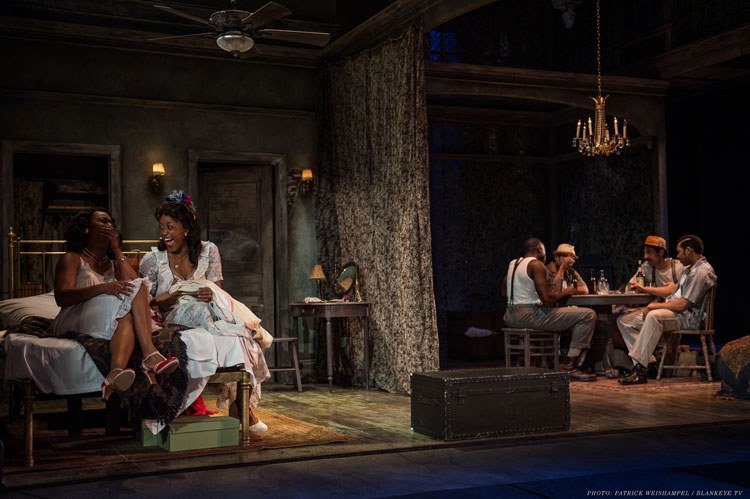 PCS Gets Steamy with A Streetcar Named Desire
"Coleman's production feels more alive in its setting than most, conjuring the noise and activity of the Marigny and the giddy excitement of postwar America. Lit in streaks of blue and gold, the atmosphere feels alive with possibility and danger in a way that feels true in New Orleans even now. ... The only way to make the show steamier would be to turn off the air conditioning ... Williams' masterpiece still has the power to seduce and shock." –The Oregonian
Something Elemental Electrifies Streetcar
"Center Stage and director Chris Coleman create a full-on sensual backdrop (the rich costumes are also by Mercier; glow-amid-the-gloom lighting is by Ann G. Wrightson; nervously textured sound design by Casi Pacilio) for a play that is brilliantly written but also relies on an unseen sense of possibility and dread." –Oregon ArtsWatch
Theatre at its Finest
"What can I say about Streetcar Named Desire? It is obviously a classic, and deservedly so. It is also the best show of PCS's Season ... The cast is worthy of breathless praise, particularly Demetrius Grosse as Stanley. But, truly all of the cast is spectacular ... This is theatre at its finest. I felt enormously privileged to watch." –The Crippled Critic
Classic, Searing Drama
"The set and costumes by G. W. Mercier are terrific, setting the scenes in a very realistic way in the seamy and steamy street life of the South of over 50 years ago ... The important thing is that this world is believable and the cast and crew appear to have worked hard as a team to achieve this, and they did!" –Dennis Sparks Reviews
Tour de Force Performance
"Great performances by all under PCS Artistic Director Chris Coleman's precision directing." –Judy Nedry Reviews
From our fans on Facebook:

"I thoroughly enjoyed this play. The set was awesome, and a great cast."
"There was so much more to this play than I remembered. The acting was superb, and memorable. Highly recommended."
"Enjoyed it so much that I went twice! "
"This was so good! Such a great take on an old favorite."
"SO GOOD. Acting, set design, music, all amazing."
"Absolutely amazing and a real treat for any fans of Game of Silence! Brooding, sexy, provocative - a fully satisfying adventure and a hell of a good way to end the season. Bravo!"

"A great production, all the way around. Portland is lucky to have PCS."

"All the actors were great, really great, including the best Blanche I've seen."

Portland Center Stage is committed to identifying & interrupting instances of racism & all forms of oppression, through the principles of inclusion, diversity, equity, & accessibility (IDEA).