The World of the Play: "Winter Song"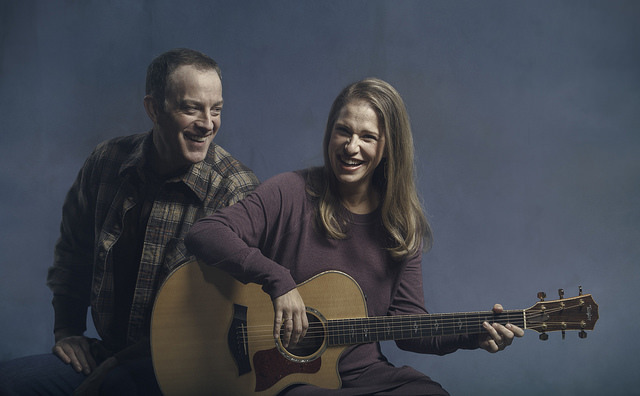 The brilliant singer Merideth Kaye Clark (Fiddler on the Roof and The Last Five Years at The Armory, Wicked national tour) and director Brandon Woolley are creating an original presentation of favorite songs that celebrate winter and all it represents: love, loss, family, solitude, renewal and friendship.
"Winter is the most emotionally complicated season. The music that it inspires is rich. There are, of course, holiday songs. But we were more interested in the music that captures other winter feelings. Traveling home or hunkering down in the cold. The loneliness and isolation the darkness brings. The gatherings of families and communities." -Merideth Kaye Clark
Get to Know Merideth
How many instruments do you play?
All melodic string instruments: guitar, banjo, viola, harp, piano, xylophone – well, that's not a stringed instrument, but I can still play it.
How do you identify as an artist? Are you a musician first, actor second?
That's a really good question. And one that I don't really know how to answer which is probably why I feel like a jack-of-all-trades. I identify as an acting musician, how about that? I think that acting is connecting to a story and connecting to an experience. And one of the best ways I know how to do it is through music. I talk sometimes, too. [laughs] But I'm more successful when I do it with music.
Lets talk Wicked.
So, the first year, I was the Elphaba understudy and in the ensemble. I did eight shows a week for 52 weeks, so I did something like 400 shows in the ensemble and played Elpheba ten times. There was the woman whose name was on the marquee and then there was the standby and then there was the understudy - me - so in the first year, I would only go on stage if the first two couldn't do it. Then I got promoted to standby for the next two years. I would just stand backstage unless they needed me in green, so that was two years of that. The person I happened to be standing by for would call out 2-3 times a week, so I was always doing it.
How did that affect your career?
It was a huge break – life changing. Not only was touring in a big Broadway show a huge deal, the role is beloved by millions of people, the salary was different than anything I'd ever experienced before, the amount of pressure was different than anything I've experienced before. And what it's done for my credibility post-Wicked, when people see that on my resume, they say "oh , she's been able to carry a big show before" was huge, so it was career changing.
What was your favorite part about performing that role?
I think the connection I made with the fans of Wicked - the girls and boys who really connected with that character and saw me as a role model. They would wait at the stage door and tell you their life stories and send you fan mail. I made a connection with them as Merideth, but mostly they just loved Elphaba and whoever was playing her. I loved having the connection with kids who needed a role model of an underdog who was awesome.
Want to dive deeper? Revisit our The Last Five Years interview with Merideth Kaye Clark.

Merideth Kaye Clark is an artist, traveler, musician, songwriter, singer, and actress. Originally from Kansas City, Missouri, Merideth studied Neuroscience and Behavioral Biology at Emory University before earning a Masters in Musical Theatre at San Diego State University. It was there, in California, where she began her career as a concert artist and musical theatre performer. Merideth has since performed major roles in theatres around the country. Highlights include: Nancy, Oliver! (Seattle's 5th Ave); Cathy, The Last Five Years (PCS); Clara, The Light in the Piazza (Portland Playhouse); Tzeitl, Fiddler on the Roof (PCS); Kate/Lilli, Kiss Me Kate (Clackamas Rep); Eva Peron, Evita (Northern Stage); Olivia, Twelfth Night(Alabama Shakespeare Festival); How the Grinch Stole Christmas (The Old Globe); Amazing Grace(Goodspeed); Rose, Meet Me In St. Louis (Irish Rep). She has participated in numerous developmental readings and has originated roles in two off-Broadway musicals. Merideth performed the role of Elphaba in the First National Tour of the Broadway musical Wicked over 150 times in 35 major US cities. Stay updated on what's next for Merideth.
Portland Center Stage is committed to identifying & interrupting instances of racism & all forms of oppression, through the principles of inclusion, diversity, equity, & accessibility (IDEA).