"Wild and Reckless" in Development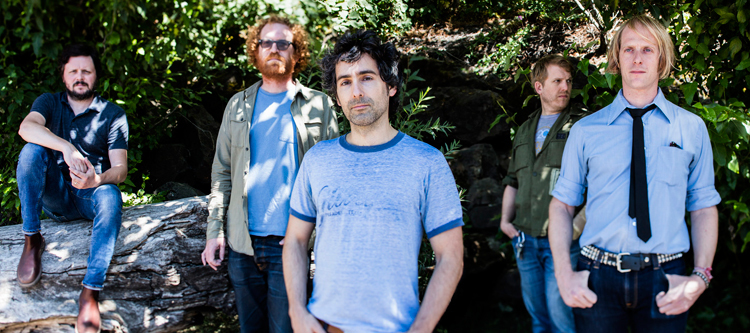 A little over a year ago, Portland Center Stage at The Armory approached Blitzen Trapper — Eric Earley, Brian Adrian Koch, Marty Marquis, Erik Menteer and Michael Van Pelt — with the idea of creating a world premiere for the company's new Northwest Stories series, dedicated to developing and producing stories about, or by artists from, the Northwest region. In the months that followed, Blitzen Trapper visited The Armory for weeks of workshopping and production meetings, including a stint at our annual JAW: A Playwrights Festival. On the eve of the first rehearsal, we checked in with the band about their foray into the world of theater.

How do you see this show's place in the band's evolution?
Earley: It makes sense in terms of my own storytelling through song. My writing has always been narrative in nature, so it feels like a meaningful extension of the work I've always been doing.
Marquis: There's a certain symmetry to it, insofar as many of our first shows were just down the street at the ur-dive Satyricon, and now we'll be performing in a relatively pristine environment while commenting on those clubs, like Satyricon, where we once played. Also, our music has gradually become more "legible" over the years. Getting to put together this show is a good index of how far we've come from our psychedelic freak-out beginnings.
Menteer: We've been releasing records and playing shows all over the world for the past eight years, so this is an interesting change for us. It seems very fitting because Eric's songs often involve a strong narrative. Creating this visual and spoken accompaniment, and an overarching story that ties together with the music, seems like a natural move. This project is totally outside anything that we would normally think to do, but that made it especially exciting. It felt like it would be a unique challenge and those always tend to foster growth.
Describe your creative process for this production. How has the collaboration been different from the work you've done together as a band in the past?
Earley: The songs themselves were already written and demo-ed, many of them story songs of a certain kind. Strangely, it wasn't a difficult process to meld all the songs together into a single narrative piece. There was a certain Bonnie and Clyde, Romeo and Juliet element to a few of the songs that I used to guide the overall narrative.
Marquis: Three weeks of workshopping an entire long-form musical narrative is a big departure from our usual process, where we work up individual songs and play different sets each night while we're on the road. We've had to think more carefully about how to arrange the ensemble, and how to pluck out certain musical themes for theatrical effect. There was initially a good bit of brainstorming about the story and themes to begin with, which has never been a concern for our albums.
Van Pelt: It's definitely WAY more involved than simply doing music. Logical and dramaturgical consistencies need to be found in a theater piece, where music can simply live in the ether.
Koch: Working in the studio to record the songs for this album was maybe the most fun I've ever had in a recording environment. It all flowed so naturally. I've really enjoyed working collaboratively with Rose and The Armory crew, and also getting to work again with Liam Kaas-Lentz, who in the past has directed me twice in two Wallace Shawn plays (I'm lobbying for a third one).
What are some of the inspirations you've drawn on for this show?
Earley: I've drawn on my experiences from my twenties, living and trying to play music in Portland in the late 1990s/early 2000s. There was a different feeling in the city then. The underbelly was still extremely visible — hard drug addiction/dealing/supply-demand was the norm — and my contact with it was very personal. Though I was not a user, I was in very close relationships with users.
Menteer: Mostly, I've been reminiscing about the feel of Portland in the past. There was a kind of desperate desolation to the town that, while quite dark, also contained a limitless freedom. In a town that seemed forgotten and bleak, one can do almost anything without consequences. But there was also a feeling of being stuck, as if nothing that one did could ever move beyond the city limits. Nobody really cared or had the ambition to achieve anything beyond a good show or a crazy house party.
You came to The Armory last summer to workshop the show during JAW. What was that experience like, and what did you learn along the way?
Marquis: I had been around the theater a great deal when I was younger, but had become so used to musical collaboration that it was almost shocking the amount of verbal communication necessary to get a play into shape. In a rock band, you just need to know the tempo and key, and a few other things, and you can hear if what's being played is right or not. In theater, there are many more dimensions to take into consideration, but also lots of helping eyes and ears outside of the performing ensemble.
Menteer: It was like entering a completely different world from the one that we're used to. By nature, the rock music world is much less focused and formal than the work we did at JAW. Time usage was more controlled. In a band practice one could play for ten minutes or three hours depending on the feel in the room, so it was always funny to me when we had to take mandatory breaks.
Koch: The feedback is valuable, but showcasing unfinished work at that stage of development is really uncomfortable. Still, it was nice to get other people's eyes on the thing. It contributed to the feeling that it was going in a good direction, from blurry to focused.
Usually when you play 28 performances, you've traveled thousands of miles in between. As you begin rehearsals, how are you feeling about being strapped to one stage for so long, while taking on an entirely different performance style?
Van Pelt: A little apprehension, but mostly really ready to get some legs under this thing.
Koch: I'm happy we can perform nightly without the long daily drives, but I do theater as well as music, so I'm comfortable on the move or stuck in one place.
Menteer: Having the same circumstances for every performance is going to be interesting because we are so used to working under different conditions every night. Each venue has its quirks and we've become pretty adept at adapting and making each space work for the night. One place can have an amazing sound system, where everything sounds very precise and clear, then the next night you might find yourself in a bar held together by duct tape and hope, so we have to change our approach to each kind of venue. Being in the same room every night will allow for much more refinement in our performance, and I am really looking forward to that.
What are some of the surprises working on this production so far, and what are you most excited about as you begin rehearsals?
Van Pelt: I feel very fortunate to be a part of a production that has this amount of attention being paid to it — it feels like European-style arts development. And I've never really experienced that, nor thought it existed in the States, so that is very cool.
Earley: I had no idea just how meticulous the theater is when it comes to the details of a show, the timing, staging, blocking, all the little things that make a performance happen. There's some of that in a rock show, but nothing even close to theater.
Marquis: I think the depth of resources available at The Armory is constantly surprising. It's as though anything we might need is potentially available. Set design! Costumes! Lighting! Even publicity! In order to retain these kinds of professional services, a band often has to be working in the large hall/arena scale at least, and Blitzen Trapper is a club band. So it's always wonderful to have what would seem usually to be unnecessary or even absurd wishes realized so easily.
Koch: I'm looking forward to seeing all the elements and aspects converge as we approach opening, but the entire theatrical process is intoxicating for me.
Portland Center Stage is committed to identifying & interrupting instances of racism & all forms of oppression, through the principles of inclusion, diversity, equity, & accessibility (IDEA).