Reviews for "Wild and Reckless"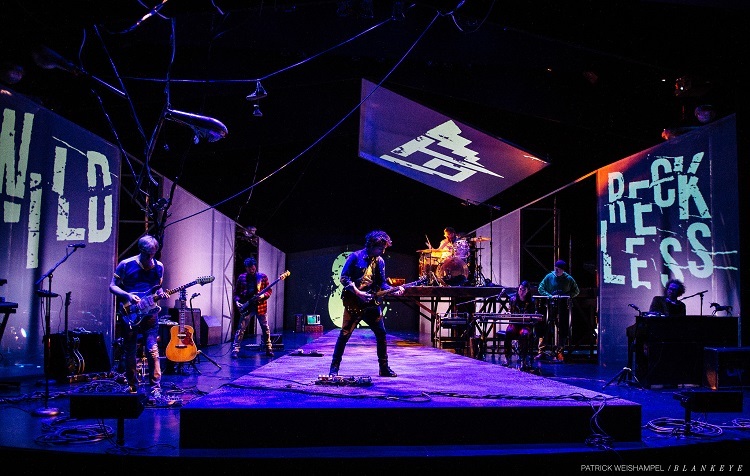 Thrilling and Extraordinary
"This band seems to be made from threads of some of the greatest bands of all time, but the resulting musical fabric is wholly their own, rich and compelling. ... Wild and Reckless is a hypnotic, entrancing piece of theater. From the composition to the rock performance to the staging, this collaboration of disparate elements has resulted in something thrilling and extraordinary." -EDGEMedia
An Incredible Soundscape
"Wild and Reckless is smartly crafted around Earley's true-to-life storytelling and gifted musicianship. He moves effortlessly from his narrative duties into gentle harmonica riffs then into a searing guitar solo ... Earley and Carbonell forge a powerful sonic lightning" -The Oregonian
A Must See
"Blitzen Trapper's folky rock songs carried the audience to a different place ... the story touched on themes that were relevant to real issues our city faces today. ... captivating, thought provoking, a must-see for the local music community"-Portland Radio Project
The Atmosphere Was Electric
"I loved it. ... The entire cast was great. I was surprised and impressed by the acting chops of the members of the band. If I hadn't known they were a band, I might easily have mistaken them for musical theatre actors who also happened to write music and play a variety of instruments ... I'd happily see this one again." -BroadwayWorld
Rock And Roll Is Here To Stay, Folks
"The music is solid, lyrical rock with a tinge of country. As a performer/lead singer Earley, at times, manages to channel some of the genre's best storytellers including Bob Dylan, Tom Petty, and Neil Young." -JudyNedry.com
A Raw, Rocking and Engaging Evening
"Psychedelic, pedal-heavy spaceouts, shredding guitar solos, and spine-tingling harmonies of quiet, distant 'oohs...' when Blitzen Trapper is in The Armory, you can really feel the audience responding with an alien fascination for 'rock stars'." -Oregon ArtsWatch
What people are saying on Facebook:
"Just saw this. Fantastically emotionally creative and moving show. WOW! Recommend this fully. Treat yourself to this incredible production. Thanks again Portland Center Stage for bringing us this moving theatrical art!"
"Having never heard of Blitzen Trapper before, I didn't know what to expect. They were great! I may need to see this show again. I highly recommend it!"
"Excellent show with beautiful sounds."
"It was wonderful! Very touching and gave a complete stimulation of the senses."
Portland Center Stage is committed to identifying & interrupting instances of racism & all forms of oppression, through the principles of inclusion, diversity, equity, & accessibility (IDEA).