Hedwig and the Angry Inch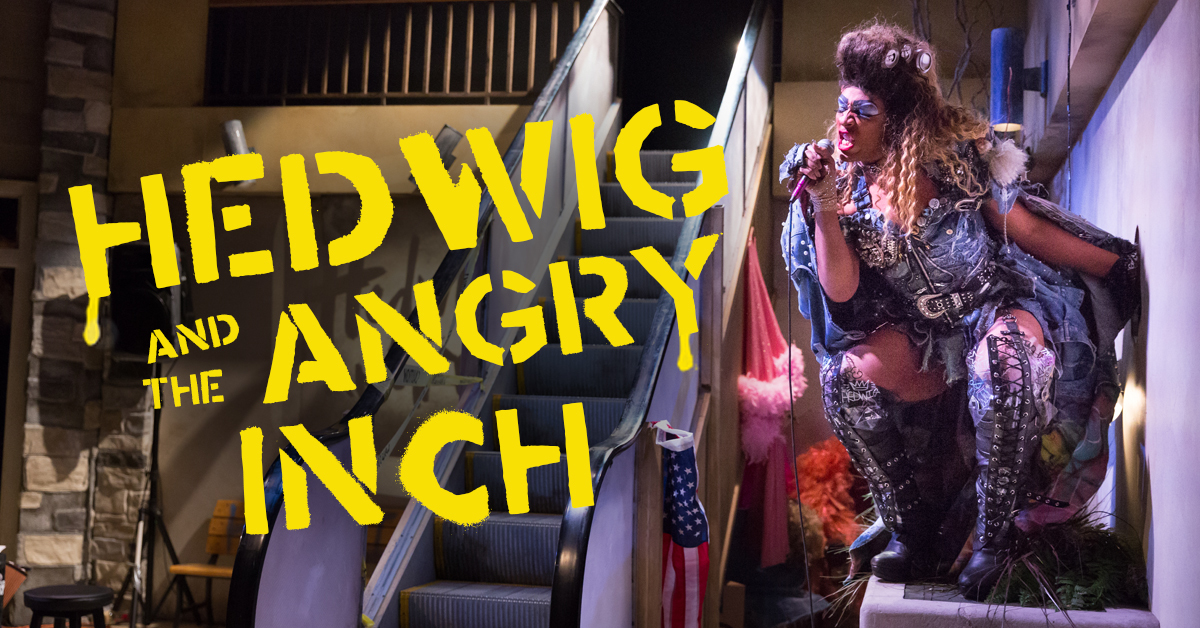 "Shining like the brightest star."
December 28, 2019 – February 23, 2020
In the Ellyn Bye Studio
Winner of 4 Tony Awards, including Best Revival of a Musical
Brilliantly innovative, heartbreaking, and wickedly funny, this genre-bending, fourth-wall-smashing musical sensation tells the story of one of the most unique characters to ever hit the stage. Hedwig, a German emigrant, is out to set the record straight about her life, her loves, and the operation that left her with that "angry inch." Part rock concert, part cabaret, part stand-up comedy routine, this one-of-a-kind musical proves time and again that an indomitable spirit can't ever be tied down. 
"The most exciting rock score written for the theatre since, oh, ever!" 
- Time Magazine
Hedwig and the Angry Inch Plot Synopsis
Please note, this synopsis contains spoilers.

In an abandoned mall turned last-stop-before-the-grave performance space, the grungy and glam rock band The Angry Inch welcomes us to their gig and introduces their lead singer and frontwoman, Hedwig, a German immigrant refugee from formerly communist East Berlin. During an explosive opening number, Hedwig describes how the political chaos of the Berlin Wall era parallels the chaos of her own journey to self-discovery.
We come to realize that Hedwig plans to use her concert to tell us her life story — not only so we can get to know her, but more importantly, so that she can expose her ex-lover, the megastar pop rocker Tommy Gnosis, as a fraud who stole all of her songs and career opportunities. Soon, the concert begins to morph, at times feeling like a confessional booth, a cabaret, or even a stand-up comedy show. We are firmly in Hedwig's grasp, in a world propelled only by her seductive storytelling, gut-punch sense of humor, and addictive tunes.
Growing up as a young boy in East Berlin, Hedwig (born Hansel) lived a meager life with his single mother after she threw his father out when he sexually abused Hansel. Due to the ascetic and paranoiac lifestyle of the East German regime, Hansel developed an active inner life and found solace in American rock music, especially the balladeering women of folk and the proto-punk and glam counter-culture bands of the 1970s. Hedwig reveals that even as a child, she felt an intangible emptiness inside, a sense that her "other half" was missing. She sings of how this feeling permeated her perspective and ushered in her search for love.
One day, while sunning himself on some rocks after being dismissed from university for radical lectures, Hansel meets an American G.I. named Luther and begins a romantic relationship with him. Luther initially thinks Hansel is a girl, and when it comes time for Luther to return to the States, he wants to marry Hansel and go together. But to do this, Luther and Hansel's mother force him to undergo gender reassignment surgery. Hansel becomes Hedwig, but the operation on her genitals is botched. Hedwig is left with what she calls her "angry inch."
Luther abandons Hedwig soon after they arrive in the USA. Alone in the rural Midwest, Hedwig works odd jobs and performs sex work to survive while spending her free time writing songs. She eventually lands a job as a nanny to the children of an Army commander, the eldest son of whom is Tommy. Hedwig and Tommy fall violently in love and begin creating music together; she expands his creative horizons and even gives him his stage name: Tommy Gnosis. But Tommy is a conservative Christian and will not accept Hedwig's status as a social outsider or her gender journey. He rejects Hedwig and leaves her behind. A bit of time passes, and Tommy Gnosis rises meteorically as a pop idol by watering down the song catalog that Hedwig co-wrote. Finally fed up with being pushed aside and silenced, Hedwig puts together her band The Angry Inch and follows Tommy's stadium tour around the country, using the tabloids to her advantage to try and take Tommy down and get what is rightfully hers.
But the night we're present with her, Hedwig comes to a realization that the struggle may not yield the results she desires … and perhaps it's just time to let go and start over on a new path, even if she's alone forever. In the poignantly surreal final sequence, Hedwig assumes — and then sheds — Tommy's stardom before bestowing her own mantle upon Yitzhak, her faithful bandmate and tempestuous lover. As Yitzhak transforms into a new version of Hedwig, Hedwig seems to make peace with her existence. The show ends when she is drawn into a bright light, ascending to a realm of her own, a private place of self-completion, where we may never follow her.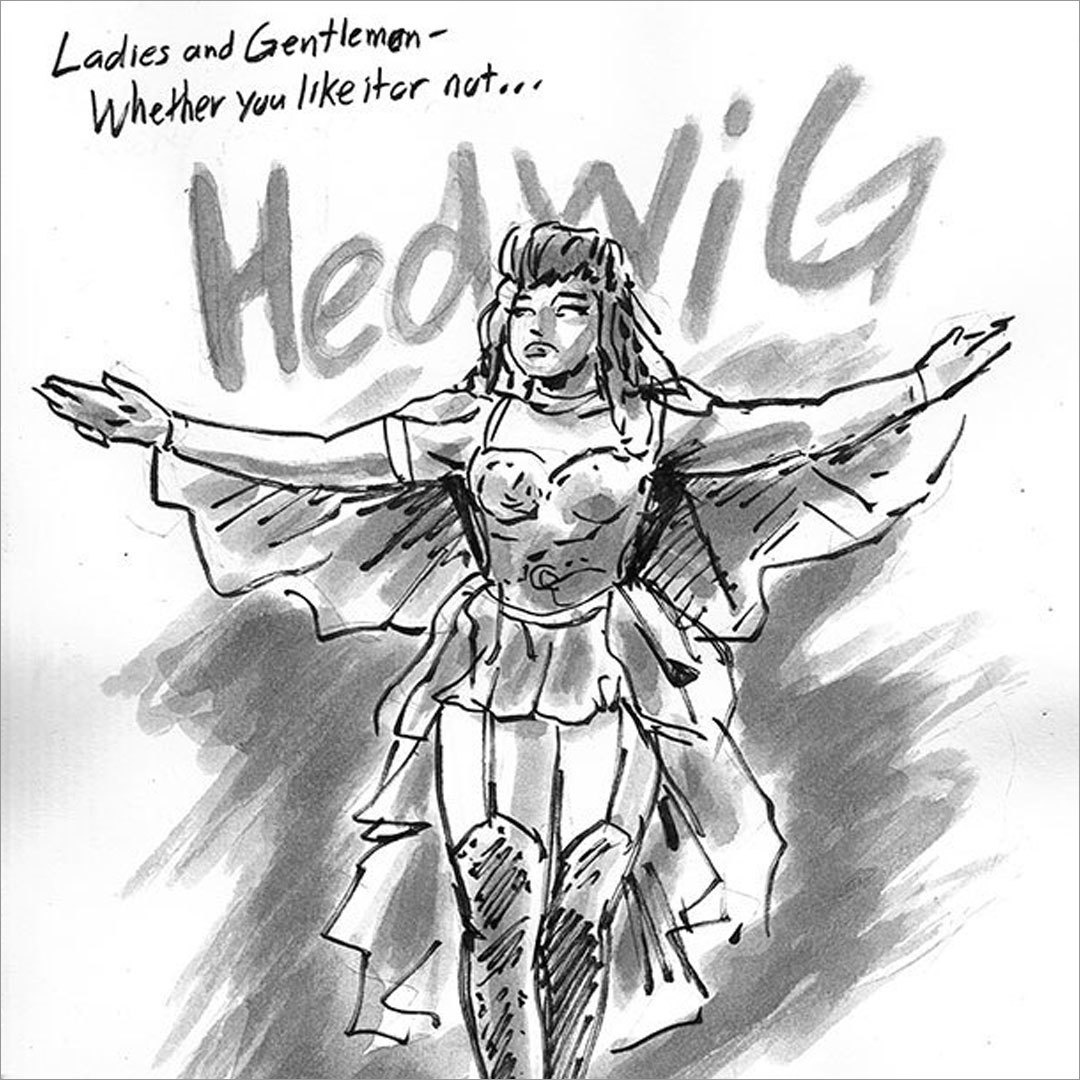 We invited local comic artists to a performance of Hedwig and the Angry Inch to sketch their impressions of the show. Here's what they created!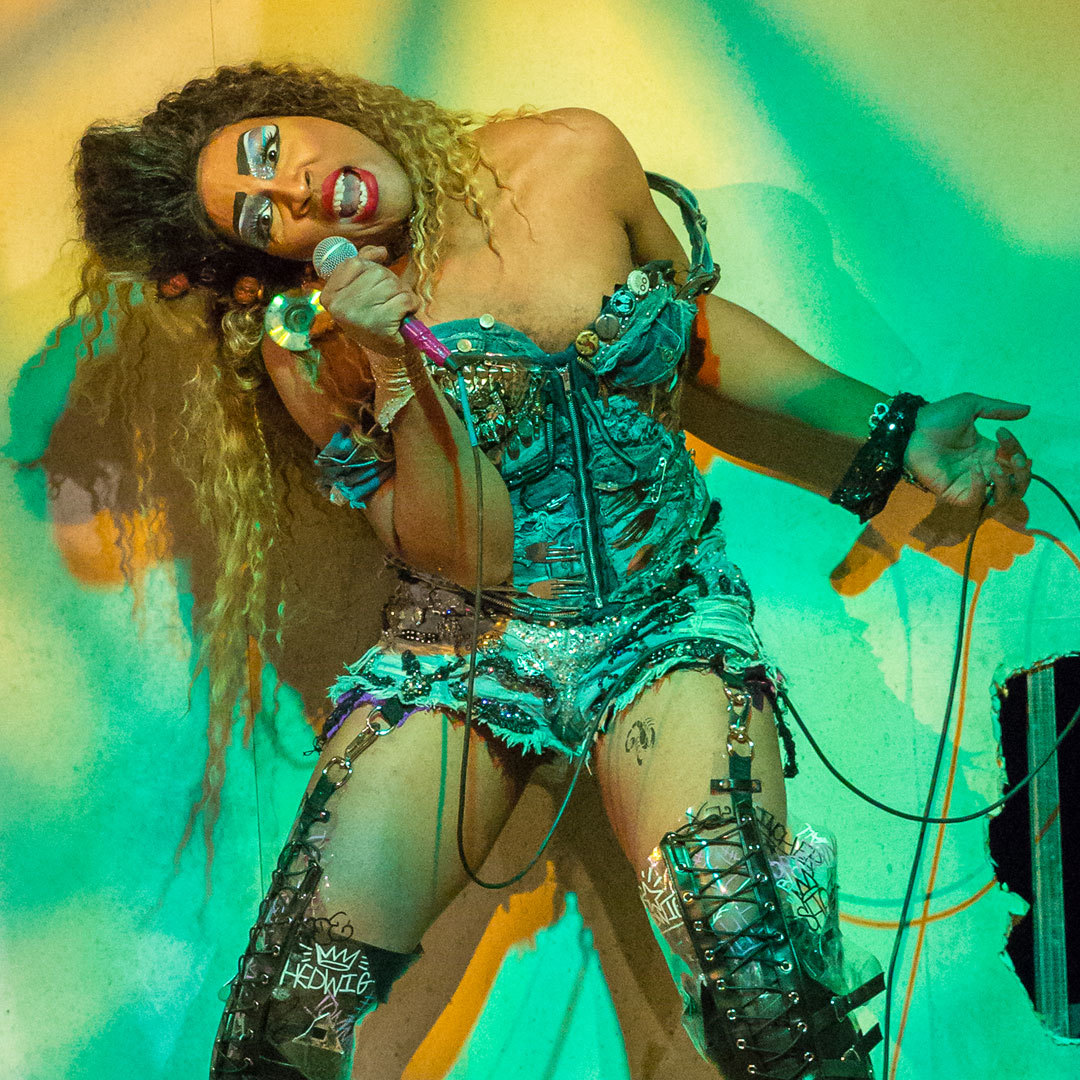 By Benjamin Fainstein, former PCS Literary Manager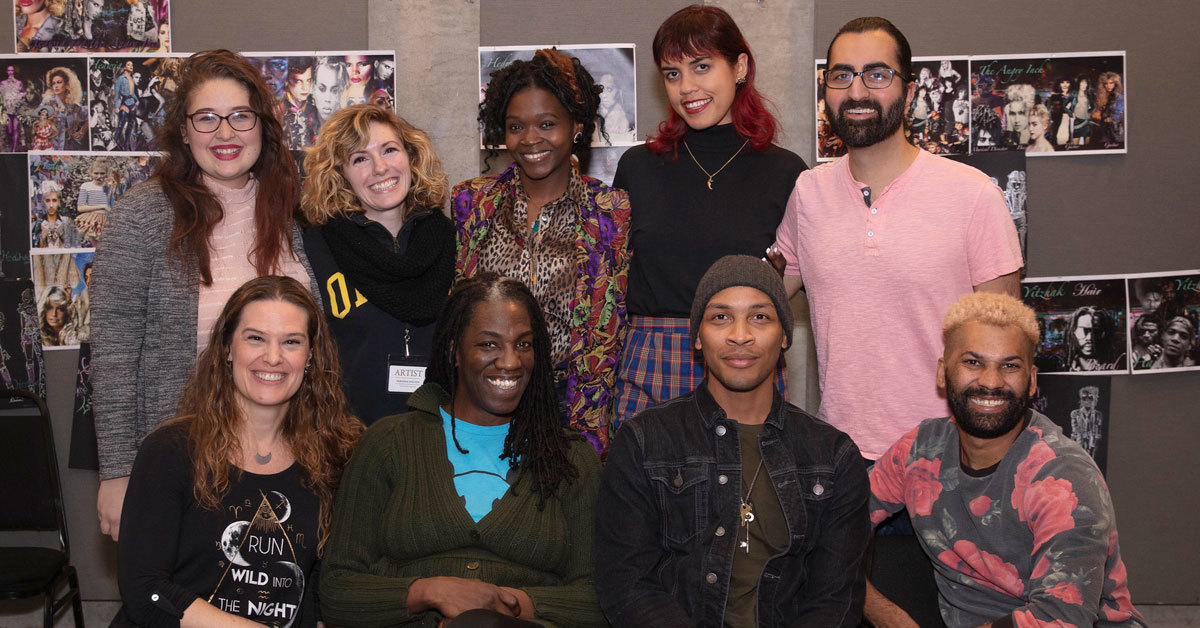 Hedwig and the Angry Inch
Hedwig and the Angry Inch
Text by John Cameron Mitchell
Music & Lyrics by Stephen Trask
Directed by Chip Miller
| | |
| --- | --- |
| Delphon "DJ" Curtis Jr. | Hedwig |
| Ithica Tell* | Yitzhak |
*Member of Actors' Equity Association, the Union of Professional Actors and Stage Managers in the United States.
| | |
| --- | --- |
| Darian Anthony Patrick | Skszp (band director/percussion) |
| Maria Del Castillo | Krzyzhtof (guitar) |
| Jasmine Woods | Schlatko (guitar) |
| Nsayi Matingou | Jacek (bass) |
| | |
| --- | --- |
| Amir Shirazi | Music Director |
| Darian Anthony Patrick | Band Director/ Percussion |
| Britton Mauk | Scenic Designer |
| Dominique Fawn Hill | Costume Designer |
| Avi Sheehan | Lighting Designer |
| Em Gustason | Sound Designer |
| Jamie Leonard | Video Designer |
| Jessica Miller | Wig Designer |
| Janine Vanderhoff* | Stage Manager |
| Karl Hanover | Dialect Coach |
| Dana Petersen | Production Assistant |
*Member of Actors' Equity Association, the Union of Professional Actors and Stage Managers in the United States.
Meet the Cast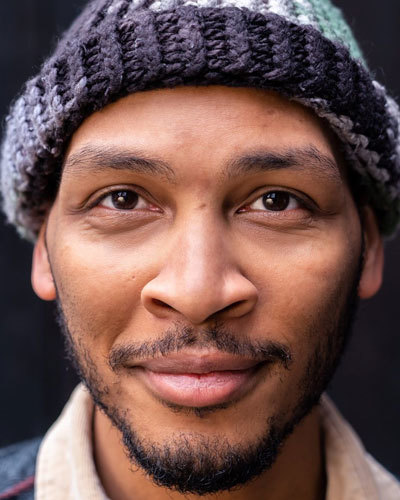 Delphon "DJ" Curtis Jr., Hedwig
DJ is overjoyed to make his Portland Center Stage at The Armory debut as Hedwig! He graduated from William Peace University with a B.F.A. in musical theater. DJ has performed in productions across the country, including several occasions with North Carolina Symphony through the Manning Chamber Music Series. Favorite credits include: David Lee's adaptation of Lerner and Lowe's Camelot with The Old Creamery Theatre and Great Plains Theatre, The Wiz with Shenandoah Summer Music Theatre, and Ruined at Burning Coal Theatre Company. Local credits: A Christmas Carol and Crowns at Portland Playhouse; Sides: The Musical at Portland Playhouse and Lakewood Theatre Company for the Fertile Ground Festival. He would like to thank his loved ones for their distant, and close, love and support. He would also like to give a special thank you to the cast and crew: Without every single one of you, this would not be possible.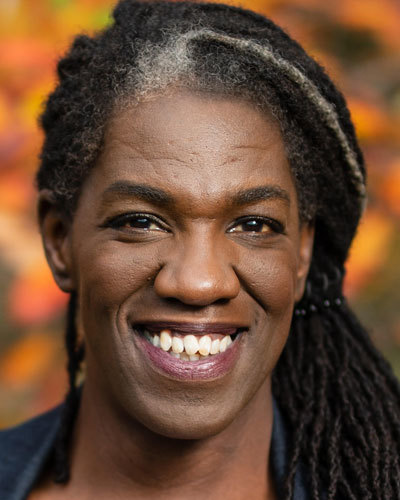 Ithica Tell, Yitzhak
Ithica is delighted to return to Portland Center Stage at The Armory, where she was previously seen as Doris the Church Lady in The Color Purple and The Lady in Blue in for colored girls who have considered suicide / when the rainbow is enuf. Other favorite roles include: Judas in Jesus Christ Superstar (PAMTA Award) and Othello in Othello at Post5 Theatre; Beatrice in Much Ado About Nothing at Willamette Shakespeare; Mitch Mahoney in The 25th Annual Putnam County Spelling Bee with Anonymous Theatre; and Ursula in Bon Temps Rouler at the Shakespeare Café at the Bremer Shakespeare Company in Bremen, Germany to name a few. Ithica has appeared on Grimm (NBC), The Librarians (TNT), The Benefits of Gusbandry (web series) and Life After First Failure (CW Seed). She would like to give big love and thanks to her sister Isha for "the acting bug" and to Ethan, for bringing the perfect balance to her life with his love.
The Angry Inch
Darian Anthony Patrick, Skszp (band director, percussion)
Darian is a multi-instrumentalist based in Portland. Focusing on percussion, with training in classical and jazz vocal performance as well as electric and bass guitar, Darian performs a broad range of musical styles focusing on the African diasporic traditions, including blues, rock, R&B, Afro-Cuban, and Afro-Brazilian styles. He has studied percussion with masters Israel Annoh and Caton Lyles, and guitar with William Seiji Marsh. Darian performs regularly throughout the Pacific Northwest. darianpatrickmusic.com
Maria Del Castillo, Krzyzhtof (guitar)
Maria is a self-taught guitarist, vocalist, and songwriter from Lima, Peru. Growing up queer and undocumented in a small, conservative city in Florida, she turned to music for sanctuary and community, eventually moving to Portland in 2007 to pursue a music career. Since then, she's been performing locally in a variety of projects, as well as composing music for indie video games.
Jasmine Linée Wood, Schlatko (guitar)
Jasmine is a self-taught artist from Portland. A guitarist, pianist, vocalist, and songwriter since childhood, she is known for her indie-rock band, Haste, and she is currently recording a new album under the moniker KIITE. Jasmine's work explores minimalism. Her love for noise guitar and fuzz are combined with meditation and nature field recordings in her current project, creating a distorted, ambient soundscape. She is also a photographer, fashion stylist, and model, and operates her own fashion brand, Confession Theory. She has written and performed live film scores for Church of Film, which focuses on marginal, art-house cinema, with an emphasis on radical political education and mutual-aid.
Nsayi Matingou, Jacek (bass)
A Northwest local and multi-instrumentalist, Nsayi has been a part of Portland's underground and indie music scene for over a decade. As an underground rocker, Nsayi has spent her musical career touring throughout the United States, sharing her affinity for grunge, punk, and rock 'n' roll in basements, bars, and concert halls. This is her first musical production with Portland Center Stage at The Armory, and she couldn't be more excited and honored to bring a little bit of the underground to the stage.
Meet the Creative Team
John Cameron Mitchell, Text
John Cameron Mitchell's Hedwig and the Angry Inch, written with Stephen Trask, made its debut on the stage of SqueezeBox, a New York City rock 'n' roll drag bar. The show then premiered Off-Broadway, receiving rave reviews. John was awarded an Obie Award, a New York Magazine Award, a Drama League Award, and the Outer Critics Circle Award for Outstanding Off-Broadway Musical. John's film adaptation of Hedwig and the Angry Inch received directing and acting awards at festivals such as Sundance (Audience Award, Best Director), Berlin, Deauville, Seattle International, San Francisco International, and San Francisco's Lesbian & Gay Festival. The film was also honored by the National Board of Review, The L.A. Film Critics Association, Premiere Magazine, and the Golden Globes (nomination for Best Actor, Motion Picture – Musical or Comedy). He has received a Drama Desk Award nomination for his role of Dickon in the Broadway production of The Secret Garden. Off-Broadway, Mitchell received an Obie Award and a Drama Desk Award nomination for his role as Larry Kramer in The Destiny of Me. In Lincoln Center's Hello Again, John received a Drama Desk nomination. He also appeared in the original Broadway production of Six Degrees of Separation and as Huck Finn in the Broadway production of Big River. John adapted and directed Tennessee Williams' Kingdom of Earth for New York's Drama Dept. Theatre Company, of which he is a founding member.
Stephen Trask, Music & Lyrics
Stephen Trask is the author of the music and lyrics for Hedwig and the Angry Inch, as well as the original music director. He was also the original leader of the notorious SqueezeBox house band, performing with Debbie Harry, Lene Lovitch, Hole, Green Day, Joey Ramone, as well as New York's most popular drag queens. For five years, Stephen performed with his band Cheater, who originated The Angry Inch band Off-Broadway and performed on the original cast recording. From 1993-1998, Stephen danced with and accompanied The Corner Store Dance Company. He has scored numerous dance pieces and movies. During Hedwig's reign at the Jane Street Theatre, Stephen received an Obie Award, the Outer Critics Circle Award for Outstanding Off-Broadway Musical, a New York Magazine Award, Drama Desk nominations for Outstanding Music, Outstanding Lyrics, and Outstanding New Musical, a Grammy Award nomination for Best Cast Album, and two GLAMA Awards: Best Cast Album and Best Score for Film or Stage. He was the producer for the album by rock band Nancy Boy, as well as the score and soundtrack album for the film version of Hedwig and the Angry Inch. He also composed the music for New York Theatre Workshop's Cavedweller, adapted from Dorothy Allison's novel, and works regularly in the film world, supplying the original scores for Camp, The Station Agent, and The West Memphis Three.
Chip Miller, Director
Chip is a director and producer, currently in the role of associate producer at Portland Center Stage at The Armory. They were previously the artistic associate/resident director at Kansas City Repertory Theatre. Directing: Redwood (world premiere, Portland Center Stage at The Armory); School Girls; Or, The African Mean Girls Play, Welcome to Fear City, Sex with Strangers, A Raisin in the Sun (Kansas City Repertory Theatre); Becoming Martin by Kevin Willmott (world premiere, The Coterie Theatre); dwb: driving while black (Lawrence Arts Center); 4:48 Psychosis (The Buffalo Room). Chip has developed work with playwrights including Kevin Willmott, Kara Lee Corthron, Brittany K. Allen, Catherine Trieschmann, Darren Canady, Andrew Rosendorf, Michelle T. Johnson, and Michael Finke. They have developed work at The William Inge Theater Festival, NYU Steindhard's New Plays for Young Audiences, Portland Center Stage at The Armory's JAW, Orlando Shakes' Playfest, Midwest Dramatists Center, and Kansas City Repertory Theatre's OriginKC: New Works Festival. Education: B.F.A., NYU Tisch School of the Arts.
Amir Shirazi, Music Director
Amir (they/them/theirs) is an active composer, arranger, sound designer, music director, and songwriter. Their theatrical credits include productions with Portland Actors Ensemble (for which they won the Outdoor Shakespeare Festival Award in 2012 for Best Sound Design of Twelfth Night), Post5 Theatre Company, Milagro Theatre (for which they won a Drammy Award in 2015 for Outstanding Achievement in Original Music for ¡O Romeo!), Jewish Theatre Collaborative, Corrib Theatre, and most recently, Portland Center Stage at The Armory (Macbeth). Amir serves as artistic director to Transpose PDX, which is a non-profit choral arts organization serving the transgender, non-binary, and gender non-conforming community. They graduated from Boston College with a B.A. in music, concentrating in composition and theory. amirbshirazi.com
Britton Mauk, Scenic Designer
Britton is a Pittsburgh-based scenic designer. This past year, he designed two world premieres: The Burdens at City Theatre Company and Old Man and the Sea at Pittsburgh Playhouse. Some of his other recent designs include The Absolute Brightness of Leonard Pelkey at City Theatre Company and Coram Boy at Pittsburgh Playhouse. Britton has designed for regional theaters such as Cardinal Stage (Fun Home) in Bloomington, IN, and Mixed Blood (Mermaid Hour Remixed) in Minneapolis. Closer to home, he has designed for CLO Cabaret (Xanadu), Prime Stage (I Know Why the Caged Bird Sings), and Quantum Theatre (The River). Britton is a member of the USITT Diversity and Inclusion Committee and enjoys mentoring up-and-coming theater makers as the co-coordinator for the USITT Gateway Program.
Dominique Fawn Hill, Costume Designer
Dominique is elated to be joining Portland Center Stage at The Amory this season. Her regional design credits include: One Night in Miami (City Theatre Company); School Girls; Or, The African Mean Girls Play (Kansas City Repertory Theatre); Pipeline (City Theatre Company); Julius Caesar (Asolo Repertory Theatre); Candide (Ava Company/A Noise Within). Other design credits: 125th & FreeDOM (National Black Theatre); A Streetcar Named Desire (Boston Court Pasadena); Beauty and the Beast (Cumberland County Playhouse); Chicago (Sonoma County Repertory Theater). Associate/assistant designs: for colored girls who have considered suicide when the rainbow is enuf (The Public Theater); Natasha Pierre & THE GREAT COMET of 1812 (Broadway); Everybody (Signature Theatre). She holds an M.F.A. from The University of California, San Diego. dominiquefhill.com
Avi Sheehan, Lighting Designer
Avi is excited to be back at Portland Center Stage at The Armory, where they were the lighting apprentice last season. Recent lighting design credits include DNA at Oregon Children's Theatre, Smokefall at Defunkt Theatre, Queer Opera at Portland State University, Newsies at Rocky Mountain Theatre for Kids, and Elizabeth Rex at Oak Park Festival Theatre. Originally from Baltimore and here by way of Chicago, Avi is so thankful for the welcoming home that Portland has provided, personally and artistically. They send love and thanks for the support of their partner, Sarah, and cat, Theo.
Em Gustason, Sound Designer
Years ago, Em received an anonymous package in the mail containing a marked up Hedwig and the Angry Inch script. He has been waiting to design it ever since. Other Portland credits include Mary's Wedding at Portland Center Stage at The Armory, Marjorie Prime with Artists Repertory Theatre, James and the Giant Peach with Oregon Children's Theatre, and How We Got On with Portland Playhouse. He holds a B.A. in technical theater and audio recording from The Evergreen State College and is a proud member of IASTE Local 28, here in Portland.
Jamie Leonard, Video Designer
Jamie is a lighting and projection designer currently based out of Kansas City, Missouri. His most recent credits include Ragtime (associate lighting designer) and Oklahoma! (lighting designer) at Musical Theater Heritage, The Brothers Paranormal (assistant lighting designer) with Pan Asian Repertory Theatre, Memphis (lighting designer) with The Black Repertory Theatre of Kansas City, and Brother Toad (assistant projection designer) at the Kansas City Repertory Theatre. She is also currently the lighting director for the True/False Film Fest in Columbia, Missouri. They are thrilled to be here and would like to thank his family/friends for all their support and guidance through the years.
Jessica Miller, Wig Designer
Jessica is so excited to be back for her third season as the wig master and designer for Portland Center Stage at The Armory. She has a B.A. in costume design from the University of Oregon. It is there where her passion for wig making and styling began. She later got her cosmetology license so that she could learn all aspects of hair. As a wig maker, her credits include last season's The Color Purple, Crossing Mnisose, and Sense and Sensibility.
Janine Vanderhoff, Stage Manager
Janine is thrilled to be back for her fifth season at Portland Center Stage at The Armory. She recently stage managed Macbeth, Tiny Beautiful Things, A Christmas Memory/Winter Song, and The Color Purple. Other favorites include: Wild and Reckless, The Oregon Trail, and Lady Day at Emerson's Bar and Grill. In New York, Janine worked on The Lion King, as well as with many Off-Broadway and regional companies. Portland credits: Sweeney Todd (Portland Opera), Play, How to End Poverty in 90 Minutes, and The Other Place (Portland Playhouse). Touring: The Graduate, Cats, The Vagina Monologues, Jekyll & Hyde, and Show Boat. Production management: The Daily Show with Jon Stewart "Democalypse 2012 Republican National Convention" (Tampa, FL); Straz Center (Tampa, FL); The Fox Theatre (Atlanta, GA). Proud NYU graduate and AEA member.
Karl Hanover, Dialect Coach
Karl has been involved in theater in various capacities for the last 25 years. Previous dialect work includes Orlando, The Call, Blue Door, Antigone Project, 2.5 Minute Ride, and Twilight: Los Angeles with Profile Theatre; A Christmas Carol and The Language Archive with Portland Playhouse; Hen Night Epiphany, Belfast Girls, Lifeboat, Quietly, Hurl, How to Keep An Alien, and Eclipsed with Corrib Theatre; A Christmas Memory and, most recently, Miss Bennet: Christmas at Pemberley at Portland Center Stage at The Armory. He received his M.F.A. in acting from the National Theatre Conservatory in Denver.
Dana Petersen, Production Assistant
Dana is thrilled to be a stage management apprentice at Portland Center Stage at The Armory. Earlier this season, Dana was a production assistant on In the Heights and Redwood. Dana graduated from The Ohio State University, where she stage managed The Curious Incident of the Dog in the Night-Time, Michael Von Siebenberg Melts Through the Floorboards, Four People, Leah and the Dybbuk: A Yiddish Ghost Story, Execution of Justice, Beyond All Recognition, 7 Ways to Say I Love You, and Stupid F**king Bird. Dana was also a stage management intern on The Old Globe's 2018 production of Much Ado About Nothing. Dana thanks Mom, Dad, Carmen, and Murphy for all of their love and support.
Reviews of our 2022 Remount! 
What Critics Are Saying
"A strong reminder of how good theater can be and why we missed it so much." - Portland Mercury
"Delphon "DJ" Curtis Jr. once again puts his indelible mark on this show and makes it his own!" - Judy Nedry
Audience Raves
"The set design was fantastic! Beautifully built and designed. Similarly, the lighting really brought a new dimension to the show. The second act was so heartbreaking and so wonderfully acted." - Audience Rave
"Second time seeing it at PCS and love it every time!" - Audience Rave
"I love the show, and you could not have found two better performers to play off of each other. I laughed and I wept - the sign of a perfect show." - Audience Rave
"Powerful performance!" - Audience Rave
"It was wonderful. The lead playing Hedwig was magnificent - the talent and energy was magnetic. The set was inspiring and creative and the musicians were excellent." - Audience Rave
"Amazing talent and great production! We had a blast." - Audience Rave
"This was my first time seeing Hedwig and I was not disappointed! I loved the intimate atmosphere and of the performance. I was deeply moved by the play - so timely in so many ways. Everyone was outstanding - SO SO impressed by all the actors and musicians. I haven't stopped thinking about all the layers of meaning and the importance of resilience, courage and freedom to be who you are. This play has expanded my understanding and compassion for the stories we all carry - that are too often left untold. It will live in me for awhile. I have grown as a result of seeing this performance. Thank you." - Audience Rave
"Seen at least 3 different Hedwigs around country. This is our favorite by far." - Audience Rave
Reviews of Our 2019-2020 Production
"A guitar-churning, face-melting, inventive new take on the genderqueer rock musical Hedwig and the Angry Inch. It's cleverly conceived, masterfully designed and mightily sung ... the show still speaks, shouts and sings to the struggles of anyone coping with outsider-ism and self-identity." - The Oregonian
"Portland Center Stage's current production of Hedwig and the Angry Inch is my third experience of this iconic show. And this production is the one that captured my imagination and moved me at the heart level. It's the one that motivated me to jump to my feet at the end, and the one I can most enthusiastically recommend." - The Portland Observer
"The show totally rocks! And is hilarious and is raunchy and is complex and is a wonderfully immersive experience in the Armory's intimate Ellyn Bye Studio ... You're immersed in not only the drama of the stage play but the joy inherent in a rock show." - Ut Omnia Bene
"Energized, outrageous, and more than a little crazy ... wildly melodramatic, with pounding rock music and Beyoncé-inspired costumes and wigs. It's a pop-culture/cult happening that Portland-area Hedwig aficionados will need to see again. And again." - Judy Nedry
"This glam rock concert musical delivers the goods -- it's a kickass testament to self-acceptance and a reminder that the world is a lot less binary than we try to make it." - BroadwayWorld
"Revolutionary, astonishing, and very worthy of comparison to Beyoncé. It's certainly a tall order, but Curtis' singing style has a powerhouse soulful approach, which brings the vision of a Hedwig/Beyoncé hybrid out of our dreams and into the Ellyn Bye." - The Mercury
Audience Raves
"I had been waiting over 20 years to see this live and it blew me away!"

"So Amazing!!!"
"A 1,000,000!!!"
"Loved Loved Loved!!!"
"I love the movie. I love the off Broadway version. And now I love the Portland Armory version!! DJ and Ithaca are fantastic!!"
"We left changed, invigorated, and moved to tears. You owe it to your soul to see [Delphon "DJ" Curtis Jr. and Ithica Tell] and this kickass band absolutely blow the roof off of The Armory ... from the basement."
"Hedwig was gorgeous beyond my dreams and the band generous. These are the reminders of why art is important."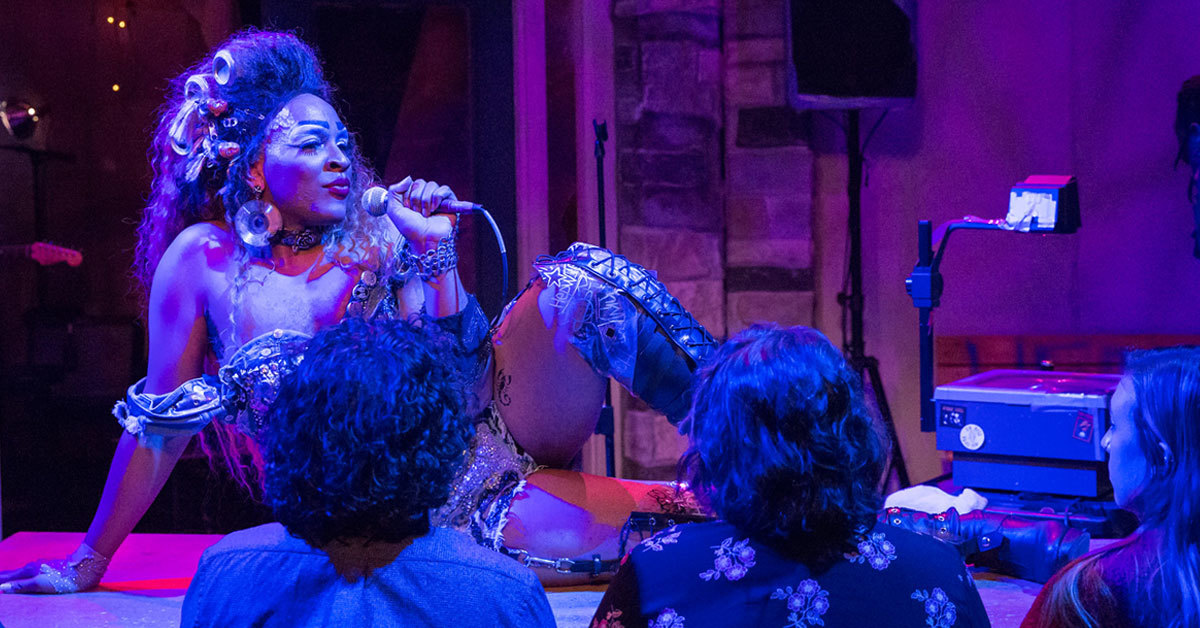 Portland Center Stage is committed to identifying & interrupting instances of racism & all forms of oppression, through the principles of inclusion, diversity, equity, & accessibility (IDEA).