It's a Wonderful Life: A Live Radio Play
November 19 – December 24, 2022
On the U.S. Bank Main Stage
Spend your holidays at PCS with this reimagining of the beloved classic!

Reimagined for the stage as a live radio broadcast, idyllic Bedford Falls is brought to life with an exciting ensemble cast, gorgeous music, lavish costumes, and delightful live sound effects. Small-town everyman George Bailey is having a Christmas Eve that can only be saved by a miracle. Enter George's guardian angel, Clarence, who takes him on a heartwarming journey of redemption proving that "no one is a failure who has friends."
"A marvelous show that will please the entire family … the radio play is entirely faithful to the classic story." –BroadwayWorld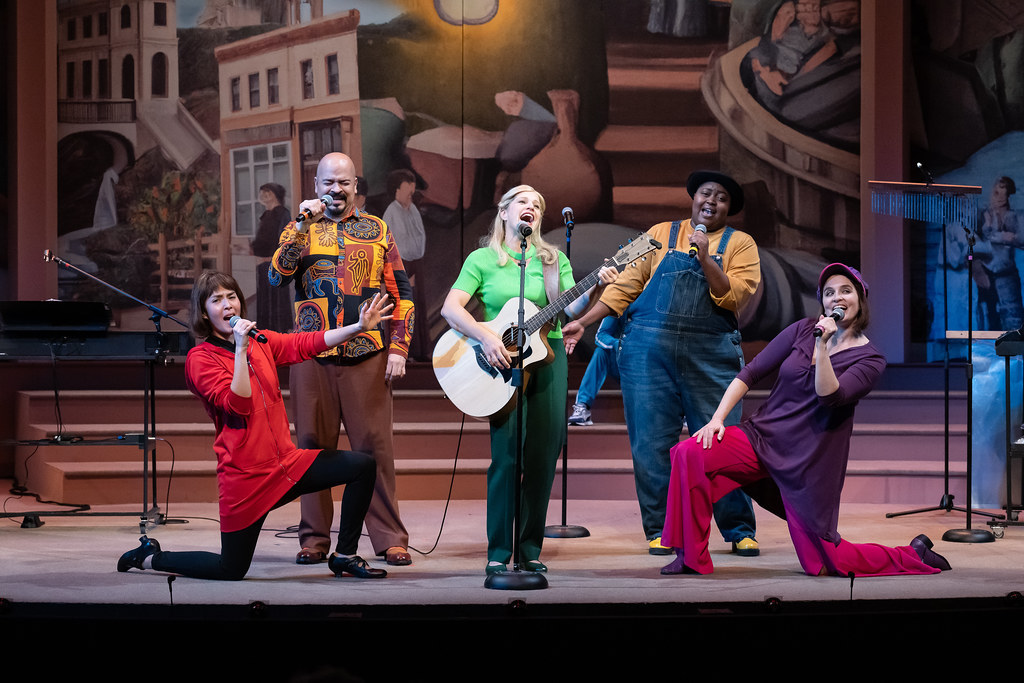 Mental Health Resources
You are not alone! Help is available and mental health care is your right. We hope these resources can bring support to you or your loved ones this holiday season and beyond.
The National Suicide Prevention Lifeline
If you need to talk, or if you or someone you know is experiencing suicidal thoughts, text the Crisis Text Line at 741741 or call the National Suicide Prevention Lifeline at 1.800.273.8255 or dial 988.
Oregon Crisis Text Line
Text OREGON to 741741
Avel Gordly Center for Healing
Culturally sensitive care for the African and African-American community.
503.418.5311
Community Counseling Solutions
The Warm Line
A peer-run program of community counseling solutions.
1.800.698.2392
The Institute on Aging
Friendship Line
1.800.971.0016
More resources available at oregon.gov.
It's a Wonderful Life: A Live Radio Play Plot Summary
At the W-PCS Radio Studio, the Playhouse of the Air acting troupe prepares for the 2022 Christmas Eve broadcast of their audio production of It's a Wonderful Life. Freddie Fillmore introduces the rest of the troupe — Jake Laurents playing George Bailey, Sally Applewhite playing Mary Hatch, Lana Sherwood playing Violet Bick and others, Harry Heywood playing Clarence the Angel and others, and Penelope Garson as Uncle Billy.
The troupe begins — carrying the audience into It's a Wonderful Life. The people of Bedford Falls send prayers up to heaven for George Bailey. Joseph, the superintendent of Angles, summons Angel Second Class Clarence to direct their attention to these prayers. Joseph tells Clarence that George Bailey is thinking of throwing away his life and he needs heaven's help. Clarence asks Joseph if he's able to help George, and if he can be promoted and granted his angel wings. Joseph lightly agrees, and begins to show him moments from George's life.
In 1919, we meet 12-year-old George as he is sledding down an icy hill onto a frozen lake with his friends and kid brother Harry. Harry falls through the ice and George springs into action in order to save him, resulting in suffering a bad ear from all the icy water.
A few months later, we see George at his job at Old Man Gower's Drug Store. Old Man Gower has just learned that his son has died from influenza and, wracked with grief, he accidentally fills a prescription with poison. George prevents the pills from being delivered and promises never to tell anyone.
Joseph then shows Clarence teenaged George, who has big dreams of leaving Bedford Falls to travel the world and go to college. His father, on the other hand, would like him to stay and help him run the family's Building & Loan business. George is reintroduced to his childhood friend Mary Hatch, and the two take a stroll together, stopping in front of an old abandoned house. Mary tells George that she dreams of one day living in the house. As they talk, George's uncle, Billy, arrives and tells him that his father has unexpectedly suffered a stroke. Mr. Bailey dies and George stays in town to take over the family business so that it won't fall into the hands of the wealthiest and most dastardly man in town — Henry Potter.
All of the money George has saved to go to college ends up going to his brother, Harry, who leaves Bedford Falls. On the night that the Baileys welcome Harry home from his studies with his new wife in tow, George finally professes his love for Mary Hatch. The two get married, but as they set off for their honeymoon, they witness a run on the bank and they use their honeymoon money to keep the Building & Loan open. George manages to build Bailey Park — a place where citizens of Bedford Falls can build homes as a way to avoid living in Henry Potter's slums.
During WWII, George is ineligible for service because of his ear, but Harry and a few other men in town serve valiantly. On Christmas Eve 1945, the town prepares to receive their hometown hero, Harry Bailey, who saved a transport of soldiers. While on his way to make an $8,000 deposit at the bank, Uncle Billy Bailey taunts Henry Potter about his famous nephews, giving Potter the newspaper that has a headline about Harry on the front page. He forgets, however, that he's left the money inside the newspaper, a fact that Potter uses to pressure the state examiner into charging the Bailey's with fraud. When George realizes the money is missing, he falls into despair — knowing that his business will be ruined and he will likely end up in prison.
Desperate, he goes to Potter and asks him for a loan, offering his life insurance policy as collateral, but Potter refuses and tells George he's "worth more dead than alive." George flees to Martini's bar, gets drunk, then wanders to the bridge, seriously considering ending his life. Clarence comes down from heaven, and when George wishes he'd never been born, Clarence uses his magic to show George a world where he'd never existed. Bedford Falls is now Pottersville, Harry fell through the ice and died as a child, Old Man Gower's mistake was never corrected and he spent decades in prison, Uncle Billy was institutionalized, Bailey Park was turned into a cemetery, and Mary Hatch became an old maid. Distraught at what the world would be like without him, and realizing that he did indeed have a wonderful life, George runs back to the bridge and screams that he'd like to live again.
George's reality is restored and he rushes home to await arrest. There, he discovers that Mary had gathered the whole town together to cover the $8,000 deficit, saving George and the Building & Loan business. When a bell on the Christmas tree rings, George's youngest daughter, Zuzu, explains that it means that an angel has earned his wings.
Audience Raves
"Unique loved the intimate feel of it."
"What a wonderful, feel-good, sweet classic. I love the entire cast!"
"Very creative and moving rendition of this classic."
"I needed an uplifting performance like this. 2022 had been a rough year. Thank you for the fun show!"
"It was such a fun time. A great adaptation of a favorite classic."
"Very innovative. I know the story well and love its message. It was good to see the performers take various parts. They are all so multi-talented.
Local Reviews
"If you're looking for a feel-good show to get you into the holiday spirit, and especially if you're a fan of the movie it's based on, put It's a Wonderful Life: A Live Radio Play on your list. It's sweet, comforting, and not at all demanding ... it's the theatrical equivalent of hot cocoa with whipped cream."
-BroadwayWorld
"Confession: I've never seen the 1946 film It's a Wonderful Life. ... So I came to Portland Center Stage's It's a Wonderful Life: A Live Radio Play a complete novice on all fronts. And it was a delightful way to experience this story for the first time. ... Call up that relative of yours who always turns on the film at the holiday gathering. Say you want to give their present a little early, and take them to see this heartwarming show. Instead of gifting the latest gadget, make a Christmas memory the two of you will treasure forever. -PDX Parent
"This fun and heart-warming story, with its focus on giving, self-sacrifice, and a visitor from another realm, has been a seasonal favorite since its inception. The fun radio play format breathes new life into an already-worthy member of the holiday canon. Chip Miller and six talented performers deliver a fine production." -Judy Nedry
National Reviews
"Funny, exuberant, heart-warming and spirit-lifting … there is enough holiday spirit packed into this performance to carry theater goers right into the New Year." -The Independent
"It's a Wonderful Life: A Live Radio Play is "on the air" and the show will enthrall you with its charm." -BroadwayWorld
"This adaptation by Joe Landry is a lovable, evocative piece." -The New York Times
"There are many charming bits throughout the show, from the irresistibly hokey commercials to the sharply delineated characterizations." -BroadwayWorld
Portland Center Stage is committed to identifying & interrupting instances of racism & all forms of oppression, through the principles of inclusion, diversity, equity, & accessibility (IDEA).