Kristina Wong, Sweatshop Overlord
November 5 – December 18, 2022
In the Ellyn Bye Studio
Critics are raving that this "laugh riot" is "so good, so powerful" and "both heartening and cathartic."

Three days into the pandemic shutdown, performance artist Kristina Wong — driven to help make a difference in the world — began sewing masks out of bedsheets and bra straps on her Hello Kitty sewing machine. Before she knew it, she had recruited hundreds of volunteers to join her as the "Auntie Sewing Squad." With sharp humor and brilliant social commentary, this tour-de-force look at the early days of global change offers a guide for community building and an inspiring path back into a healing world.
"Wong's larger-than-life stage persona is endearingly boisterous … a celebration of ingenuity, community, and survival." –TimeOut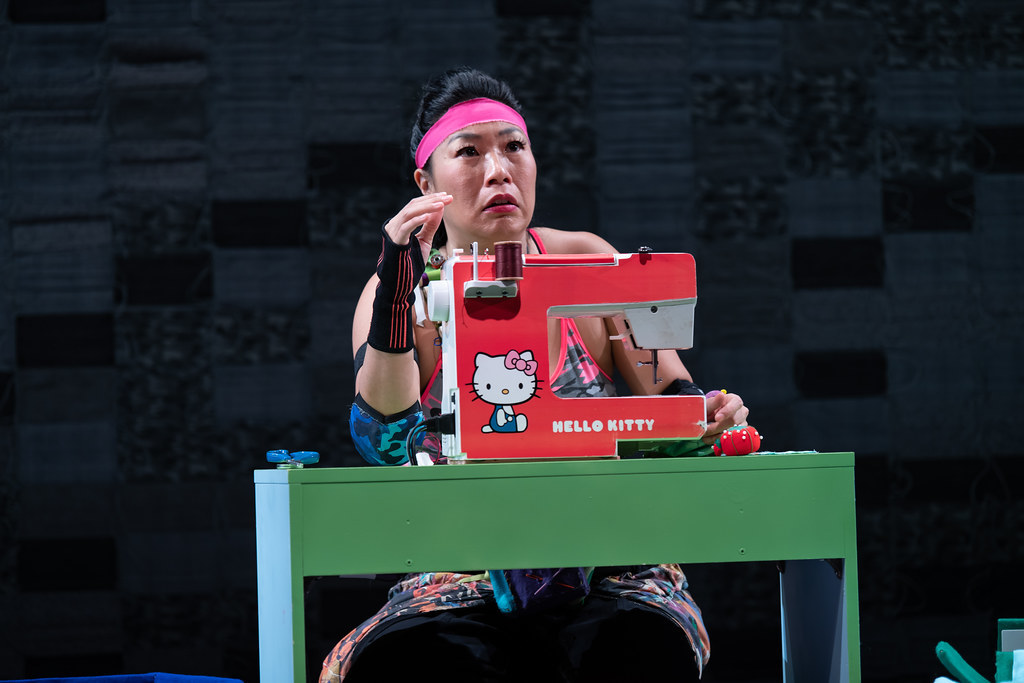 Kristina Wong, Sweatshop Overlord Plot Summary
In March 2020, Kristina Wong performs her comedy show Kristina Wong for Public Office at colleges in California. The next day, her performances and future projects are canceled due to the COVID-19 pandemic. Like everyone else, she finds herself stuck at home, in Koreatown in Los Angeles, CA. Being unable to perform, Kristina turns to a new passion project: sewing masks for people to wear to protect themselves from COVID-19. She notes how being Asian (she is a third-generation Chinese American) and wearing a mask make her a target for hostile strangers.
The demand for her masks continues to rise, so Kristina recruits her friends and family over Facebook to help with sewing and distributing masks. She names the Facebook group the "Auntie Sewing Squad" (not realizing at first that their acronym is A.S.S.), and gives herself the title "Sweatshop Overlord." She emphasizes how A.S.S. wants to be obsolete since a government agency was supposed to do this work, and that they would prioritize serving the most vulnerable of communities. She jokes about winning an award for their efforts — the "Pandemmy."
As anti-mask and anti-lockdown protests erupt in the United States, Kristina finds a cyst in her labia, later diagnosed as a Bartholin's cyst, and gets treated, although running into many difficulties along the way due to hospitals being filled with COVID-19 patients. Later, she observes Black Lives Matter protests in her neighborhood and pays tribute to George Floyd. The Aunties start to sew for the NAACP in the hometowns of Breonna Taylor, George Floyd, and Ahmaud Arbery, as well as for street medics who tend to peaceful protestors and black communities.
After losing members to burnout and others needing to find paid work, Kristina puts out more recruitment efforts, including inadvertently developing a summer camp for children, the "Baby Aunties." She finds out that Tufts University is teaching about A.S.S. in their Public Health and Asian American Studies classes. Their membership eventually rises up to 800 Aunties.
Kristina talks about the fires raging through Oregon and California, and how the homemade masks aren't suitable for protecting people from the smoky and sooty air. The Aunties buy KN95 masks below cost to be distributed to farmworkers and crop harvesters, many of whom are immigrants.
Following the death of Supreme Court Justice Ruth Bader Ginsberg, the Aunties make RBG-themed masks for the volunteers of the New Georgia Project, who register new voters in Georgia. They also receive a request from Walter Reed National Military Medical Center, which they decline because the hospital has the budget to buy their own masks and wants to exploit their free labor. Soon, following the 2020 election, Joe Biden is elected as the next president of the United States, and Kamala Harris becomes the first woman, the first Black American, and the first South Asian American to be elected vice president.
Many Aunties are afflicted by COVID-19, and Kristina pays tribute to Corky Lee, the "unofficial Asian American Photographer Laureate," who died from COVID-19. Soon, Kristina and many Aunties become fully vaccinated against COVID-19. The Atlanta Spa Shooting occurs in a long string of anti-Asian violence and harassment. Despite the COVID-19 vaccine being available, many people are refusing to get vaccinated or wear a mask and COVID-19 numbers continue to rise. The Aunties' outreach efforts increase.
Kristina goes to San Francisco to visit her parents in person for the first time in a year, riding a plane for the first time in almost two years. She and her family attend self-defense classes with Grandmaster Herbert because of the increase in AAPI hate crimes, and she finally meet in person with many people who have been involved with A.S.S. or have been beneficially impacted by them.
Masks are available everywhere and for cheap, so the Auntie Sewing Squad decides to retire from sewing masks. On September 25, 2021, they have a retirement party in a Los Angeles public park, where 70 LA Aunties congregate and 50 more from around the country watch the stream online. Over the past 504 days, they made 350,000 masks. The Aunties gift Kristina with a quilt, which they have secretly been putting together for several months. It has squares representing each Auntie's time in the Auntie Sewing Squad, which Kristina recognizes as a beautiful symbol of their legacy.
Local Reviews
"This social commentary — both fierce and darkly funny — was the theater experience I didn't know I needed. I left feeling I could almost wrap my mind around what we've been through and inspired to meet the next news cycle with more compassion and power." -PDX Parent
"It is a story of survival and, arguably, of success, and as such, it's heartwarming, even inspiring — especially in how clearly it evokes the loving camaraderie that develops among the 'Aunties,' Wong's 'warriors behind sewing machines.'" -Oregon ArtsWatch
"If laughter is the best medicine, then Kristina Wong, Sweatshop Overlord is at least a partial cure for any existential dread still hanging around." -BroadwayWorld

"Kristina Wong, who stars as herself in this one-woman production, has combined brilliant social commentary with sharp humor, which will not only have you laughing out loud but possibly participating in the production by tossing your bra, hair tie, or purse strap onto the stage." -Willamette Week
"She succeeds in this seemingly impossible task, by showing us hidden brightness in the darkness of worldwide despair." –The Crippled Critic
Audience Raves
"I would watch anything she performs — so entertaining!"
"Fantastic. Relevant. Funny!"
"Outstanding production content and actor/comedian! Super hilarious and simultaneously poignant and very much needed during a time this for the American culture!"
"Relevant, emotional, and heart-rendering... well acted and produced ... very engaging."
"Amazing storyteller. Captivating, and took us on a journey and so many feelings. Laughter to tears. Plan to see this one again!!"
"I loved how Kristina used humor to address dark and difficult topics. The 90 minutes flew by!"
"My favorite performance of the year. Kristina's play will live on as a capsule of the covid pandemic ... I like theatre that is a comment on our society, and Kristina did just that as we laughed and cried a little too."
"Kristina reminded me of things about that time too important to forget and renewed my commitment to the better aspects of that upheaval of our lives - and made me laugh in the process. Pretty f*n awesome."
"Kristina was excellent and brought a lot of energy to the show. The interweaving of the difficulty of the last several years with the strength of the human spirit was very poignant."
In the News
"Humorous and self-effacing, Wong's performance is a meditation on mutual aid, Asian American identity and the meaning of legacy within the broader context of the last two years." View the feature.
Blog Critics interviews Pulitzer finalist Kristina Wong on solo pandemic comedy. View the feature.
Stage & Studio's Dmae Lo Roberts talks with Wong about making masks, the Auntie Sewing Squad, and the solo show Wong is bringing to Portland. View the feature.
National Reviews
"Selflessness and human connection are dominant themes of this narrative." -The New York Times
"Back out on the street afterward, we're lighter — and, thanks to the Aunties, imbued with hope." -The New York Times
"Wong has two sharp weapons at her disposal: She's funny, and she can sew." -New York Magazine/Vulture
"Wong takes us back through our shared, hazily remembered months as if she's ripping out stitches." -New York Magazine/Vulture
"In the emerging genre of pandemic theater, Kristina Wong, Sweatshop Overlord is haute couture." -Timeout
"Wong carries much of this 90-minute show with the sheer force of her personality. Her charisma seems boundless, supporting a cinematic imagination that sees her transform into a drill sergeant, a drug dealer, and yes, a sweatshop overlord." -Theater Mania
"Kristina Wong's Kristina Wong, Sweatshop Overlord is, and will likely remain, an invaluable artifact of the current Pandemic. It stands that extremely good chance for its skillfully capturing the overwhelming anger and frustration that Covid-19 has produced in American society to date." -New York Stage
Portland Center Stage is committed to identifying & interrupting instances of racism & all forms of oppression, through the principles of inclusion, diversity, equity, & accessibility (IDEA).