Resource Guide
for tick, tick … BOOM!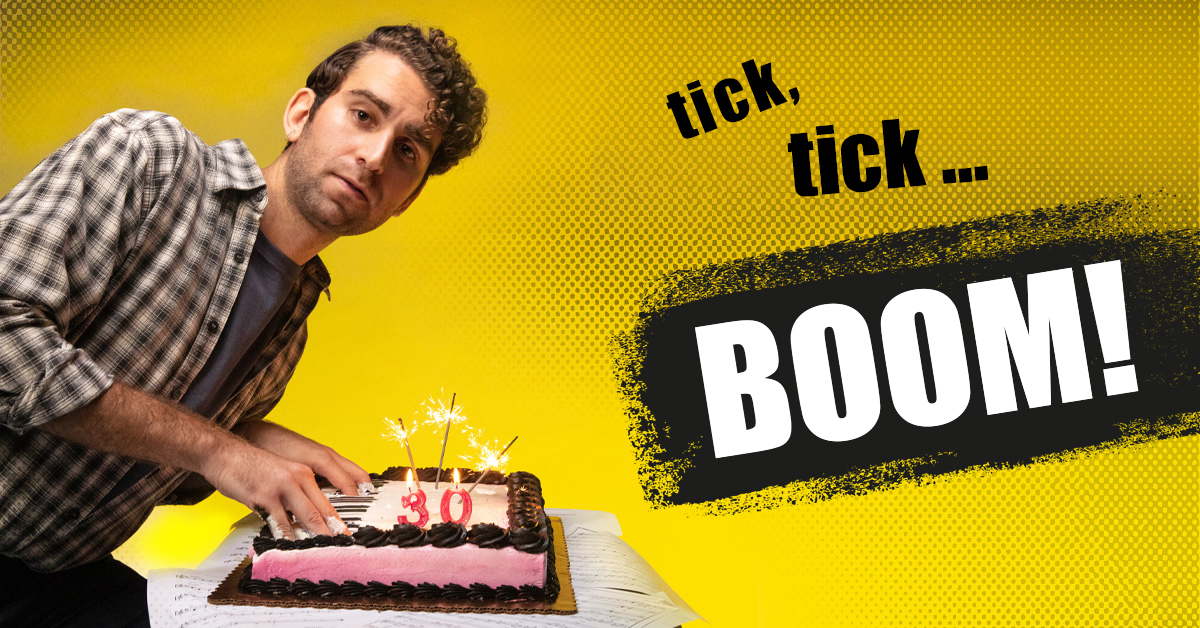 Student Matinee Curriculum
Portland Center Stage's Student Matinee Program seeks to provide all young people with opportunities to experience and directly participate in the art of high-quality, professional theater in a context that supports their education. The following is designed to help students explore themes found in our production of tick, tick … BOOM!. We encourage you to choose the most appropriate activities for your group and adapt as needed.
DISCUSSION QUESTIONS
The themes in tick, tick … BOOM! include self doubt, the fear of failure, and pursuing your dreams.

What are some dreams or goals that you have? Are you pursuing them? Why or why not?
What are some reasons you may not pursue your dreams? (examples: fear of failure, difficulty, lack of resources or support, etc.)
Who are some people in your life that support your endeavors? How do they show their support?
Glossary

Andrew Lloyd Webber: An English musical theater composer. Several of his musicals have run for more than a decade both in the West End and on Broadway. He has composed 21 musicals, a song cycle, a set of variations, two film scores, and a Latin Requiem Mass. He is known for works such as Cats, Evita, and The Phantom of the Opera.

"Are we in Smoking?": In 1997, President Clinton banned cigarette smoking in federal buildings, but until 2006, most states had not done the same. Prior to these laws being passed, most restaurants had a section where people could smoke and one where they could not.

Atlanta: The capital and most populous city of the state of Georgia.

Belvedere Castle: A purely aesthetic castle in Central Park. It contains exhibit rooms, an observation deck, and, since 1919, has housed Central Park's official weather station.

Ben & Jerry's: An American company founded in 1978 in Burlington, Vermont, that manufactures ice cream, frozen yogurt, and sorbet.

Bill of Rights: The Bill of Rights is the first 10 Amendments to the Constitution. It spells out Americans' rights in relation to their government and guarantees civil rights and liberties to the individual (including freedom of speech, press, and religion).

BMW: Bayerische Motoren Werke AG, commonly referred to as "BMW," is a German multinational corporate manufacturer of luxury vehicles and motorcycles headquartered in Munich, Bavaria, Germany. The corporation was founded in 1916 as a manufacturer of aircraft engines. In 1990, the price of a new BMW M3 was close to $57,000 or $127,474.15 in 2022.

Bob & Ray: An American comedy duo composed of comedians Bob Elliott and Ray Goulding whose careers spanned five decades. The duo's format was typically to satirize the medium in which they were performing, such as conducting radio or television interviews with off-the-wall dialogue presented in a generally deadpan style as though it were a serious broadcast.

Boomer Junior: "Baby boomer" is a term used to describe a person who was born between 1946 and 1964 during the post World War II baby boom. Jon would have been born in 1960, near the end of the generation.

Bowery: A street and neighborhood in the southern portion of the New York City borough of Manhattan. The street runs from Chatham Square at Park Row, Worth Street, and Mott Street in the south to Cooper Square at 4th Street in the north. The eponymous neighborhood runs roughly from the Bowery east to Allen Street and First Avenue, and from Canal Street north to Cooper Square/East Fourth Street.

Brady Bunch: An American sitcom created by Sherwood Schwartz that aired from September 26, 1969, to March 8, 1974, on ABC. The series revolves around a large blended family with six children.



"Can't fight it like city hall": This saying is an idiom which means to take on the powerful — usually, a thankless and a futile task. "Go fight City Hall!" was printed in The American Hebrew (New York, NY) on September 18, 1914. The "Go Fight City Hall" spirit was printed in the Brooklyn (NY) Citizen on December 16, 1928. "You can't fight City Hall" was printed in the Brooklyn (NY) Daily Times on April 5, 1930.

Cape Cod: A cape off the southeastern shore of Massachusetts that has become a resort destination, attracting wealthy families, celebrities, and tourists. These include the large nearby islands of Nantucket and Martha's Vineyard.

Captain Crunch: A corn and oat breakfast cereal manufactured by Quaker Oats Company.

Captain Kangaroo: An American children's television series that aired weekday mornings on the American television network CBS for 29 years, from 1955 to 1984. The show was built around life in the "Treasure House" where the Captain (the name "kangaroo" came from the big pockets in his coat) would tell stories, meet guests, and indulge in silly stunts with regular characters, both humans and puppets.

Cleanup batter: In baseball, a cleanup batter is the fourth hitter in the batting order. The cleanup hitter is traditionally the team's most powerful batter. Their job is to "clean up the bases," i.e., drive in base runners.

Credit Cards: While people have been paying "on credit" for centuries, the first credit card was introduced in the 1950s. The system of credit we use today, including credit scores and the concept of "building credit" which changed our economic identities, was not introduced until 1989. Before this, a person was given credit based purely on the discretion of the lender.

Crocodiles: In Peter Pan, the villain, Captain Hook, is hunted by a crocodile who has swallowed a clock and ticks. This is said to be a representation of the relentless nature of time and Captain Hook's fears of getting older.

Delacorte Theater: A 1,800-seat open-air theater in Central Park, home to the Public Theater's Free Shakespeare in the Park productions.

Depression: Refers to the severe worldwide economic depression between 1929 and 1939 that began after a major fall in stock prices in the United States on October 29, 1929, also known as Black Tuesday.

Doc: One of the few adult characters in West Side Story. He owns the local drugstore/soda shop where Tony, the lead, works.

East Village Kids: Refers to a certain type of counter culturalist typically found in the East Village, which has been known as a home for beatniks, rebels, artists, punks, and others.

Emerald City: The capital city of the fictional Land of Oz in Frank Baum's Oz books, first described in The Wonderful Wizard of Oz (1900).

"Every show's from London": At the time, there were a few transfers in town, including Les Miserables, The Phantom of the Opera, and Threepenny Opera.

Evian Water: A French company that bottles and commercializes mineral water from several sources near Évian-les-Bains on the south shore of Lake Geneva. Evian started bottling water in 1908.

First Thanksgiving: The holiday feast dates back to November 1621, when the newly arrived Pilgrims and the Wampanoag Indians gathered at Plymouth for an autumn harvest celebration, an event regarded as America's "First Thanksgiving." Historians do not know much of this event as the only record is from one source – a letter written in December, 1621, by Edward Winslow.

Founding Fathers: These seven men are the principle "Founding Fathers" of the United States of America: George Washington, Thomas Jefferson, John Adams, Benjamin Franklin, Alexander Hamilton, John Jay, and James Madison. They are also responsible for leading the American Revolution against the British Crown in the 1770s.

George Bush: George H.W. Bush served as the 41st President of the United States from 1989 to 1993. Dan Quayle was the 44th Vice President.

"Got a Rocket in your Pocket": Lyrics from the West Side Story song "Cool". After the death of Riff, leader of the Jets, Ice takes over and reasons with his team to play it cool.

Gucci: An Italian high-end luxury fashion house based in Florence, Italy, and founded by Guccio Gucci in 1921. The product line includes handbags, makeup, fragrances, home decoration, ready-to-wear, footwear, and accessories. Today, a Gucci belt runs between $400 and $700.

Gumby: An American clay animation franchise, centered on the titular green clay humanoid character created and modeled by Art Clokey. Gumby was created in 1953 and first appeared on Howdy Doody, eventually earning his own series, The Gumby Show, in 1955. Beginning in 1982, Gumby was parodied by Eddie Murphy on Saturday Night Live. According to Murphy's parody, when the television cameras were turned off, the sweet Gumby reverted to his true self: an irascible, cigar-chomping celebrity who was highly demanding of the production executives, known for saying "I'm Gumby dammit!"

Hair: A rock musical with book and lyrics by Gerome Ragni and James Rado, and music by Galt MacDermot. The work reflects the creators' observations of the hippie counterculture and sexual revolution of the late 1960s. Several songs became anthems of the anti-Vietnam War peace movement. Hair first premiered off-Broadway in 1967.

HBO: HBO is the oldest and longest continuously operating subscription television service in the United States. HBO pioneered modern pay television upon its launch on November 8, 1972. It was the first television service to be directly transmitted and distributed to individual cable television systems and was the conceptual blueprint for the "premium channel." To add it to your cable package costs approximately $6.50 monthly ($14.30 in 2022).

Hostess Twinkie Snack Cake: An American snack cake invented in 1930 described as "golden sponge cake with a creamy filling."

Houston Street: Pronounced by New Yorkers as "House-ton", it runs the full width of the island of Manhattan, from FDR Drive along the East River in the east to the West Side Highway along the Hudson River in the west. The street is divided into west and east sections by Broadway.

Hyannis: Hyannis is a village on the Cape Cod peninsula in Massachusetts. It's known for beaches like Kalmus Park Beach and the private Kennedy Compound at Hyannis Port.

Inalienable rights: Refers to the preamble of the American Constitution which states, "We hold these truths to be self-evident, that all men are created equal, that they are endowed by their Creator with certain unalienable Rights, that among these are Life, Liberty and the pursuit of Happiness."

Interview Magazine: An American magazine founded in late 1969 by artist Andy Warhol and British journalist John Wilcock. The magazine, nicknamed "The Crystal Ball of Pop," features interviews with celebrities, artists, musicians, and creative thinkers. Interviews were usually unedited or edited in the eccentric fashion of Warhol's books.

Kennedy Breakwater: The artificial shore to the Hyannis Harbor on the Kennedy Compound.

"Let's Go Fly a Kite": A song from Walt Disney's 1964 film Mary Poppins, composed by Richard M. Sherman and Robert B. Sherman.

Lightning rod: A metal rod mounted on a structure and intended to protect the structure from a lightning strike. If lightning hits the structure, it will preferentially strike the rod and be conducted to the ground through a wire, instead of passing through the structure, where it could start a fire or cause electrocution. It is often used as a metaphor for a person or thing that attracts and absorbs powerful, and especially negative or hostile feelings, opinions, etc., thereby diverting such feelings from other targets.

Lost Children: A reference to the Lost Boys found in J.M. Barrie's Peter Pan. They are boys "who fall out of their prams when the nurse is looking the other way and if they are not claimed in seven days, they are sent far away to Neverland," where Peter Pan becomes their captain. There are no "lost girls" because, as Peter explains, girls are far too clever to fall out of their prams.

Mad Avenue: Also known as Madison Ave; The streets name has been metonymic with the American advertising industry since the 1920s. Thus, the term "Madison Avenue" refers specifically to the agencies and methodology of advertising. "Madison Avenue techniques" refers, according to William Safire, to the "gimmicky, slick use of the communications media to play on emotions."

Mademoiselle: Mademoiselle, primarily a fashion magazine, was also known for publishing short stories by noted authors including Truman Capote, Joyce Carol Oates, and James Baldwin. The first issue was published in 1935 and the last in 2001.

Manifest Destiny: A phrase coined in 1845, is the idea that the United States is destined by God, its advocates believed, to expand its dominion and spread democracy and capitalism across the entire North American continent.

Market research: The process of determining the viability of a new service or product through research conducted directly with potential customers.
Medium Brown Bag: The second of three bags one could get from shopping at Bloomingdales. They became a calling card for the high-end brand, created in 1973 by Marvin S. Traub, without even putting the store's name on the packaging.

Men Behind the Curtain: In The Wizard of Oz, the "all powerful" Wizard is revealed to be just a man who, behind a curtain, is using optical illusions and magic tricks to create his power.

"Moving on up to the East Side": From the theme song for The Jeffersons, a sitcom which ran for 11 seasons from 1975 to 1985. The theme was co-written and performed by Ja'net DuBois who played Willona in the sister show Good Times. The show follows a Black family living in an affluent part of Manhattan owing to the success of George's dry-cleaning chain, Jefferson Cleaners.

M-80s: An American class of large, powerful firecrackers, sometimes called salutes.

Napoleon: Napoleon Bonaparte was a French military and political leader who rose to prominence during the French Revolution and led several successful campaigns during the Revolutionary Wars. He was the de facto leader of the French Republic as First Consul from 1799 to 1804, a title he earned just after his 30th birthday.

Naugahyde Chairs: An American brand of artificial leather. Naugahyde is a composite knit fabric backing and expanded polyvinyl chloride (PVC) plastic coating.

New England: A region comprising six states in the Northeastern United States: Connecticut, Maine, Massachusetts, New Hampshire, Rhode Island, and Vermont.

Northampton: The county seat of Hampshire County, Massachusetts. Based on U.S. Census demographics, election returns, and other criteria, the website Epodunk rates Northampton as the most politically liberal medium-size city in the United States.

Parnassus: Any center of poetry or artistic activity.

Parquet wood floors: Parquet is a type of wood flooring made by arranging small slats of wood in distinct, repeating patterns.

Peter Pan & Tinkerbell: Two of the central characters in J.M. Barrie's works. They first appeared in The Little White Bird in 1902.

Pilgrims: The English settlers who came to North America on the Mayflower and established the Plymouth Colony in what is today Plymouth, Massachusetts.

Polyurethaned wood floors: Polyurethane finish is a liquid resin used to coat wood flooring and other wood surfaces, such as cabinets and furniture.

Poppy fields: Both the book and the film The Wizard of Oz feature iconic scenes of Dorothy, Toto, and the Cowardly Lion (the only flesh and blood members of the gang) lulled to sleep by a field of poisonous poppies.

Rainbow: A reference to the song "Over the Rainbow" written by Harold Arlen and Yip Harburg, for the 1939 film The Wizard of Oz, sung by actress Judy Garland in her starring role as Dorothy Gale. It won the Academy Award for Best Original Song and became Garland's signature song.

Reaganomics: Refers to the neoliberal economic policies promoted by President Ronald Reagan during the 1980s. The four main ideas of Reaganomics were to reduce the growth of government spending, reduce the federal income tax and capital gains tax, reduce government regulation, and tighten the money supply in order to reduce inflation.

Rice cakes: A flat, hard food made with puffed rice containing low calories but virtually no nutritional value. A fad diet food of the 90s.

Rip Tide: A rip tide is a specific type of current associated with the swift movement of tidal water through inlets and the mouths of estuaries, embayments, and harbors.



Ruby Slippers: The magic pair of shoes worn by Dorothy Gale in the 1939 Metro-Goldwyn-Mayer musical film The Wizard of Oz. In L. Frank Baum's original 1900 novel, The Wonderful Wizard of Oz, on which the film is based, Dorothy wears silver shoes. However, the color of the shoes was changed to red to take advantage of the new Technicolor film process used in big-budget Hollywood films of the era.

Salad Nick-oyz: Refers to Salade Niçoise (pronounced nee-swaz) which originates in the French riviera town of Nice. Traditionally served on a large platter, the composed salad includes fresh tomatoes, sliced hard-boiled eggs, tuna, and an olive oil dressing.

Sheep Meadow: Sheep Meadow is a 15-acre meadow near the southwestern section of Central Park, between West 66th and 69th Streets.

SILENCE = DEATH: A collective and movement in New York City that worked to raise awareness about and fight the spread of HIV and AIDS. This was the work of a six-person community composed of Avram Finkelstein, Brian Howard, Oliver Johnston, Charles Kreloff, Chris Lione, and Jorge Soccarás.

Silly Putty: A toy introduced during WWII, originally created as a potential substitute for rubber, due to a shortage at the time. Silly Putty is noted for its unusual characteristics, with the ability to bounce but will break when given a sharp blow. This substance can float in a liquid and can form a puddle given enough time.

SoHo: Meaning "South of Houston Street", SoHo is a neighborhood in Lower Manhattan between Houston and Canal streets.

St— S: Stephen Sondheim is known as an American composer, songwriter and lyricist. As one of the most important figures in twentieth-century musical theater, Sondheim was credited for having "reinvented the American musical".

"The Jets are gonna have their day — tonight": Lyrics from West Side Story's "Tonight (Quintet)", this phrase refers to the section of the song where the Jets are anticipating their rumble with their rivals, the Sharks.

The Y: Short for the YMCA. This organization was formed in 1844 as the "Young Men's Christian Association", and aimed to put Christian principles into practice by developing a healthy "body, mind, and spirit." Most local Y's are recreation and resource centers for community members.

The Zoo, Skaters, Carousel, Statue of Shakespeare: Jon is running through Central Park, noting several landmarks and usual suspects.

Tiger Lilies: Tiger Lily is a fictional character in J. M. Barrie's 1904 play Peter Pan, or The Boy Who Wouldn't Grow Up. She is in love with Peter and gets kidnapped by Captain Hook and his pirates but is rescued by Peter Pan.

Tony the Tiger: The advertising cartoon mascot for Kellogg's Frosted Flakes cereal.

Triboro: The Robert F. Kennedy Bridge is a complex of bridges and elevated expressway viaducts in New York City. The bridges link the boroughs of Manhattan, Queens, and the Bronx.

Twisters: In The Wizard of Oz, Dorothy's journey through Oz begins with a tornado sweeping her into the fictional land of Oz.

VCRs: A videocassette recorder is an electromechanical device that records analog audio and analog video from broadcast television or other source on a removable, magnetic tape videocassette, and can play back the recording. At the time, VCRs cost several hundred dollars.

Vietnam: A conflict in Vietnam, Laos, and Cambodia from 1955 to the fall of Saigon on April 30th, 1975. It was officially fought between North Vietnam and South Vietnam. North Vietnam was supported by the Soviet Union, China, and other communist allies. South Vietnam was supported by the United States and other anti-communist allies. It lasted almost 20 years with direct U.S. involvement ending in 1973.

Wall Street Journal: An American business-focused, international daily newspaper based in New York City that first circulated in 1889.

"West Side": West Side Story is a 1957 musical conceived by Jerome Robbins with music by Leonard Bernstein, lyrics by Stephen Sondheim, and book by Arthur Laurents.

White Plains: An outer suburb of New York City, that is the county seat and commercial hub of Westchester. In the 90s and early 2000s, the population was upwards of 60% white.

Wicked Witches: A title given to witches who are particularly wicked and are the villains of certain Oz books along with their adaptations. The two main witches are The Wicked Witch of the East, who is crushed by Dorothy's house and is the original owner of the ruby slippers, and her sister, The Wicked Witch of the West, who plots her revenge.

"Wild horses": An abbreviation of the phrase "wild horses couldn't keep me away". It is believed to have replaced "wild horses couldn't draw it from me", referring to the medieval torture of using horses to stretch a prisoner and thereby force a confession.

Wizard: Oscar Zoroaster Phadrig Isaac Norman Henkle Emmannuel Ambroise Diggs (also known as the "Wizard of Oz" and, during his reign, as, "Oz, the Great and Terrible" or the "Great and Powerful Oz") is a fictional character in the Land of Oz created by American author L. Frank Baum.

World War: Refers to either/both World Wars:





WWI took place between1914 and 1918 and is often referred to by contemporaries as the "Great War". Its belligerents included much of Europe, the Russian Empire, the United States, and the Ottoman Empire, with fighting expanding into the Middle East, Africa, and parts of Asia. The total number of military and civilian casualties in World War I was about 40 million. Estimates range from around 15 to 22 million deaths and about 23 million wounded military personnel, ranking it among the deadliest conflicts in human history.
WWII was a global war that lasted from 1939 to 1945. It involved the vast majority of the world's countries, including all of the great powers, forming two opposing military alliances: the Allies and the Axis powers. An estimated total of 70 to 85 million people perished as a result of this war.

Write if you get work/Hang by your thumbs: Bob & Ray's trademark sign-off was "This is Ray Goulding reminding you to write if you get work" ; "Bob Elliott reminding you to hang by your thumbs."

"Yellow Bird": A song first recorded in 1957, based on a Hatian song made popular by Harry Belafonte.

$40,000: In 1990, $1 had the buying power of $2.20, so $40,000 = $88,000 in 2022.

$50: This would equal $110 in 2022.

59th Street Bridge: Also known as the Queensboro Bridge, it is over the East River in New York City. Completed in 1909, it connects the neighborhood of Long Island City in the borough of Queens with the Upper East Side in Manhattan, passing over Roosevelt Island.


Thank you to our Education Program Sponsors!
Portland Center Stage is committed to identifying & interrupting instances of racism & all forms of oppression, through the principles of inclusion, diversity, equity, & accessibility (IDEA).