If you love Rent, you'll love this raw, hilarious, genre-cracking rock musical.
August 20 – September 18, 2022
On the U.S. Bank Main Stage
If you love Rent, you'll love this raw, hilarious, genre-cracking rock musical.

Before he electrified the world with Rent, Jonathan Larson was a young man struggling to make his mark in the theater. While he waits tables and seeks his big break, the pressure to give it all up grows as Jon approaches his 30th birthday. Will he sell out to keep the lights on? Will he lose the love of his life? Will he finally write the soaring song that can change everything? And if he does, will anyone be there to see it? Set in 1990 and scored by the music that redefined a genre, tick, tick … BOOM! cracks open the ticking-time-bomb world of creating theater to celebrate the power of finding your voice and holding on to a dream.

"Larson's songs thrum with the intense feeling, larky humor, and musical vitality that are the hallmark of enduring theater. Heart-grabbing." –The New York Times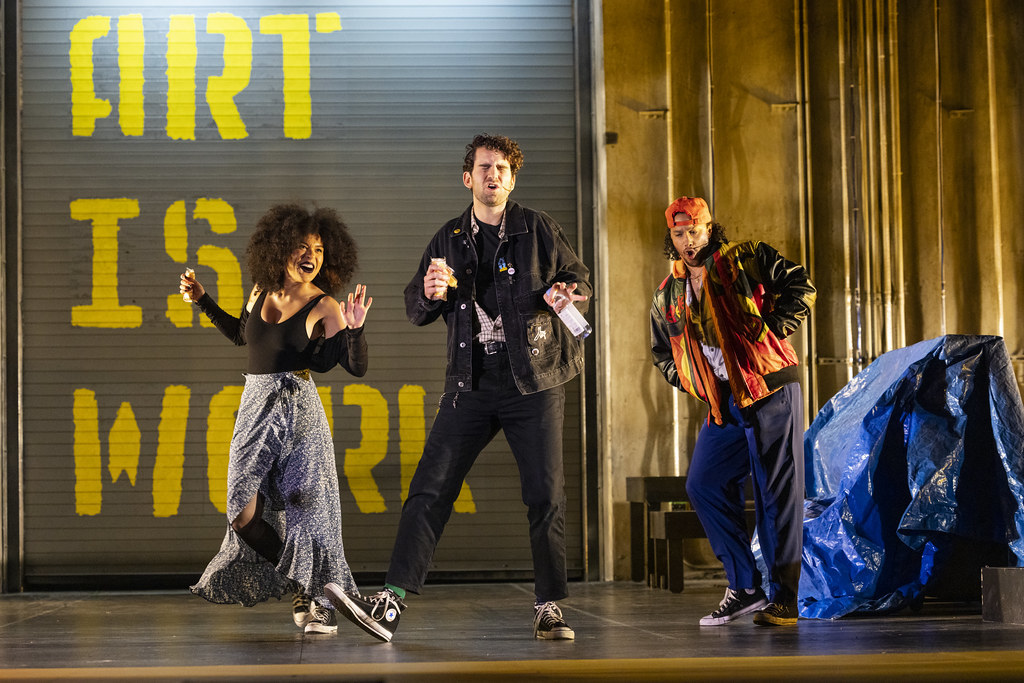 tick, tick … BOOM! Plot Summary
It is 1990, and with one week until his 30th birthday, Jon, a musical theater composer, describes the anxiety he feels as he ages, and the mounting pressure to write a truly successful musical. Meanwhile, his girlfriend Susan, who is a dancer, longs for a simpler life outside of New York City. His childhood best friend, Michael, quits acting and takes a market research job at a fancy marketing firm, and moves out of their SoHo apartment and into an upscale building. To help Jon, Michael gets him a job at the firm, but Jon is fired that same day.
Jon then spends the next week workshopping his newest musical, Superbia, that he's spent five years composing. He fears that if the presentation does not go well and doesn't garner support from producers, he will have wasted his twenties on a pipe dream and, as a result, his agent, the elusive Rosa, will drop him. The night before the workshop, Susan admits that she has taken a job in Cape Cod and that she will be relocating there, whether he joins her or not.
The day of the workshop presentation arrives and despite Jon's worries that no one will come, the audience is full and Jon's musical theater idol, Steven Sondheim, is in attendance. Although the workshop goes well, none of the producers commit to the project. Feeling dejected, Jon goes to Michael's office to tell him that he's going to quit the theater. Michael then shares that he has recently received an HIV diagnosis. Jon, rattled by the news, runs through Central Park and finds himself at the Delacorte Theater, where he plays a song to honor their lifelong friendship.
Finally, on Jon's 30th birthday, Susan throws him a party with their friends. In the middle of the party, Jon receives a phone call which he lets roll to the answering machine. On the other line, Stephen Sondheim is calling to praise Jon for his work and tells him he's got a great future. No longer feeling the dread of growing older, Jon plays the piano as his friends all sing happy birthday.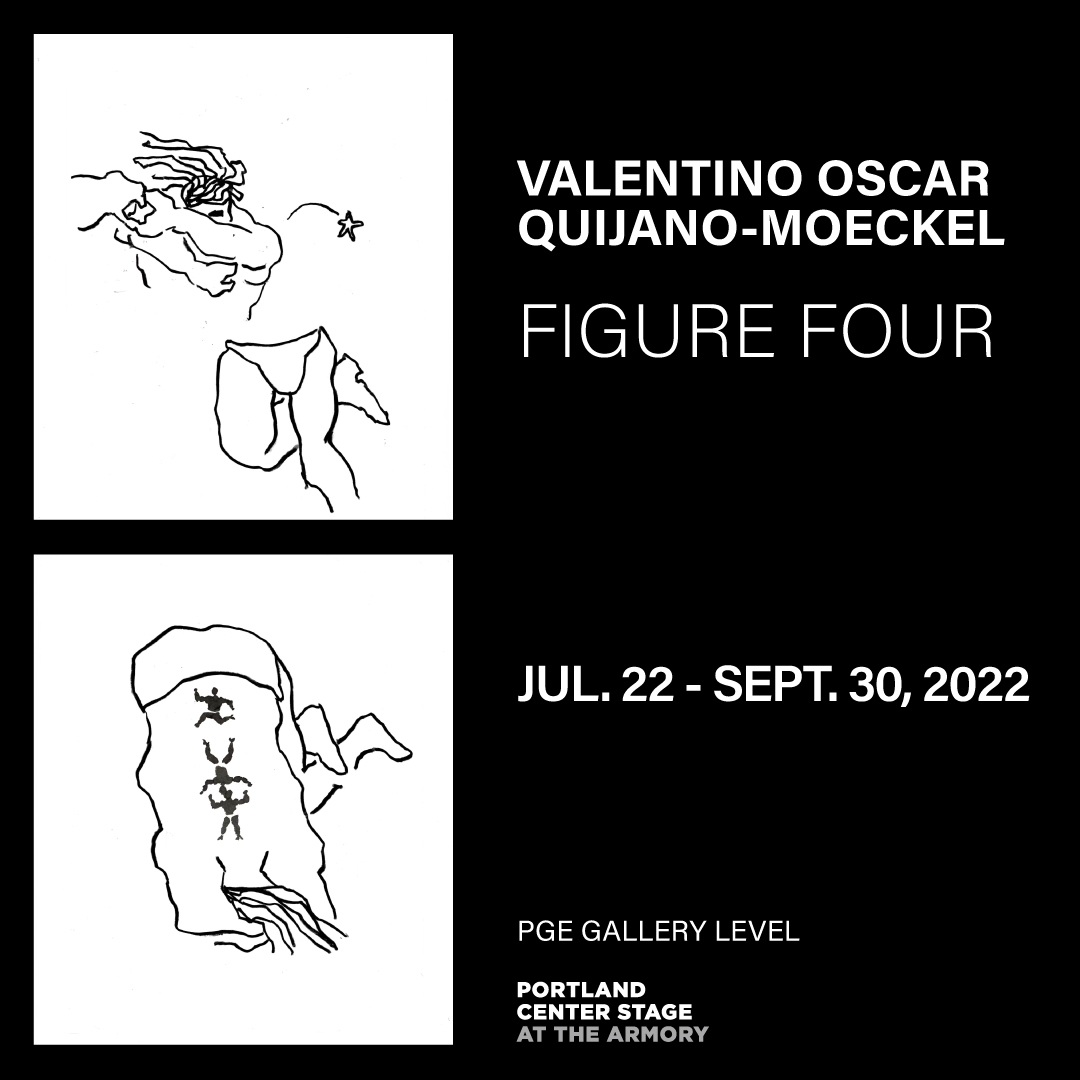 July 22 – September 30
• FREE
FIGURE FOUR is an art exhibit by Portland-based visual artist Valentino Oscar Quijano-Moeckel. It features works on paper and canvas that tackle an intriguing and complicated sect of American pop culture — pro wrestling.
tick, tick … BOOM!
What Critics Are Saying
"Rent creator Jonathan Larson battles his way toward broadway in tick, tick … BOOM! Portland Center Stage's production is an unqualified triumph." –Willamette Week
"It's a semi-autobiographical account of his effort to break into the musical theatre world, as well as an homage to Stephen Sondheim." –BroadwayWorld
"The play is a brilliant piece of work, with catchy music and dialog, satire and comedy, beautifully brought to life by the chemistry of the three actors." –Judy Nedry
"Superb ... the three cast members together are a marvel, making the most of the gorgeous harmonies that feel so characteristic of Larson's other work and moving together with joy and alacrity." –Portland Observer

"You walk away certain of one thing above all else: there really is no day but today." –Portland Monthly
"Portland Center Stage presents tick, tick … BOOM! A portrayal of honest love and defeating fear" –PSU Vanguard
What Audiences Are Saying
"Great production to start the season! Lots to enjoy and to think about! Loved their voices."

"Stupendous!"
"Great show, wonderful cast. Clever direction."

"Powerful energy and talent!"
"Beautifully done! Excellent casting, staging, music and acting! All around A+++"

"Great vocals, music and lyrics. Loved the storytelling."
"Absolutely loved it! Would see it again. I can't pick a favorite actor, they all had some pretty amazing moments."

National Reviews
"tick, tick ... BOOM! is as powerful as ever." –BroadwayWorld
"The origins of Rent are evident in tick, tick ... BOOM!" –Chicago Sun Times
"ONLY the most stoic will fail to be swamped with emotion." –BroadwayWorld
"So relevant, probably more so now than ever … deeply raw and emotional." –BroadwayWorld
"Rollicking, urgent." –BroadwayWorld
"Full of emotional rock ballads and catchy anthems." –BroadwayWorld
Portland Center Stage is committed to identifying & interrupting instances of racism & all forms of oppression, through the principles of inclusion, diversity, equity, & accessibility (IDEA).