Behind the Curtain: An Interview with Vanessa Severo
Set on the eve of Frida Kahlo's death, this intimate solo show plunges into the brilliant, nuanced world of Kahlo's tumultuous, extraordinary life. With its world premiere at the Living Room Theatre in 2014, Vanessa Severo continued to evolve and deepen her research on Kahlo. In 2019, KCRep further developed and produced the show at its OriginKC: New Works Festival. This interview was taken during that development process, when Vanessa sat down with Lisa Rothe (director of new works for the 2019 festival) to unveil how she came to blend Kahlo's life with her own experiences. Vanessa has since continued to develop the script, and Portland Center Stage brought the KCRep creative team together once again for this production to deepen their collaboration on this beautiful play.
---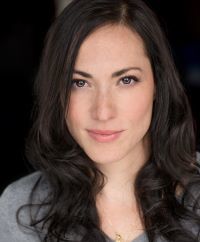 When did you first become excited by Frida Kahlo? And what was it that sparked your excitement?
My interest in Frida Kahlo began eight years ago when my good friend told me he saw Frida Kahlo in me. This very statement made me curious, and I began researching her.
The more I learned about Frida Kahlo, the more I felt I was seen and understood, and the world became a less lonely place. I became excited about the possibility of telling her story, because here was a woman that was seemingly unafraid of any challenge, and that spoke to me on all creative levels.
How did her work and life connect to you as an artist?
Frida was pretty much the first woman to do selfies, but instead of finding the right angle and filter for her face, Frida instead painted herself and her situations unapologetically. This is the very reason her art still connects to all of us today. Frida is celebrating authenticity in marriage, politics, infidelities, pain, and loss, and we can see that and understand it in our own lives, as an artist, as a human.
You have been working on this play for about four years. What is it like to carve out a story over time?
Working on this play for five years has really given me the gift of growth. When I first presented Frida … A Self Portrait at the Living Room Theatre five years ago, I was limited in my knowledge of her. What I knew about Frida was from what I read. Since then, I have traveled to Mexico City, spent time in Frida's house — La Casa Azul — and talked to the locals there about their experience and connection to her. The funny thing that happened in the last five years that I did not anticipate was, I have changed — my writing, my thoughts, and my connection to Frida have deepened.
How is it to build your performance of Frida physically as you are in the process of writing it?
Learning to embody Frida presented a challenge that changed the way this story needed to be told. In learning to live in Frida's skin, I realized I was learning to live in my own. I had to be 100% honest with all elements of this story and, as a result, it has become "our" story.
What does sharing the imagined voice of Frida give to others?
What we leave behind can sometimes supersede who we truly were. Sharing an imagined voice of Frida Kahlo, I feel, gives us the chance to see that she was a living, breathing person ... just like us.
How does Frida's continued self-examination through self-portraiture offer a window for the viewer to consider her position in the world? And, by extension, the world of the viewer?
We all share some aspects of Kahlo's life. When we look at her paintings, we feel she is talking directly to us. You might be a wife, a mistress, bisexual, your partner may have cheated on you, you might have disabilities, or are struggling with addiction. Whatever your experience, there is an element of Frida's story you can relate to.
How has this experience surprised you along the way?
On this journey to find Frida, I was surprised that in order to tell her story I had to tell mine. This was something that surprised me, and I fought with it internally. Then I realized my journey to find Frida was one of the most integral parts of the story and, ultimately, I was painting Vanessa ... A Self Portrait.
Portland Center Stage is committed to identifying & interrupting instances of racism & all forms of oppression, through the principles of inclusion, diversity, equity, & accessibility (IDEA).